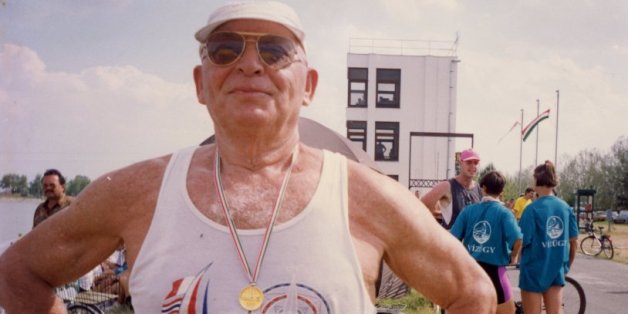 People have attributed their long lives to all sorts of lifestyle factors. For example, before her death in 2012, Besse Cooper, 116, said the secret to long life is "minding your own business and staying away from junk food."
But for Emery Lang of Miami, who will celebrate his 93rd birthday in May, the secret to a long and healthy life is, quite simply, rowing.
"This is the best exercise for anybody because your whole body is in motion... your legs and arms and shoulders," Lang told the Huffington Post. "If you do this exercise every day, your shoulders will be very powerful and straight up. You won't be bent over when you are in your 90s."
A champion, with many amateur rowing titles under his belt, one would think Lang's been rowing all his life. But, incredibly, he didn't take up rowing until age 65.
"I had never done rowing on the water in my life. I am originally from Hungary and I had done a lot of other sports but not rowing," Lang said. "But then I visited Florence, Italy and I saw people rowing on the Arno [river]. It was the most beautiful sport I'd ever seen."
As recently as a few months ago Lang was still rowing on the water up to three hours a day. Over the winter, though, he moved indoors, rowing on an ergometer 30 minutes every day while also swimming 45 minutes a few times a week, Lang said.
Lang's experience with rowing has been so positive he inspired his cousin, Debra Strougo, and her husband Eric Von Frohlich, to open Row House in New York City on March 3. The Row House is a studio dedicated to rowing-based group fitness classes. Like Lang, the couple believes rowing promotes better posture and health through a full-body, non-impact workout.
"This is the best exercise for people of any age and it can be done even by older people," Lang said.
Many studies have shown a link between exercise and long life. For example, Danish researchers recently discovered that jogging can increase life expectancy in men by over six years and in women by over five years when they jogged just one to two and a half hours total per week.
What do you think? What type of exercise do you like best? Let us know in comments.

Calling all HuffPost superfans!
Sign up for membership to become a founding member and help shape HuffPost's next chapter
BEFORE YOU GO
PHOTO GALLERY
Secrets To Living A Long Life From Centenarians