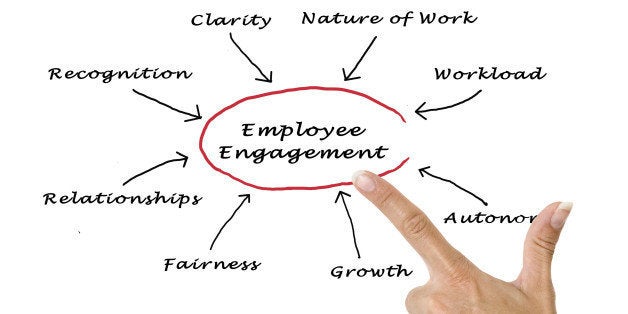 More than three million people die each year from water-borne illnesses, according to The World Health Organization. About 1.6 million people live in substandard housing and around 850 million people suffer from under-nourishment.
These complex societal challenges may seem insurmountable, but as the pressure of a growing global population on the Earth's resources increases, so do opportunities to provide sustainable solutions.
At Dow, we are inspired to take on these challenges. The engine of our efforts is a global group of talented, passionate individuals who care about making the world a better place: our more than 53,000 employees. Harnessing the power of this "human element" is key to continuing down a path to greater sustainability -- and business profitability.
Why? Employees today are looking for purpose and meaning in their jobs. A Gallup survey found nearly 70 percent of American workers are not engaged in their workplace, meaning they are emotionally disconnected and not enthusiastic about their jobs. Gallup estimates actively disengaged employees cost the U.S. between $450 billion and $550 billion each year in lost productivity. This weighs on the bottom line of any business.
Companies across all industries have an opportunity to foster emotional connections that ultimately lead to a more productive and enthusiastic workforce -- today and tomorrow. What makes an employee "engaged?" A sense of purpose and connection to the company and the impact they have on the world through their work. According to a World Economic Forum's Global Shapers Community survey, when young adults are looking for a job, more than 65 percent rated the opportunity to make a difference in society as the top decision criteria when choosing an employer. Millennials, who are expected to form half the global workforce by 2020, also tend to value companies whose vision and mission lines up with theirs.
Opportunities for employee engagement do not live in a single department or within a single program. They can, and should be integrated throughout a company. Well-designed employee engagement initiatives are sound investments, reaping economic benefits in addition to increased individual productivity and decreased turnover.
This requires rethinking what employees can do for business and society outside of their job descriptions. As part of Dow's 2025 Sustainability Goals, we will collaborate with nonprofit organizations, government and academia to develop a blueprint for transitioning to a sustainable planet and society. Our employees worldwide will also directly apply their passion, skills and expertise to positively impact one billion people.
Dow employees influence people and the environment through all aspects of our business: what we do in our operations, what we make and how we leverage employees' skills in collaboration with others to redefine the role of business in society. We call this engaging all employees for sustainability across the "footprint" of our operations, the positive "handprint" of our more sustainable products and services, and the courageous collaborations that help us set the "blueprint" for a more sustainable future.
For example, employees make our operations footprint safer, help us use environmental resources more efficiently and, as a result, make a positive difference at Dow sites, in the surrounding community, and in our business. As a result of investing $1 billion toward our 2005 Environment, Health and Safety Goals, we saw $5 billion of safety, waste, water and energy savings. Since 2006, we reduced annual greenhouse gas emissions from 47 million to 35 million metric tons while revenue grew from $49 billion to $58 billion. We also had 1,300 fewer injuries and illnesses from 2005 to 2015 as we pursued our 2015 Sustainability Goals.
As a science and technology company, Dow's handprint of products and solutions is significant. According to the American Chemical Society, chemical processes are involved in the production of almost 96 percent of all manufactured goods. This makes our scientists and others involved in product development and application an important part of benefiting business and society. Dow people pursue breakthroughs to world challenges with solutions like Lifebuoy™ Soap Featuring POLYOX™ Water-Soluble Polymers, a health and hygiene collaboration with Unilever that helps save lives around the world. BETAMATE™ Structural Adhesives from Dow have saved more than 23 million metric tons of carbon dioxide (CO2) emissions and 10 billion liters of gasoline since 1999. Sustainable innovation leads to profit, too. In 2014 alone, we saw $13 billion in revenue from products highly advantaged by sustainable chemistry.
Even beyond their job descriptions, Dow employees help us create a more sustainable planet and society. Employees give back to society as individuals, acting as ambassadors who foster new collaborations, advance STEM (science, technology, engineering and math) education and contribute to initiatives such as the Dow Sustainability Corps. Through this program, employees apply their expertise to help solve some of the world's most pressing problems in food and agriculture, water and sanitation, energy, housing, infrastructure and health. We match interested and capable employees with non-governmental organizations, social entrepreneurs and local government agencies to support sustainable development projects, especially in emerging countries.
For example, Kristi Galus, a supply chain manager at Dow, participated in the Corps to take on water sanitation. She traveled to the Dominican Republic to create a solid business plan to distribute water filters that provide up to 50 gallons of safe water for a family in an undeveloped country every day for 10 years. In support of our safe water team's work, Dow has committed to supplying two million pounds of resin for filters. By 2025, Dow will deliver 700 projects like this and achieve 8 percent employee participation. That's the equivalent of 400,000 volunteer hours.
By integrating sustainability-related employee engagement opportunities throughout our business' footprint, product handprint and as part of a greater global blueprint for sustainability, we will achieve greater change and reap greater business benefits than we possibly could through a single employee engagement initiative. Companies that give employees a platform to create meaningful societal impact as part of their jobs create a win-win-win for people, planet and long-term business success.
Purpose@Work is a new series of discussions designed to explore how we can infuse a deep sense of purpose into our work -- through our organizations, our people, and our impact in society.
How are you taking purpose to the next level in your workplace? Let us know at PurposePlusProfit@huffingtonpost.com or by tweeting with #PurposeAtWork.