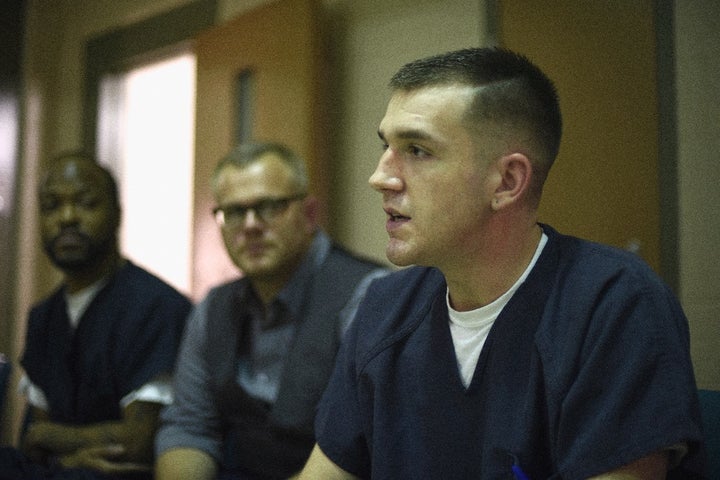 One of the final stops on my 2,500-mile trek to the Democratic National Convention was Chesterfield County, Virginia. Two weeks ago, before leaving my hometown, Los Angeles, I received a call from John Shinholser, founder of the McShin Foundation in Richmond, Virginia. He told me something very special is happening in Chesterfield. A Republican elected Sheriff is investing in recovery services for inmates through a new program that Shinholser and the Sheriff are leading, called the Heroin Addiction Recovery Program (aka HARP). And they are doing it without help from the local, state, or federal governments. In fact, the Sheriff is funding the entire program from his own budget because he came to the realization that the way our country has been doing business with respect to incarcerating those suffering from addiction was not working… and will never work. So John and the Sheriff created their own innovative approach. I was intrigued and had to see what is happening there with my own eyes.
I arrived in Chesterfield just as the RNC was presenting speaker after speaker talking about "making America safe." I will never forget what I experienced in that rural Virginia county jail. Words simply can't describe how transformative it was. I ask you not to take my word for it, but to experience it yourself through the nine-minute episode from our travelling web series. And then I hope you'll share it and help me get this message to Hillary Clinton and Donald Trump: in order to make America truly safe we must prioritize real rehabilitation, using recovery-focused services instead of incarceration. Dear Hillary and Donald: I never stepped foot into a county jail before July 19, 2016. Let me tell you, I was terrified. I've heard about all the terrible things that happen there, and the things people did to deserve this type of punishment that was somehow intended to "rehabilitate" them. But what I came to realize after visiting the Chesterfield County Jail was that these are sick people, not bad people. Men who deserve a second chance. Men who suffer from a serious illness, just like I do. And men who, if given the chance and the right kinds of support, can become productive members of society. Come to think of it, it probably won't be long before one of the guys I met will become a delegate to a future Republican or Democratic National Convention.
I ask you both to please give me just a few minutes from your busy schedules today. I know the election is in full swing and there is lots of campaigning to do. But the Sheriff, community, and inmates in Chesterfield have a powerful message for you. And if you'll listen, it might just change the way you have been looking at this issue. And, in the process, it could help us finally address the leading health and human rights crisis we face in our country.
If you truly want to heal families and save lives, if you want to increase public safety and decrease recidivism, and if you really want to save taxpayers a whole lot of money, then you should be prepared from day one of your presidency to address the intersection of the addiction crisis and criminal justice reform.
The correlation is stark. It is estimated that nearly 80 percent of the incarcerated population in America has a problem with alcohol and/or other drugs. Think of this: Today, America represents just 5 percent of the world's population, yet 25 percent percent of the world's entire prison population resides in American jails. By any measure, this is truly astonishing. It is also vivid proof that something is seriously amiss. One of the few issues both Republicans and Democrats agree on is that it is time to reform our criminal justice system. But often the conversation around addiction issues is lost in the dialogue about sentencing reform. It isn't enough for us to just roll back long-sentences from drug-related offenders. As John Shinholser will tell you, "Most inmates in all the jails across America are getting out someday soon, and if you want your communities to be safer you better teach them how to stay in recovery on the outside."
The status quo is just unacceptable: 47 percent of federal prisoners conditionally released are re-arrested within 5 years (Bureau of Justice Statistics). For state prisoners the rates are even more staggering. So, the single most important key word that must be on your minds, Hillary and Donald, is: recidivism. How do we create a criminal justice system that diverts all those it can, and then supports their recovery in order to at last end the revolving door?
I'm certainly not a public policy expert, but I can tell you from my own life experience that our approach needs to be revolutionary. And although that may sound larger-than-life, it's only common sense once you spend time with these men in Chesterfield:
We need to develop national, state and local training programs on addiction and recovery for criminal and juvenile justice stakeholders such as police officers, prosecutors, correctional officers, and judges.
We must establish guidelines that promote the pre-adjudication diversion of low-risk offenders from court involvement toward health-centered interventions.
And we must develop federal legislation that requires all federal re-entry programs to include consideration of substance use disorder issues and promote assertive linkage to recovery community resources.
Hillary and Donald, if you're still wary of this approach, here is the best example I can think of to provide further insight. My best friend, Garrett, is proof of how recovery can transform someone who was once labeled a felon and criminal. Garrett just finished three weeks on the road with me, on our Facing Addiction Across America journey, advocating for addiction reform. He was even an honored guest on the floor of the DNC. Seventeen months ago Garrett was offered a second chance although, before that, many thought the only way to "rehabilitate" him would be through jail or even prison. But a judge in Florida thought differently and gave Garrett a chance at recovery. And now he's changing the lives of countless others. Garrett is living proof that revolutionary criminal justice reform is not only the compassionate pathway for America, it's the most effective way.
Now I'm sure you're both saying, "That all sounds great, Ryan, but how would we ever pay for it?" Well, Hillary and Donald, I'll ask you to take a page from Sheriff Karl Leonard's playbook. Go to Chesterfield County and spend a day with him and the inmates at his county jail. Listen to them. You'll hear words like compassion, respect, family, recovery, and hope. You'll soon agree that the way we've been doing business just isn't working. And then ask the Sheriff how much it costs to run the recovery program at his jail. He'll tell you $2,500 a month for 40 men – or about $750 per year to truly rehabilitate each inmate. I think we can afford that. Don't you?
REAL LIFE. REAL NEWS. REAL VOICES.
Help us tell more of the stories that matter from voices that too often remain unheard.
BEFORE YOU GO