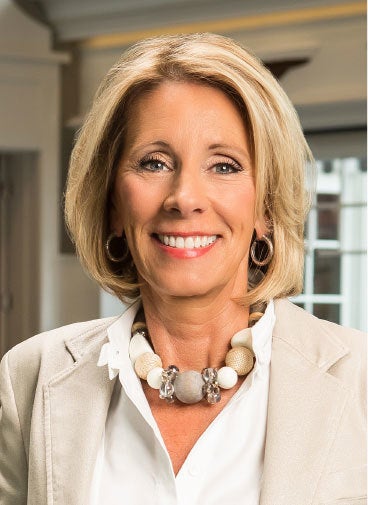 As of 1 pm on Tuesday, Feb. 7, 2017, Betsy DeVos is the Secretary for the Department of Education. The Senate, after holding an overnight session to discuss her fitness for Ed. Secretary, voted 50-50 to confirm her nomination. The tie required Vice President Mike Pence to cast the deciding vote in favor of her confirmation. Although we are now certain that DeVos will lead the department, we still have a few unanswered questions about what her tenure will bring. How will she handle educational debt? Should those with law school debt be concerned?
No evidence exists to suggest that DeVos desires to make repaying student debt more difficult. In fact, little is known about how she would handle the issue at all. During her confirmation hearing, DeVos acknowledged the student debt crisis saying that graduates are "burdened with debts that will take years or decades to pay off." However, during the hearing, outside of acknowledging the problem, she provided no solutions of how to deal with it.
Several members of the confirmation committee were dissatisfied with the level of detail provided by DeVos in her hearing. Following the session, Senator Patty Murray (D-WA) requested a written response from DeVos on 139 follow up questions to solicit substantive information on key educational issues.
As a part of the follow up questions, DeVos was asked about whether she would protect Public Service Loan Forgiveness ("PSLF"), a program that provides public interest lawyers with loan forgiveness in exchange for 10 years of full-time employment in public service. While DeVos' answer expressed neither support nor criticism of PSLF, she stated she looked forward to discussing the program with Congress. This answer led some student debt advocates, such as Natalia Abrams, Director of Student Debt Crisis, to express concern that PSLF may be at risk under the new administration. However, the more popular view of the answer appears to be that DeVos may desire to play no role in determining the future of PSLF, leaving it to Congress to decide how to proceed. On a more promising note, DeVos asserted that she will work with "Congress…to ensure that borrowers of federal student loans continue to have manageable repayment options that are simple and easy to understand." At minimum, this assertion combined with Trump's campaign promise to provide federal student loan borrowers with a repayment plan requiring monthly payments at no more than 12.5% of one's income with loan cancellation after 15 years, serves as strong evidence that generous income-driven repayment plans remain a priority for the new administration.
Finally, DeVos promised numerous times throughout her answers that she would not tolerate colleges and universities engaging in fraud with regards to student loan borrowers. While she would not confirm that she would utilize existing fraud-preventive regulations, such as the "borrower defense to repayment rule" (which allows borrowers to have federal loans forgiven if used to pay for a university program that made a substantial misrepresentation upon which a borrower relied), she did promise to review these regulations and make changes as needed to ensure the "protection of borrowers…in both public and nonpublic institutions" and enforce "accountability for all schools." Having such a strong guarantee to disallow fraud against borrowers from the Secretary is of particular import now, when recent law school closings have left borrowers with tens of thousands of dollars in student debt without a viable college degree in exchange.
At the end of the day, student debt exists outside the realm of party politics. It affects the constituents of every member of Congress. Everyone wants the Ed. Secretary to succeed on this and other issues that impact students across the nation. The ball is in her court and we must give her the full court advantage needed to make a slam dunk on the issue of student debt. Yes, more information about how she would handle the student debt crisis would prove useful. However, based on the information we do know, DeVos appears to be receptive to borrowers or policies that make student debt management possible, which is a glimmer of hope.
Kenneth Strickland is the Student Debt Specialist at Equal Justice Works. Here, he works to ensure that public interest legal jobs remain accessible to all who desire them by engaging in education, outreach, and policy analysis centered around ensuring that an affordable legal education remains an option for everyone. Ken is a recent graduate from the University of North Carolina School of Law, and has worked with reputable public service organizations such as North Carolina Advocates for Justice, American Civil Liberties of North Carolina, and the North Carolina Poverty Research Fund.