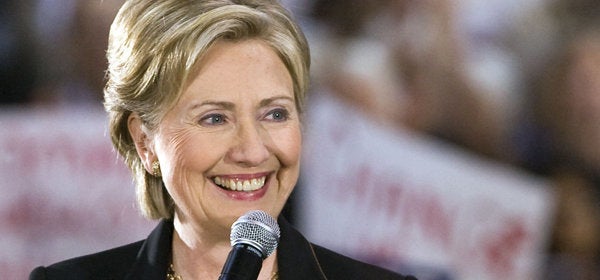 On Friday, political chatter focused around reports that President-elect Barack Obama is thinking about naming Sen. Hillary Clinton as his Secretary of State.
But while much of the talk focused on Obama's reasoning, Clinton has a few decisions to make herself. The New York Democrat is likely already running through a series of calculations, according to two members of the Clinton inner circle who spoke to the Huffington Post.
"She has a passionate network of supporters who are devoted to her. Is she going to shut all of that off? Because once you become a Secretary of State, you don't fundraise," one former aide to Clinton's presidential campaign said. "What happens with your political staff? You're really kind of upending a lot of stuff. It's a huge life change."
The aide noted that while the Senator began her campaign with only a couple-hundred thousand email addresses in her database, she now has "at least three to five million." Indeed, even as her name was being discussed non-stop on cable news channels, Clinton's political action committee sent out a fundraising pitch Friday on behalf of Al Franken, who is still locked in an extended battle with Norm Coleman over a Senate seat in Minnesota.
Among other dilemmas facing Clinton, according to the campaign aide -- who requested anonymity due to the sensitive nature of the situation -- is whether the Secretary of State's role in an Obama administration would be diminished by the large role in foreign affairs that will likely be played by Vice President-elect Joe Biden. In addition, there is the question of whether or not Clinton will want to give up a safe Senate seat for life for a job from which she could be summarily fired without notice.
"Cabinet members serve at the pleasure of the president," the aide said. "Does she want to go from being a First Lady to a major Senator and someone with a big presidential candidacy to someone who could just be fired one day? I don't know."
There are also complicating factors brought to the decision making process by former President Clinton. They include whether or not to reveal donors to his presidential library to the Obama vetting team and the possibility that his international work with the Clinton Global Initiative could conflict with Foggy Bottom's priorities. The campaign aide said that while the Clintons were prepared to submit donor lists to Obama for the vice presidential vetting (which never came), it's an open question as to whether they would similarly eager to do so for the Secretary of State position.
Also unclear is the fate of Hillary Clinton's remaining debt from the presidential campaign, were she to take the post. Would Obama have to commit to putting his own email list to work for Clinton, effectively taking responsibility for that fundraising work while she puts in effort for his administration? On this score, aides were mum.
While agreeing with some of the concerns raised by the campaign aide, a different longtime assistant to Sen. Clinton -- going back to her days as first lady -- said there are nevertheless some strong reasons why Obama might be inclined to make the post worth Clinton's time.
"She is a beloved figure around the world. She has visited over 80 countries, as first lady and senator together," the assistant said. Noting in particular the fact that she learned as first lady how to be effective as a "backdoor diplomat," the former White House assistant said Sen. Clinton actually mastered "a lot of the intricacies of these issues before ever joining the Senate's Armed Services committee. She's tough; she had meetings with some Prime Ministers and Presidents where she had to deliver some blunt messages for us."
And there is one other symbolic reason why Obama might go the extra mile to convince Clinton to come on board, the former assistant said. "He would be choosing a very high ranking woman to be one of the faces of this country all over the world. This is the first woman's name that has come up, by the way, for one of the top four cabinet posts. So she gives him this great political asset. And she and Biden are really tight. So I wouldn't be at all surprised if Obama offered it to her."
If he does, we'll see if Hillary is interested.
Popular in the Community