My reading life was enriched last week with the discovery of Vanessa Martir's blog. Wordpress featured one of her posts in their Freshly Pressed column. I followed the link, read "Rationalizing the Privacies We Invade," and then kept on reading, as hours passed by. Martir's is a voice I want to keep listening to.
The featured post starts with this photo: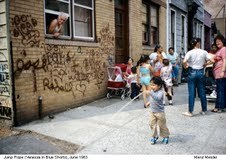 "Do you remember him?" I pointed to the old man in the window. He's looking at the camera. His stare is so piercing, your eyes go to his unwantingly, you can't resist.

"Yeah, that's Valentín, Millie's uncle." She brought the picture close to her face to examine it. I imagine the slideshow of memories the picture prompts.

"That man molested me," I said, interrupting her nostalgia.

She dropped the photo onto the washing machine like it was suddenly scalding her fingertips. She walked to the stove and checked the flame, like she hadn't just lowered the rice and checked on the chicken in the oven.
The little girl in the light-blue shorts set is the young Vanessa. The photograph, from Meryl Meisler's exhibit "Bushwick in the '80s," combined with Martir's narrative, speaks volumes about place, gender, extended family, where we come from (in the deepest sense), concepts of home, belonging, and ownership. And while the old man in the window has real presence, a piercing stare, and is even elevated above the others in the photograph by being up in the apartment, while they are at street-level, Valentín's got nothing on Vanessa Martir. Clearly, Martir owns this story. With one book published (a novel) and another in progress (a memoir), Vanessa Martir is poised for flight.
I was fortunate to wrangle this quick conversation with Martir, who was busy throwing a birthday party for her 10-year-old daughter, writing her next blog post, and writing her memoir.
Bishop: You mention a scholarship program called ABC, which is how you were able to attend a boarding school starting at age 13. While this facilitated your education and likely contributed to the successful writer you are today, you also talk about the downside of ABC -- of being one of a small group of girls of color in an otherwise white school. Ultimately, was it a good thing for you, and would you recommend ABC to other young women of color -- your own daughter, for instance? Why or why not?
Martir: A Better Chance Program (ABC) gives inner-city students of color who excel the opportunity to attend top-notch public and private schools across the country. That's how I ended up a student in Wellesley, Massachusetts, at 13. I went from Bushwick, Brooklyn, when it was a pile of rubble to wealthy, white America, a world I did not know or understand. There were no support systems in place, so I had to wing it and endure the countless microaggressions like being called "Rosie" because the only context they had of a Latina was Rosie Perez in Do the Right Thing. I survived largely because I self-isolated and buried myself in books, which later facilitated my becoming a writer. Though it was incredibly difficult, it remains one of the defining experiences of my life. So, yes, I would recommend the program to women of color and even to my daughter.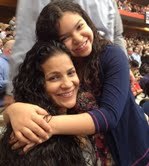 Bishop: I love your blog post titled "Meeting Julia," about the moment an English teacher introduced you to Julia Alvarez's novel How the Garcia Girls Lost Their Accents. The fact of her book -- a novel about Latinas written by a Latina -- set you on the course you are on today. As an English teacher myself, who was similarly inspired by a few English teachers of my own, I love stories about the impact a teacher can have by simply introducing students to appropriate literature and encouraging them to find their own voices. In a different blog post, about privilege, you mention another English teacher, in college, who responds to your earnest attempt at an essay with the words, "This isn't writing." Can you talk a little about this spectrum of influence that teachers can have on us?
Martir: I have been blessed to have both great and not-so-great teachers. It was Mr. Jeffrey Roth, my social studies teacher turned mentor, who introduced me to the ABC Program. I found him a few years ago and thanked him for saving my life. Mr. Brooks Goddard was the teacher who gave me the Julia Alvarez book that put the idea in my head that maybe I too could be a writer. That professor at Columbia (mercifully, my memory has erased his name) was brutal in his assessment of my stories and their value. He made me believe (1) that I couldn't make anything beautiful out of my life stories; and (2) that to be a serious writer I had to write like them -- white, male writers. I stopped writing for a long time and didn't take another writing class until I attended the VONA/Voices workshops in 2009. There I learned that my stories do have worth and that that I have to tell them in my voice, not the voice I created to appease the white gaze. Much of my learning at VONA, where I've studied with some of the best writers of our day, including Elmaz Abinader, Staceyann Chin and Chris Abani, has been unlearning all that was in the way of my becoming the writer I am today.
Bishop: Your blog post, recently acknowledged by Wordpress in their Freshly Pressed section, addresses generational abuse -- incest -- one of several family secrets of which you are the first to speak. You also talk about being raised by two moms in the '80s, when that was less common and accepted and, at times, a source of shame. Is this what your memoir-in-progress, Dim Capacity for Wings, is about?
Martir: I've been working on this memoir off and on for a decade, and for the past three years in earnest. My brother's death shifted the book in a very necessary way. What killed my brother Carlos was silence. When he was just 13, he found out that he was conceived in a rape. That's when he started rebelling and cutting school. He moved out and started living recklessly and ended up in prison and battling a 15-year heroin addiction. It wasn't until last March, when he told me, "I'm a sin, Sis; the Bible says I'm a sin," that I finally understood his addiction. We spent the last three months of his life restoring the relationship we'd had as kids. When I told him what I was writing, he lit a cigarette and pulled on it so hard I thought he was going to burn it to the filter. Then Carlos said, "Write it, Sis. Maybe somebody'll fuckin' talk." I knew then what the book was really about: breaking the silences that have held my family in a chokehold for more than 40 years.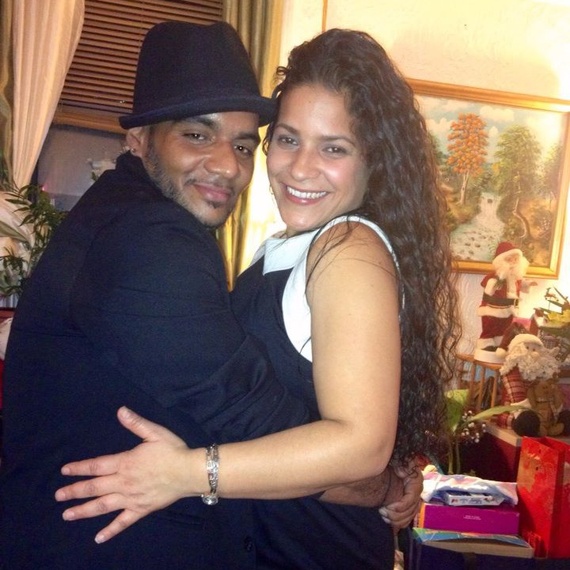 Vanessa with brother Carlos
Related
Popular in the Community