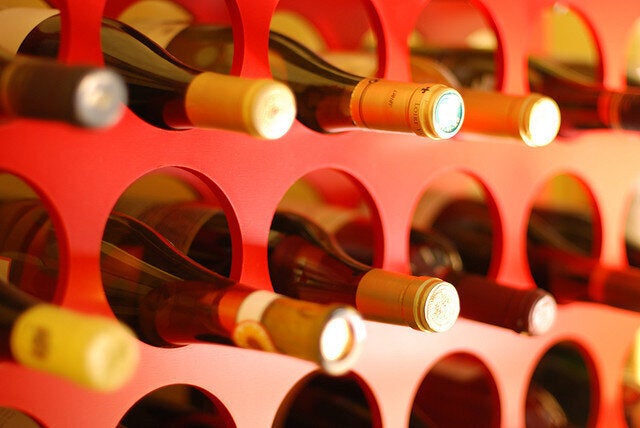 Rajat Parr, who was named one of 2009's top sommeliers by Food & Wine magazine, is the wine director for Michael Mina's restaurant empire. Now, he has teamed up with New York Times writer Jordan Mackay for Secrets of the Sommeliers. Published on October 12, I got to check out an early copy when I wound up sharing a couple of meals with Mr. Parr and mutual friends at his RN74 -- and the famed Slanted Door in San Francisco. The New York book party for Secrets was this week, and Raj took some time out to chat with me about food, wine and his latest literary adventure.
You tasted wine for the first time at 20 years old with your uncle in London. Do you remember the wine you tasted? What were your thoughts?
It was a Bordeaux. Nothing stood out about it, but it was just wonderful to have wine for the first time. That's what impressed me and made me curious.
You attended CIA in New York shortly thereafter, but didn't you stay in food? How did you realize that wine was your passion?
Food is still my first love. After my wine class, I found myself drinking more wine, and wanting to further explore it. I always thought I would get back to cooking, but the deeper I got into wine, I found myself more drawn to it. Cooking, however, is still my first love.
First, I go to the market and see what vegetables look good. Usually some kind of faro -- which I love -- and vegetable salad. I walk two blocks from where I live, come home and make a salad. That makes me happiest. I admire people who make complex food, but personally, I love simple food.

How did you come to work with Michael Mina?
I used to work at the Fifth Floor (1999). The chef was George Morrone; Mina was his best friend. Mina hired George to open a restaurant and George wanted me to work with him, but I didn't go. A year later, Mina offered me a job as the wine director at 5-6 of his restaurants, leaving shortly after that to start Mina Group. Then, I went. That was January 2003.
Tell me a little bit about his new restaurant.
We're re-opening Michael Mina at the old Aqua location where Michael started, 252 California Street. It's Mina's 18th restaurant in 7 years. The old Michael Mina was more elaborate, more formal, in a much bigger space. This new space is more intimate, lots of earth tones, handmade pottery. Very sexy.
What guidelines do you follow when choosing his extensive lists at his restaurants?
It starts with the ideas on the menu. Then, we look at the clientele, what city the restaurant is in. Every wine list is different with a completely different focus.
Is there a world region you're most fascinated by?

Burgundy. It intrigues, mesmerizes and satisfies me.
This is your first book, how did you find the writing process? What about working with Jordan Mackay?
A sommelier's job needs to be written about. People think you just wake up and drink wine, and walk around the restaurant. Everyone has their own ideas about it -- but there's more to it. We're ambassadors for wine, we are supposed to educate people, make wine more popular, and loved. Jordan is a good friend; he understands me, and what I like from wine. There couldn't have been a better match.
What advice would you give to the novice wine drinker in learning how to appreciate fine wine and the art of tasting?
Trust your palate and drink accordingly. Don't always believe what critics tell you.
Tips for securing hard-to-find bottles at a good price? How do you identify good value?
Good value depends on the mood. Good vintage is tantamount. Lower-entry wines in a good region will usually deliver. Examples would be '09 Burgundy, '09 Cote de Rhone, and '09 Beaujolais. These will come to market in the next six months.
You grew up in Calcutta, India. What's happening in the world of Indian wine?
India's a difficult region to grow grapes in because it's too warm. There's a few places making wine, but it's nothing special and production is minuscule. There is consumption, though, so when the taxes go down and we can import there, it will be one of the biggest countries for wine consumption. Right now, it's just too expensive.
What bottles are you enjoying these days?
I am enjoying the 2009 Beaujolais: great vintage and a great value.
What's a prize you're hiding in your own cellar?
Been holding on to some old Rhone wines. I drink these during our harvest in Santa Barbara.
Being a top sommelier, wine drinkers take their cues from you. Who do you take your cues from?
My mentors, people who are doing it for longer than I have. Larry Stone and Jim Clendenen,
You're also a winemaker. This year, you're changing labels from Parr Selection to Sandhi. Tell us a little bit about Parr Selection vs. Sandhi.
I started making Parr Selection in 2004 and stopped making it in 2008. Parr was a small hobby and Sandhi will be more commercially available. Sandhi, an ancient Sanskrit word meaning "alliance" or "collaboration," reflects the partnership of its creators, myself, Charles Banks, the former owner of Jonata Wines and Screaming Eagle, and winemaker Sashi Moorman. Sandhi will produce Pinot Noir and Chardonnay with focus on select vineyards of Santa Barbara County. The inaugural release is scheduled for February 2011.
Popular in the Community