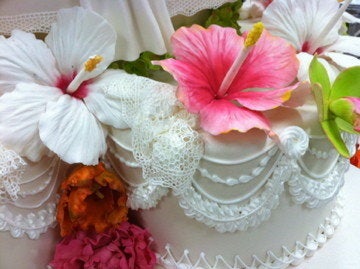 The best part about designing a cake at Carlo's Bakery is the consultation experience. I insist that our customers schedule a consultation appointment to discuss potential design ideas for their specialty cake. It is much easier to be able to meet face to face to get a feel for what the customer would like- especially for brides! It is my job to reassure the bride that we will design the cake of her dreams. After all, it's not just a cake--it's a moment!

The cake is the backdrop of the reception and the focal point of hundreds of pictures, so we take great effort to make each confection as exceptional as the event. Weddings are such a special thing to us here at Carlo's Bakery, and like any wedding professional will tell you, details are the most important thing. We create 40-50 wedding cakes each week, and take pride in adding small touches to each cake to make it unique.

Ten years ago this October, I married my beautiful wife, Lisa. We are renewing our vows this year in celebration of our personal milestone, and I've been spending a lot of time thinking about what type of cake to make. Usually cake designs come to me like a vision- I just know what I want to do. I've come up with the perfect idea for my cake, and even though its top secret, I wanted to share some of my fresh design ideas for the brides of 2012 inspired by my newest plan.

The classic concept of the wedding cake is to ice the cake in a light, neutral tone (creams, ivories, whites, and blushes.) There are endless ways to add subtle touches to the overall design while retaining that traditional look. Some of my preferred suggestions include adding rhinestone gems to the center of roses, lightly dusting white flowers with a pop of colorful petal dust, and infusing some of the flowers used in the décor and bouquets in the cake design. These are all simple ways of drawing in outside influences to the design scheme.

One of my recent favorites is mimicking fabric textures to be overlaid on cake designs; it really pops when the brides pose for pictures. We have an arsenal of techniques that can create the illusion of fabric on your cake. One tried and true method is called brushed embroidery, where we hand pipe a design on the cake, and then use a small brush to drag the icing and create that embroidered feel. With my own vowel renewal cake, I have been experimenting with lace details. We actually have a technique that allows us the recreate the sophisticated designs of the lace.

I love to incorporate intricate details like this for weddings because it reflects the bride's dress and veil. I've been playing around with different ways to use it, and have put lace on bows, draped it along the side of the cake, and used it as a stencil directly on top of the fondant.

Remember to bring visuals that express the vision of your perfect cake; fabric swatches, flower descriptions, and pictures of centerpieces are always welcomed so we can help layer more details into your design.
Don't be afraid to experiment with the look of the cake- layering textures and incorporating detailing is key to customizing your own design!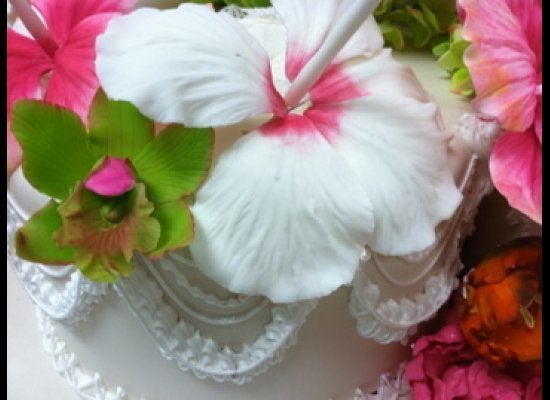 Cake Boss
Support HuffPost
A No-B.S. Guide To Life
Related
Popular in the Community