Julie Perry had the uncommon job of being a yacht stewardess on boats across the world for roughly three years, sailing everywhere from the Mediterranean to the Caribbean. In 2006, she wrote "The Insider's Guide To Becoming A Yacht Stewardess," which provided an inside look to both those who wanted to work on yachts and those that just wanted to know about the lifestyle. This year, the book was republished in its second edition. We caught up with Perry to discuss the wild world of yachting, her favorite places to sail and her cure-all for motion sickness.
HuffPostTravel: What would people be surprised to know about yacht stewarding?
Julie Perry: Our rooms are the size of cabinets. I've heard of crew members sleeping in the same room as the washer/dryer because there was so much wash. As far as how long we work, my longest charter was 42 days, which means 42 days without a break. That said, let's say the charter costs $25,000 a day and it's a 10 day cruise. Staff gets tipped 10%, so your split amongst the crew is $2,500. That's good money considering you don't have time to spend it.
HPTravel: You must have seen some amazing places. What were your favorites, and your least faves?
JP: I absolutely loved Malta--it's like you stepped back into a film. Turkey is a beautiful place to sail. The Portuguese Azores is simply a magical place. I would put money on the fact that it's the sunken Atlantis of lore. Maybe I say that because when we arrived there on our Atlantic crossing, we'd been at sea for days (and were at sea for days after we left to reach our next pit stop), but it really did seem to rise out of the ocean in the middle of nowhere. The views and climate were very reminiscent of Scotland to me, with its foggy mountain tops, lush and verdant. It truly is a spectacular place. As for least favorites, perhaps I read too many Frances Mayes books (she can make any destination sound like paradise), but I have a hard time tossing any destination off as not being to my liking when I really can't take the time to explore it in full. From a "passing through" vantage point, Naples wasn't what I pictured. But since then, I've ready Frances Mayes' account, and now I'd love to go back and dig deeper. Otherwise, to me, it was a big, smelly city where—despite the great pizza—was more like a Miami that you pass through on your way to more remote destinations. For us, the Isle of Capri and Positano were a stone's throw away, and were our next stop for a two week trip. I was also a bit let down with the ports we visited in Sicily. Again, that's very much due to the "large city, touristy and dirty" feel. I would still go back there, too. The U.S. and British Virgin Islands also seemed a little boring to me when compared to St. Barts and St. Maarten. I suppose I just like it when things were extremely foreign—and the U.S. & British influences couldn't top the French and Dutch.
HP Travel: We've heard some crazy stories about yacht clientele over the years. What would people be surprised to know?
JP: You are, at any given time, a housekeeper, meal server, dish washer, concierge, social director, in-cabin servant attendant, among many other roles. Some stews even have their masseuse licenses and can offer massages to the guests. The chief stewardess oversees "household management;" as such, you must think of everything a yacht owner or a yacht-charter guest might want or need. Basically, you are managing a five-star, boutique hotel at sea. Without the ability to simply "run to the store" at any time, it's best to be prepared with everything onboard. Making sure you have things like hot rollers, thermometers, light bulb replacements, spare sets of glassware, board games, and even coffee table books covering the destinations where you are cruising.
When many people think of what this job entails, they hear things like, "you'll be filling a bartender/server role at times." What they don't hear are the things that must occur first to make that happen...it is up to those crewmembers to not only make and serve drinks, but also to provision and stock the bars appropriately, making sure you have all the mixing ingredients and spirits onboard that go into common cocktails, both traditional and fashionable. If guests want to go ashore, you are suddenly playing the "concierge" role, and it's up to you, no matter what port you are in around the world, to find that "best" restaurant possible, make reservations (sometimes bribing the Maitre D'), and see to it that guests are delivered and picked up to that dining establishment on time and with no problems.
HP: Any crazy requests?
JP: I've had guests with kids who wanted pizza (and not fresh pizza, like Domino's) and he ended up borrowing the helicopter from a neighboring boat to get pizza on Nassau in the Bahamas. Americans tend to be the ones to request things that just aren't possible to get last minute in the Eastern Caribbean--like three U.S-based newspapers. Or one woman wanted a freshly dry cleaned dress but she didn't trust any of the local dry cleaners, so she bought a plane ticket to fly a crew member back to New York to get the dress dry cleaned by her cleaners and back to the Caribbean.
HPTravel: Where do crew hangout on their time off?
JP: When you do get a day off, crew tends to party hard. Some of my favorite places amongst the locations I've sailed to are:
--On Antigua, take in a sunset dinner at OJ's, which has a great view of Montserrat's volcano. Try Harmony Hall for a nice, long lunch. It has a cute art gallery and a great view of the bay. On Sundays, a lot of yacht crew will head to Shirley Heights Lookout for the cookout. It's an island thing.
--On Antibes, if you're missing a big game, The Drinkers Club is a popular place to watch sporting events. The Blue Lady is an English-style pub that's really popular for networking amongst crew members.
--On St. Maarten, the Soggy Dollar Bar in Palapa Marina has created a home away from home for the visiting yachtsman
--In Viareggio, Italy, il bar sotto il mare is located near the dock area of Azimut-Benetti and Perini Navi shipyards and attracts a lot of local yachtsmen.
HPTravel: You must be a master at combatting motion sickness.
JP: My first trip I definitely had it. But now I wear those sea sickness wrist bands the entire time I'm on the boat. The key is to put them on before you even get on the boat. If that fails, it helps to get above deck and stare at the horizon or anything steady.

This interview has been condensed and supplemented with text from her book.
Before You Go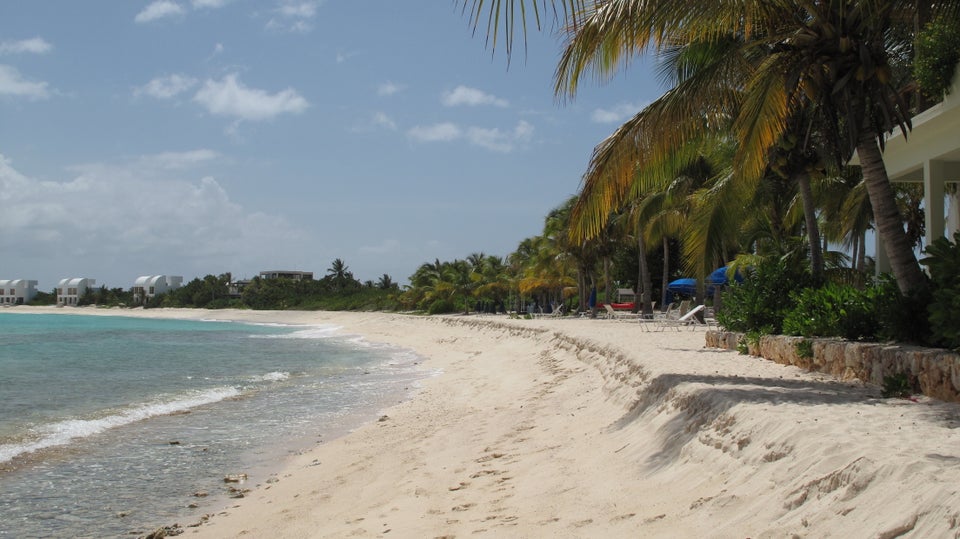 Sexiest Beaches In The World
Popular in the Community