By Mehmet Ali Sanlikol, World-Renowned Musician and Co-Director of New England Conservatory's Intercultural Institute (ICI)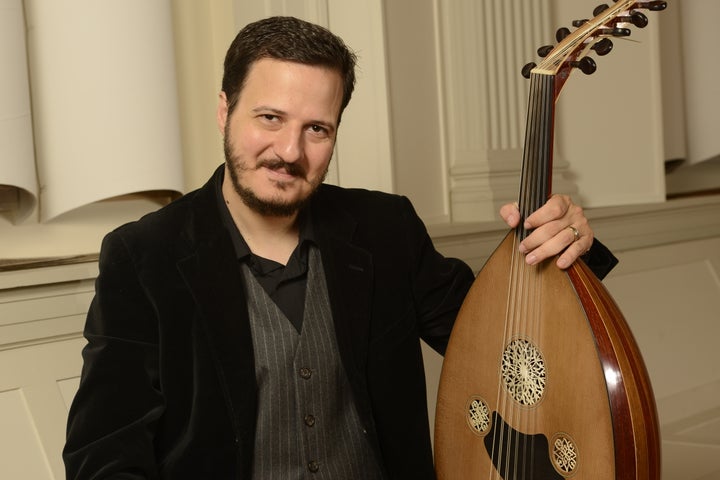 I have been living in Boston since 1993 where I had the great fortune of completing my Master's and Doctoral degrees at the wonderfully diverse environment of New England Conservatory. However, I was born in Istanbul in 1974 and grew up in Bursa, Turkey, where I lived until I was 18 years old. My parents were Turkish Cypriots who grew up under the British in Cyprus and, as Muslims, their relationship with Islam was more cultural than devotional. When growing up, my father would only take me to the mosque a couple of times during Ramadan. Praying five times a day was not required in our household and fasting during Ramadan was just occasional. That being said, religious holidays were very much acknowledged as were religious ceremonies to honor the dead. The kind of secular profile I am describing was, and still is, common among millions of Muslims. Obviously, the terror attacks by ISIS and other extremists during recent years have prompted fear and paranoia toward all Muslims in the US and Europe. And, as a result, I see that a stereotype has taken over the media with covered Muslim women and men sitting over prayer rugs.
Interestingly enough, even the liberal media, while trying to address the prejudice toward Muslims seems to promote the same stereotype. Progressive radio programs constantly address devout Muslims who follow the sharia law. However, the cultural heritage of Islam is much more diverse and, Muslims who are secular or loosely practicing as well as those who follow Sufism (Islamic mysticism) are almost entirely excluded from this picture. Presenting the true diverse gamut of Muslims from all walks of life to their Christian and Jewish counterparts will certainly help normalize the identity and image of Muslims. Therefore, the entire spectrum of Islamic culture needs to become visible in the public sphere if we are ever to recognize each other's full humanity.
As a secular Muslim-American composer, performer and educator, I have grown more and more uncomfortable with all that has been happening around me during the past year. For example, whenever Islam is being attacked I keep seeing that some Muslim authority based in the US quotes the Qur'an in defense. Why? Why does the defense of Muslims need to be based on religious law? Do Jews and Christians defend attacks on them simply by quoting the Bible? Like the other Abrahamic faith communities, Islam presents a rich, cosmopolitan and pluralistic cultural heritage which includes millions of people in the U.S. and around the world who, like my parents, are both Muslim and secular. It is this diverse cultural heritage which should be the defense.
To address this issue in a creative way, I decided to compose a new choral piece inspired by several musical traditions. This composition, entitled DEVRAN, combines Sufi Muslim texts from 17th century Istanbul, European Renaissance choral style, and Middle Eastern musical elements into an artistic whole. My colleague, Erica Washburn, director of choral activities at New England Conservatory, will premiere the piece with NEC's Chamber Singers. Furthermore, New England Foundation for the Arts' Creative City program recognized the importance of the issue I was raising and awarded a grant to this project. As a result, there will be two free public concerts at NEC's Jordan Hall on November 9, 2017 and First Church of Roxbury on November 12, 2017. To provide context regarding the musical influences in DEVRAN, the concert programs will also include a set of Renaissance a cappella music, and a dedicated set of Turkish Sufi music in order for the audience to hear the two elements that will be drawn together. I will also give a preconcert talk introducing the music and how it mirrors our idealized community of diverse people who celebrate their own and each other's cultures. Both performances will be followed by audience discussion and, as the new co-director of the Intercultural Institute at NEC, I am helping to organize a day-long symposium on the day of the Jordan Hall premiere where, along with several other colleagues, I will discuss music in Islam along with morality and musical practice in all of the Abrahamic traditions.
Mehmet will be leading a symposium on Music & Morality in Abrahamic Traditions
Thursday, November 9th, 2017:
Morning Session 9am-1pm – Williams Hall at New England Conservatory
Afternoon Session 1-6pm – Burnes Hall | New England Conservatory
About Mehmet Ali Sanlıkol
Grammy nominated composer and CMES Harvard University fellow (2013-15) Mehmet Ali Sanlıkol made his Carnegie Hall debut in April 2016 premiering his commissioned piece Harabat/The Intoxicated with the American Composers Orchestra. Other recent works have been heard at Tanglewood's Ozawa Hall and on A Far Cry string orchestra's recording Dreams and Prayers. He hails from Cyprus and Turkey, and is DownBeat Magazine's September 2016 Editor's pick, JAZZIZ's Top 10 Critics' Choice 2014 pick, a Jazz pianist, a multi-instrumentalist, a singer, an ethnomusicologist as well as a faculty member at New England Conservatory's Music History/Musicology Department. Sanlıkol was a recipient of The Aaron Copland Fund for Music Performance Program Grant in 2016 with his unique jazz orchestra/combo, Whatsnext? and has been praised by critics all over the world for his unique, pluralist, multicultural and energetic musical voice. The Boston Globe noted that Sanlıkol's "music is colorful, fanciful, full of rhythmic life, and full of feeling. The multiculturalism is not touristy, but rather sophisticated, informed, internalized; Sanlıkol is a citizen of the world", "...and he (Sanlıkol) is another who could play decisive role in music's future in the world."
A musical polymath, Mehmet Ali Sanlıkol has composed for, performed and toured with international stars and ensembles such as Dave Liebman, Bob Brookmeyer, Anat Cohen, Esperanza Spalding, Antonio Sanchez, Tiger Okoshi, The Boston Camerata, The Boston Cello Quartet, A Far Cry string orchestra, American Composers Orchestra, Okay Temiz, Erkan Oğur and Brenna MacCrimmon. Sanlıkol's unique blend of jazz composition and Turkish music has been praised by the Boston Globe as "a true fusion of jazz and folkloric Turkish language and colors." Sanlıkol pairs Turkish instruments such as zurna (double reed wind), ney (end-blown flute), kös (large kettledrums) and nekkare (small kettledrums) with the jazz orchestra/combo to perform his Turkish music- influenced compositions, in which Turkish makam (mode) and usul (rhythmic cycles) are intertwined with modern jazz as well as specifically film noir influenced music.
On the other hand, his "coffeehouse opera", entitled Othello in the Seraglio: The Tragedy of Sümbül The Black Eunuch, which has been the recipient of the Paul R. Judy Center grant at Eastman School of Music in 2015, bridges the musical cultures of opera house and coffeehouse, Baroque Italy and Ottoman Turkey. This love story is designed to draw the audiences into a meditation on race, slavery, sexuality and the entwined histories of East and West. With music from 16th and 17th century European and Turkish sources, arranged, adapted and woven together with original music by Mehmet Ali Sanlıkol, this unique opera has been performed 18 times within two years since it's premiere on European period instruments and traditional Turkish instruments by an ensemble of specialists in those fields.
Sanlıkol studied western classical piano with his mother Fethiye Sanlıkol and started giving piano recitals as early as age five. Later on he studied with the internationally acclaimed Turkish composer/pianist Aydın Esen and won a scholarship to Berklee College of Music. While at Berklee Sanlıkol studied jazz composition with such accomplished composers like Herb Pomeroy and Ken Pullig. After studying with composers such as George Russell, Bob Brookmeyer and Lee Hyla, in the year 2004 Sanlıkol completed his Doctor of Musical Arts Degree in Composition at the New England Conservatory and helped find the organization DÜNYA based in Boston, Massachusetts. Sanlıkol is the president of DÜNYA, a musicians' collective dedicated to contemporary presentations of Turkish traditions, alone and in interaction with other world traditions, through musical performance, publication, and educational activities. Since its founding Sanlıkol has produced, performed and delivered talks at over two hundred DÜNYA events. DÜNYA has also released 10 CDs, a single, a concert DVD and a documentary film featuring Mehmet Ali Sanlıkol both as a director/performer and a composer. The unique nature and the success of DÜNYA resulted with Mehmet Ali Sanlıkol going on the air numerous times on NPR and PRI.
Sanlıkol actively delivers papers and talks at academic conferences such as International Conference on Analytical Approaches to World Music and Society for Ethnomusicology. Sanlıkol's book, entitled The Musician Mehters, about the organization and the music of the Ottoman Janissary Bands has been published during 2011 in English by The ISIS press and in Turkish by Yapı Kredi Yayınları. Currently, he is co-director of New England Conservatory's Intercultural Institute.
Related
Popular in the Community