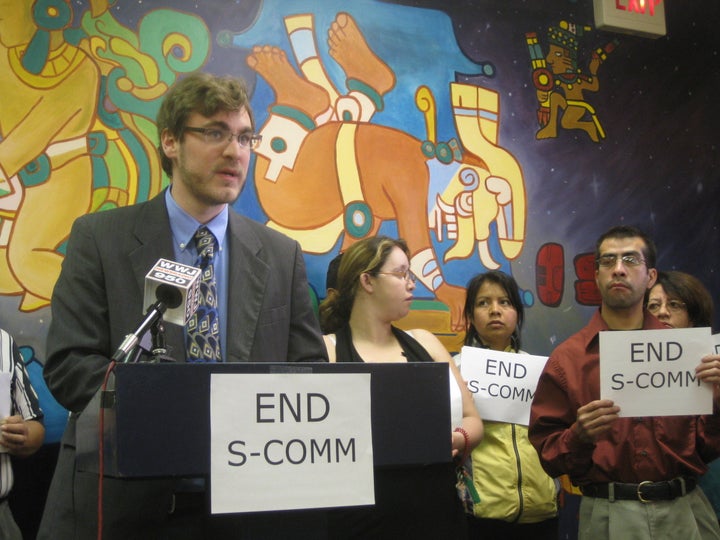 Undocumented immigrants who commit only minor infractions or have no criminal record make up the majority of Michigan's deportations through the U.S. Immigration and Customs Enforcement's Secure Communities initiative, according to a report released Wednesday.
"The Hidden Truth About Secure Communities," a report by Michigan's Alliance for Immigrants Rights and Reform (AIR), states that 72 percent of the state's deportations triggered by the program between October 27, 2009 and April 30, 2011, either have been of non-criminals (49 percent) or low-level offenders (23 percent). In the same time period, 48 percent of those detained and booked into ICE custody were non-criminals.
The federal Secure Communities program, started in 2007, allows the Department of Homeland Security to check the immigration status of persons under local arrest. The FBI sends fingerprint records to DHS, and officials can request local police place a 48-hour detainment hold on individuals found eligible for deportation.
AIR's key criticisms of the Michigan program echo opposition to Secure Communities nationwide. Opponents of the program argue that an unfunded federal mandate to detain individuals for 48 hours puts unfair strain on the resources of local governments and police departments. Perhaps more worrisome, they say, it endangers public safety by breaking trust between police and communities.
"If you are afraid that contact with the police will result in your deportation, you will be less likely to report a crime and less like to be a witness to a crime," said AIR Director Ryan Bates.
Bates explained how immigrants' trust of police was an important part of keeping Michigan's communities safe. He used the example of Southwest Detroit, a neighborhood with a large and growing Hispanic population.
"The police in Southwest Detroit have worked really hard to build up this strong relationship locally, so when there is real criminal activity going on, the community feels safe reporting it," he said. "That's gone a long way toward making sure real criminals get off the street."
According to ICE, 44 percent of the Secure Communities deportations nationwide from the program's implementation in 2008 through January 2012 were of level 1 and level 2 offenders, which includes those who committed felonies and serious crimes, and 30 percent were level 3 offenders, which includes misdemeanors and minor infractions.
ICE's Michigan spokesman Khaalid Walls declined to give Michigan-specific data on the program, but said nationwide, "approximately 94 percent of the total Secure Communities removals fall within ICE's civil enforcement priorities including convicted criminals, recent illegal border entrants and those who game the immigration system."
Opponents of the program also cite concerns about increased racial profiling. A study from the Warren Institute at the University of California, Berkeley, found 93 percent of Secure Communities detainees were Latino. That's 16 percent higher than the total share of undocumented immigrants who are Latino.
Last year, ICE officers in Michigan were accused of racial profiling and abuse. One complaint alleged an ICE officer followed a parent home from dropping off his student at Hope Academy in Southwest Detroit. But an internal ICE investigation didn't lead to any evidence of misconduct, according to the Michigan Messenger.
State Rep. Rashida Tlaib, a Democrat who represents Southwest Detroit and has worked to promote immigrant rights, spoke Wednesday at a press conference calling for immigration reform and the end of Secure Communities. Tlaib reiterated the harm opponents say the program can cause communities, as well as local governments.
"Our local law enforcement agencies should be focused on keeping our neighborhoods safe, not wasting tax dollars on our complex immigration problems," said Tlaib. "It's the federal government's job to address these issues, not our local police, who are already stretched too thin."
Related
Popular in the Community