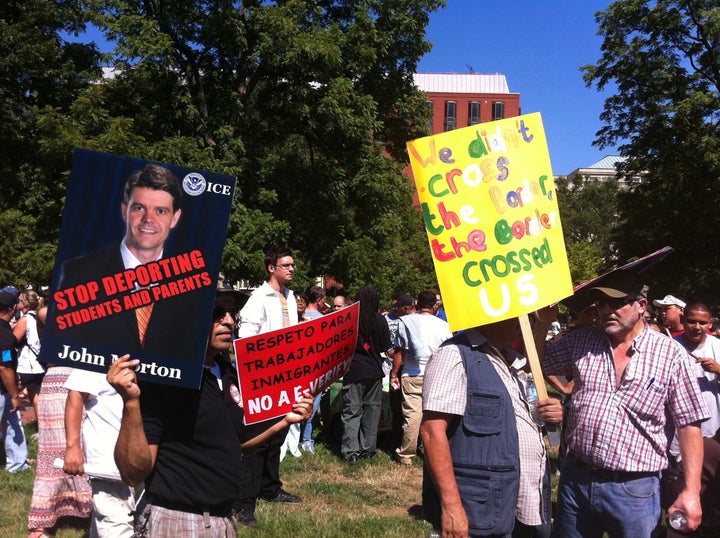 WASHINGTON -- Activists are outraged over a Friday announcement from the Department of Homeland Security that it will move ahead with its controversial Secure Communities immigration enforcement program, even if states do not agree to participate.
"Today's announcement confirms [Immigration and Customs Enforcement]'s status as a rogue agency," Pablo Alvarado, director of the National Day Laborer's Organizing Network and a vocal critic of Secure Communities, said in a statement. "The recent actions constitute a crisis not only for our civil rights but our democracy as a whole. Governments cannot rule by decree."
The government faces a backlash over Secure Communities, a program that allows federal authorities to screen fingerprints of those arrested by local police in order to detect undocumented immigrants. Critics say the program nets large numbers of non-criminal undocumented immigrants and takes focus away from the primary targets of immigration enforcement, violent offenders.
DHS implemented the program in a number of states by asking governors to sign on using memorandums of agreement, which helped DHS move toward its goal of spreading the program nationwide by 2013. Earlier this year, states began to push back against the program, arguing it threatens public safety and passes on enforcement costs to local governments.
In effect, it meant the agreements between state and federal authorities were meaningless. The decision on Friday to stop creating memorandums of agreement canceled them altogether.
"ICE has determined that a [memorandum of agreement] is not required to activate or operate Secure Communities for any jurisdiction," Immigration and Customs Enforcement head John Morton wrote in a letter to governors.
DHS, meanwhile, is attempting to rehabilitate the program in the public eye, announcing it will develop new training to address civil rights concerns and fears over netting victims of domestic violence.
"ICE continues to work with its law enforcement partners across the country to responsibly and effectively implement this federal information sharing capability and plans to reach complete nationwide activation by 2013," Nicole Navas, a spokeswoman for Immigration and Customs Enforcement, said in a statement.
Popular in the Community