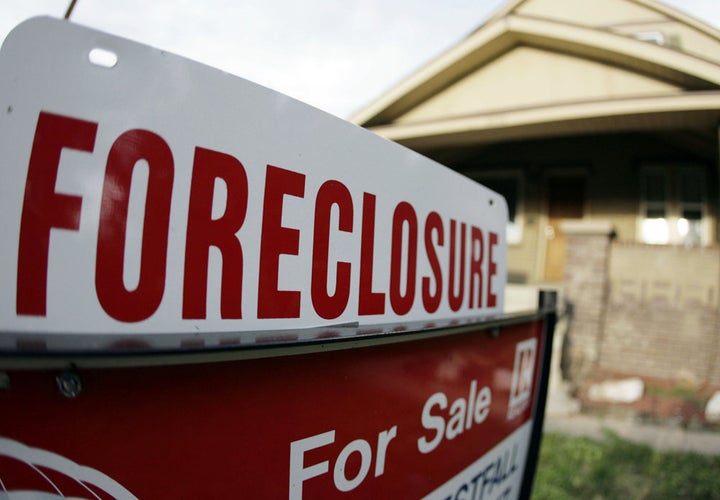 The securitization of mortgage loans has been blamed for helping cause the financial crisis -- and now it seems to be complicating recovery efforts.
About half of all modified investor-owned mortgages, undertaken to help troubled borrowers and investors looking to cut losses, re-default within six months, according to a new quarterly report by federal bank regulators. These are loans that are sliced and diced and sold to investors in the form of securities.
That compares with a 25 percent re-default rate for modified loans held in-house at banks, according to data as of Sept. 30.
The high re-default rates for investor-owned mortgages underscore the difficulties faced by the Obama administration in trying to stem the growing foreclosure crisis. Through the end of November, 3.6 million homes have entered foreclosure this year, according to a spokeswoman for RealtyTrac.
The administration's nine-month-old $75 billion program, Making Home Affordable, aims to help three to four million distressed homeowners avoid foreclosure by modifying their mortgages to a more affordable monthly payment. Of the nearly 760,000 modifications that have been enrolled in three-month trial plans, less than 32,000 have transitioned into permanent relief for homeowners. Nearly 87 percent of the modifications under the administration's program are for investor-owned mortgages.
The administration's program largely does not address what many experts believe to be the root cause of foreclosures -- homeowners owing more on their mortgages than their homes are worth.
Being "underwater," or having negative equity, "is the most important predictor of default," argued Laurie S. Goodman, senior managing director at Amherst Securities, during a Congressional hearing earlier this month.
Speaking on behalf of her firm, she said: "We are concerned that if policies continue to kick the can down the road -- working with a modification problem that does not address negative equity -- delinquencies will continue to spiral with no end in sight."
The data released Monday largely confirm her argument.
More than 99 percent of mortgage modifications that include cutting principal are for those mortgages owned outright by a bank, meaning they are held in the bank's portfolio. Nearly 37 percent of portfolio loans involve cutting principal.
Modified portfolio loans also have the lowest re-default rates: Just 25 percent of them re-default within six months, versus about half of investor-owned mortgages.
Investor-owned mortgages include those held by government-owned mortgage finance giants Fannie Mae and Freddie Mac. Of the 17,412 mortgage modifications last quarter that included principal cuts, 80 were for Fannie Mae-owned mortgages; 54 for Freddie Mac.
"This difference may be attributable to differences in modification programs and the servicers' flexibility to modify loan terms to achieve greater affordability and sustainability," notes Monday's report.
Forty-four percent of Fannie Mae's modified loans re-default within six months; the rate is 47.4 percent for Freddie Mac.
Which raises the question: why isn't the administration pressuring Fannie and Freddie to cut principal?
Monday's report on loan modifications does not include data on the performance of the government's modification program. But it does look at loan modifications undertaken by the banks themselves. Prepared by national bank regulator the Office of the Comptroller of the Currency and national thrift regulator the Office of Thrift Supervision, the report covers nearly two-thirds of the nation's home mortgages.
Related
Popular in the Community