FAIRFAX, Va. -- A few months ago, Dhiraj Gaddam collapsed while he was waiting for the elevator on his way to take a test at the U.S. Citizenship and Immigration Services Washington District Office.
Dhiraj's wife, Geetha, who had come with her husband for a test, threw the paperwork she had brought to the ground and rushed to help her husband. She got the attention of one of the facility's security guards, who administered CPR and called an ambulance.
While they were waiting for the paramedics, Sarah Taylor, the district director of the office, went down to the lobby after she heard that someone had collapsed. When she saw Geetha crying, she gave her a hug, stayed with her to comfort her, and collected the paperwork she had dropped.
Dhiraj would survive the episode, but doctors later told him that the CPR administered helped open one of his arteries that kept him alive.
As Dhiraj recovered, staff from the immigration office stayed in touch to assist them toward becoming citizens, which they eventually did. Because of Dhiraj's health issues, immigration officials offered him the chance to be naturalized at home, but he insisted that he return to the Washington district office for an official ceremony so he could thank the guards and staff who assisted him.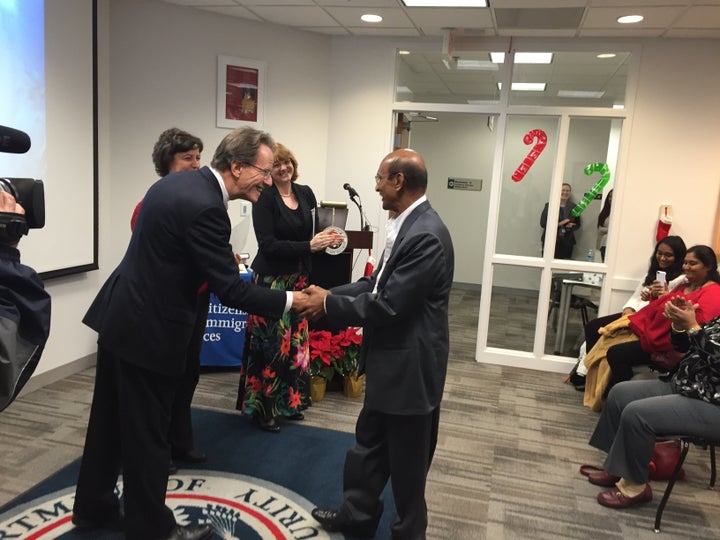 On Thursday, Dhiraj did just that. During a naturalization ceremony, the Gaddams, who are from India and have been lawful permanent residents for 16 years, sat in the front row to become citizens. As Dhiraj stood for the national anthem, recited the Naturalization Oath of Allegience and watched a video of different scenes set to "America The Beautiful," two of the guards who helped him, James Boateng and Michael Henderson, sat in the back of the room, beaming. Boateng and Henderson, contractors with the Federal Protective Service, were presented certificates of appreciation by USCIS Senior Counsellor Lucas Guttentag. A third guard who had helped him, Mubasher Islam, will also receive a certificate. After the ceremony was over, they left through a back door and returned to work.
"I am honored and blessed because of these people," Dhiraj told The Huffington Post after the naturalization ceremony. "I just wanted to come down here and meet all the people, especially the security people and the staff and thank them in person for giving me a second life."
Geetha Gaddam said that the humanity and empathy she and her husband saw during the incident was part of what made them want to be U.S. citizens.
"We are not even citizens from this country, but they didn't have any differentiation, they have so much love for us," she said.
PHOTO GALLERY
GOP Candidates On Immigrants
Calling all HuffPost superfans!
Sign up for membership to become a founding member and help shape HuffPost's next chapter