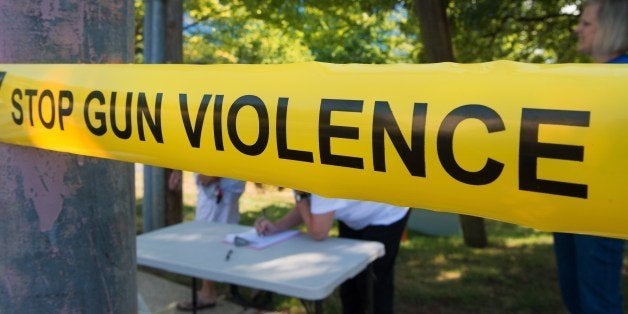 "Republicans Hope for a Boost from 'Security Moms', says the Wall St Journal.

"Signs are emerging of the return of "security moms," the women who moved toward the GOP after the Sept. 11, 2001, attacks... These women were credited with helping to deliver seats to the Republican Party in both the House and Senate in 2002..."
Aaron Zintner writes recent polls show that while women favor President Obama's performance overall, 64% disapprove of how Obama is handling terrorism. And women worry more: we worry more than men that someone we love will be a victim of a terrorist attack.
From Soccer Moms to Joe the Plumber, we embrace a neat moniker for an electoral trend. But the return of the Security Mom is, like much fear over terrorism, a red herring to the most present threat to American mothers' security: gun violence.
- Women are 16 times as likely to be killed by a male acquaintance than by a male stranger.
- 2694 children and teens died from guns in 2010. That's a roughly equivalent to a
Newtown massacre every three days.
- Between 1979 and 2010, more children and teens died from guns than U.S. soldiers in the wars in Vietnam, Korea, Iraq and Afghanistan combined.
- In a study of 23 high-income nations, 87 percent of children under age 15 killed by guns
lived in the United States.
- The gun homicide rate for teens and young adults in the U.S. ages 15-24 was 42.7 higher than in the other high-income countries combined.*
I'm not dismissing the very real fear of terrorism we face. But given the fact that there are more guns than people in the United States, what's the common thread? Gun violence.
Mothers from every corner of the US fear their loved ones getting shot and killed. How can we communicate this strongly enough to the Presidential candidates, and diminish the distraction of the "Security Mom"?
It's tempting to get distracted from the fact that domestic terrorist violence is still gun violence. The GOP candidates want to ignore talking about gun violence and refocus us on a fear we cannot control.
Tell the candidates you are a #guncontrolmom. Tell everyone. It's scary to talk about gun control. It's scary to ask playdates and your kids friends' parents if they have guns at home. I'm anxious even writing these words.
Support SandyHookPromise.org an organization doing trainings in schools and towns to prevent gun violence
Visit MomsDemandAction.org. Thank President Obama for his executive action on gun control- but remind the next round of elected officials it is not enough.
Popular in the Community