Protests continue in India as Jawaharlal Nehru University (JNU) student union president Kanhaiya Kumar remains imprisoned, charged under section 124A of the Indian Penal Code, sedition. Kumar was arrested last week following a rally he helped organize on the JNU Delhi campus condemning the 2013 hanging of Mohammed Afzal Guru, a native of Kashmir who was convicted for his alleged role in the 2001 Indian Parliament attack.
At the center of this debate is the charge of sedition and its existence in the Indian Penal Code. Sedition, according to the Indian Penal Code, denotes any form of expression, whether it be verbal or written, that may induce any disaffection towards the Indian Government or India (Central Government Act, section 124A). First established in the late 19th century by the British to suppress any Indian nationalistic sentiment, India ironically continues to use it against its own citizens (Dutta, 2012).
The obvious issue that arises from this debate is whether one has the right to practice freedom of speech in India. As some JNU students have stated, the problem is not only the unjust arrest of their student union president but the enforcement of sedition itself (Lakshmi, 2016). Can India legitimately present itself as a democratic country if freedom of speech and expression is confined to approved, nationalistic mentality and dialogue?
In November 2015, Sikhs in Punjab, India called for an urgent religious meeting in the village of Chabba called Sarbat Khalsa. The purpose of Sarbat Khalsa was to provide an opportunity for Sikhs in Punjab to address the continued grievances felt by the Sikh Kaum (community) and adopt new resolutions to resolve these issues. A few of the grievances addressed at Sarbat Khalsa included the desecration of Sri Guru Granth Sahib Ji (Sikh holy scripture that is treated as a living Guru), the innocent killings of peaceful Sikh protestors by police, the detainment of Sikh political prisoners that have served their given sentences, and discontent with the current political and religious leadership.
As thousands of Sikhs worldwide joined and watched online in this momentous event, news followed that most of the organizers of Sarbat Khalsa and newly appointed religious leaders had been arrested and charged with sedition. The speeches given at the meeting were cited as anti-national and anti-social (Bassi, 2015). Some of the organizers and religious leaders of Sarbat Khalsa remain incarcerated to this day.
The arrest of Kumar and the JNU incident has been deemed, by some, as a watershed moment (Gopal, 2016). As freedom of speech and other civil liberties continue to be crushed, a time must come where Indians must reassess their chosen leadership and its suppressive ideology. Will India proudly stand behind its government's intolerant stance on civil liberties or vow to make a social change where students, journalists, artists, and religious minorities can freely exercise their democratic rights in the world's largest democracy?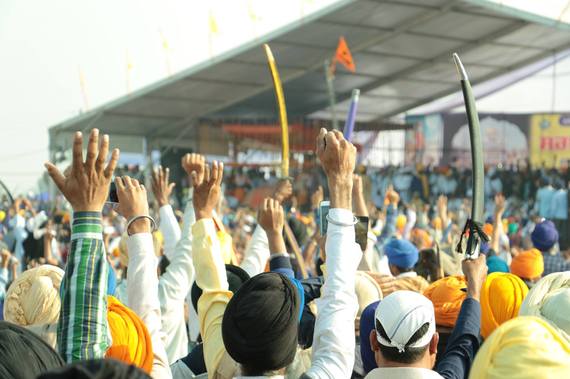 Sarbat Khalsa, November 2015, Village Chabba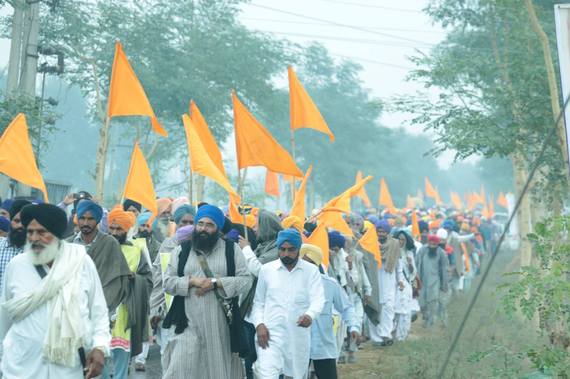 Sikhs traveling to Sarbat Khalsa
Bassi, Aseem. (13 November, 2015). Sedition case slapped on Sarbat Khalsa organisers. Hindustan Times. Retrieved from here.
Central Government Act. Section 124A in The Indian Penal Code. Retrieved from here.
Dutta, Saptarishi. (14 September, 2012). Sedition in India: A Quick History. The Wall Street Journal. Retrieved from here.
Gopal, Priyamvada. (17 February, 2016). This is a watershed moment for India. It must choose freedom over intolerance. The Guardian. Retrieved from here.
Lakshmi, Rama. (18 February, 2016). Protests spread across India against student's arrest for alleged sedition. The Washington Post. Retrieved from here.
Calling all HuffPost superfans!
Sign up for membership to become a founding member and help shape HuffPost's next chapter