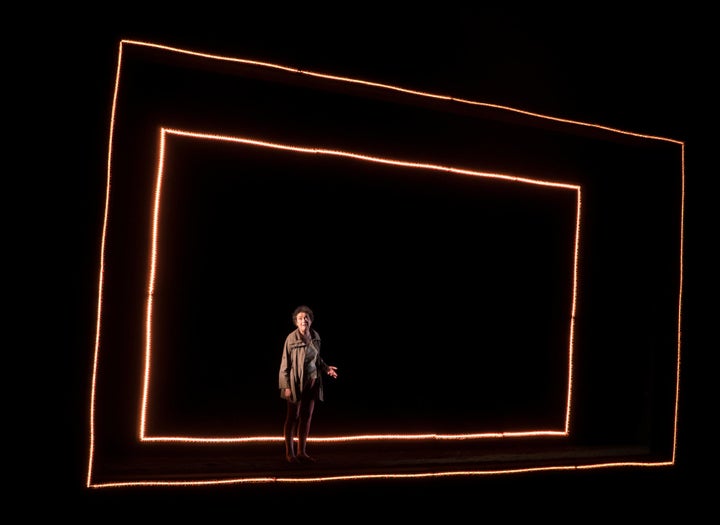 Currently at BAM, the outstanding Carol Churchill play Escaped Alone is a great compliment to the feeling that seems to be gripping society right now…Discomfort over the known world order and the anxiety of what may come, but hasn't happened, laced with the emotional arsenic of existential paranoia! That feeling of impending doom and gloom that seems to pervade our scattered thoughts in between eating lunch, chatting after dinner, and watching CNN before bed, thus inevitably waking up in a cold sweat to greet the day.
This mighty, but short 50 minute long play is an invitation to the Twilight Zone of the Achilles heels' of four sweetly presented older lady types who sit in the backyard English garden of Vi (June Watson) and talk, they chat about this, and that, while Mrs Jarret (Linda Bassett) equipped with her middle class English accent, intermittently steps out of the garden and into the darkness of the stage — which is framed by orange lights and accompanied with Sci-Fi sound, to talk about the insanity which has allegedly over taken the world, turning it into an apocalyptic Vesuvius . It sounds like the pods from Invasion of the Body Snatchers has taken over.
After a bout of rant, Mrs Jarret will return to the garden as if she had just placed flowers in a cut glass vase in the pantry and will resume chatting with the ladies directly after she exits from one of these hellish descriptions of society gone mad and the ladies will resume their chats about this and that, emerging every so often to engage in the real psychological obsessions which invade their private lives. While Debora Findlay conveys a neurotic compulsive crazy obsession with cats, Lena (Kira Markham) will talk about the loneliness of looking at things in her home that should have meaning but don't, nothing really does. Vi's (June Watson) story was however the most poignantly revealing and captured my heart during the in-between time when Bassett wasn't freaking out charmingly in the darkness. The tragic mythology and facts of life that define their existences are the centerpiece of Ms. Churchill's excellent play, calling upon the audience to investigate their own issues of aloneness.
There is also music, harmony and friendship which saves them. Their fabulous rendition of Da Do Ron Ron is a moment not to be missed because it reminds us that there is always music. The women survive because of each other, as women will often do, as a result, still in touch with their distinctive respective very human feet pressed firmly into the grass.
Brooklyn Academy of Music - Harvey Theater
Credits Written by Caryl Churchill; Directed by James Macdonald
Cast Linda Bassett, Deborah Findlay, Kika Markham and June Watson
Closing Date February 26, 2017
Popular in the Community