New research just confirmed that the state of reproductive health for women in the U.S. is abysmal.
A report card from The Population Institute analyzed the state of women's reproductive health and rights in the U.S. Published on Jan. 7, the report gave the U.S. a D+ for the country's overall grade on women's reproductive rights.
Out of the 50 states and the District of Columbia, 19 states received a failing grade and only four received an A or above. The four states that received an A or above are New Jersey, California, Oregon and Washington.
"This report card should be a wake-up call for all those worried about the status of reproductive health and rights in their state," Population Institute president Robert Walker said in a press release.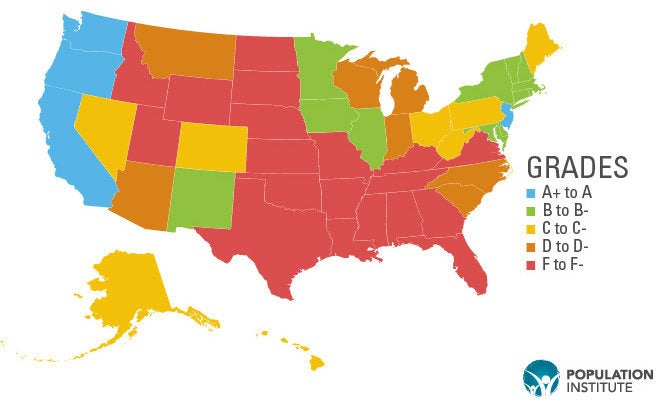 The report card is the fourth annual installment from The Population Institute that grades all 50 states and the District of Columbia on an A+ to an F- scale. Each state is graded using four criteria: Effectiveness, prevention, affordability and accessibility.
Effectiveness (using two criteria) reduction in their teen pregnancy rate and reduction in their unintended pregnancy rate

Prevention (using two criteria) what kind of sex education they mandate and does the state guarantee access to emergency contraception in the emergency room

Affordability (using two criteria) did the state expand their Medicaid program under the ACA and does the state expand their state Medicaid coverage for family planning

Access (using three criteria) what kind of abortion restrictions does the state have, does the state have TRAP laws, and how many women live in a country without an abortion provider
In just one year, the U.S. slipped from a C to a D+ due to the increased hostility toward Planned Parenthood in 2015. "Inflamed by heavily edited videos attacking Planned Parenthood, the hostility to reproductive health and rights has reached a fever pitch in the past year," Walker said in the press release. "There has been an avalanche of legislation -- both proposed and enacted -- to restrict clinic access and reduce funding for Planned Parenthood and other family planning providers."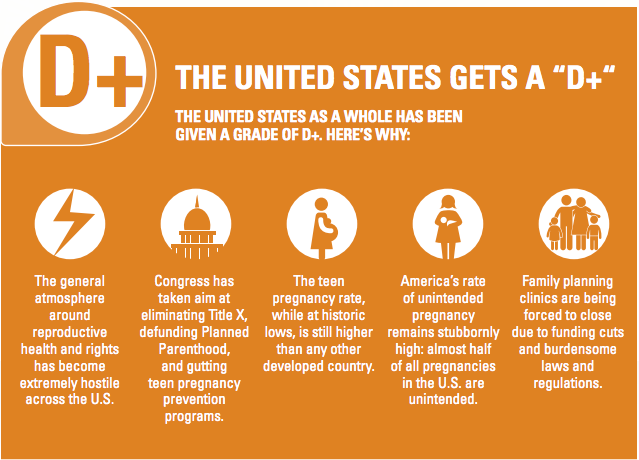 Walker noted that 288 abortion restrictions have been approved since 2011 and multiple states have cut funding for family planning services over the past few years. "At the state level the trend is particularly worrisome," he said. "Increasingly, the reproductive health of a woman depends on the state or community where she lives. That's wrong as a matter of both rights and health."
A woman should be able to access safe and legal reproductive health care no matter where she is. End of story.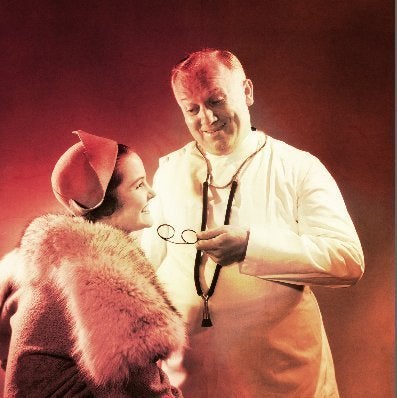 Myths About Abortion That Need To Be Busted