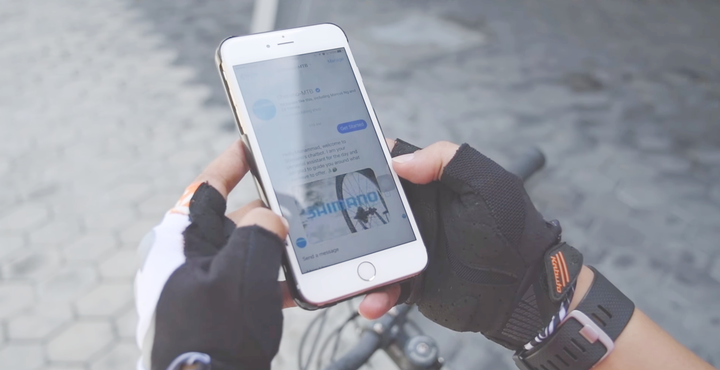 It is an automated texting system that has been developed to run your social media messaging system. Yes, you heard it right. A Chatbot, derived from the term Robot is software or a being that will talk to your customers on your behalf. Shimano chatbots are what we are here to talk about today and if you're on the verge of developing a business, you might want to get started with this.
It should be noted that Shimano has partnered up with AiChat to launch chatbots for cycling enthusiasts.
A Chatbot is a software that has been built to create a human-like a conversation with the users. We believe that there are some people, who compared chatbots to a game of tennis. For most of the time, chatbots have followed the concept of hitting it on the internet, receive and then hit back. But now, since the technology is developing rapidly, chatbots have started to gain human-like capabilities and these capabilities have a huge range.
Shimano has just introduced the chatbots for you. They are skilled and efficient. You can browse through Messenger and you will come to know more about what they are offering.
Searching for products online has never been this easy.
Shimano recently launched its new chatbots on its official Facebook Pages: Shimano-MTB and Shimano-Road. Now, all Facebook users familiar with their products have easy access to their events, technical documentation, products as well as the dealers that are located in your vicinity. With a 24-hour assistant ready to communicate with you, users can now rest assured that all queries will be answered.
With the team of engineers and developers at AiChat, Shimano has incorporated Natural Language Processing and Machine Learning techniques into their chat interactions with customers to ensure a progressively smarter and more human-like virtual agent.
Facebook Messenger Chatbots
In a recent research, it has been brought to the knowledge that Facebook messenger has over 1.3 million users on an average scale. Facebook is putting quite an influence on getting more users and chatbot is a great platform for that.
There are thousands of business pages that have been created on Facebook to increase the customer sales and clientele. It has become very easy to even run a local business through a Facebook page. Customers can interact directly with the moderators without having to delay the whole process. This is where chatbots come in handy and which is why Shimano is not lacking behind at all. Through chatbots, the established businesses on Facebook can make quick connections and earn rapidly through taking customer orders.
Let's assume you had a chatbot on your web-based business site and somebody needed to make an inquiry or get item refreshes. They'd simply need to tap the blue catch on your site to open Facebook Messenger. Your appreciated message would welcome them. When they made a move (reacted to the message or hit a catch), they're viewed as a supporter, and you have consent to connect with that individual through Messenger. Since Facebook Messenger is new, it gives a great advantage to those who tap into its usefulness.
· In Modern Era, Messaging apps have overpowered the usage of other apps.
· It is an easy way to engage with your users or customers for that matter.
· You can personalize chatbots just the way you need.
· Chatbots allow you to follow us with your customers and have provided you with the opportunity of service recovery.
· Chatbots can also automatically operate your ongoing processes.
· All information that the user has already provided to Facebook (e.g. login, location, user profile) can be used by the Facebook Messenger Chatbot (with permission), enabling seamless and frictionless user interactions.
· A good conversation with your customers will get you the finest output.
Programming a chatbot is simple, even though the interface isn't exactly as easy to understand as an email supplier. With a chatbot, you have to consider a ton of usefulness and rationale, so the creation procedure requires somewhat more intuition than conveying an email. Shimano chatbots are efficient to use and can be handled very easily. They have a very friendly user interface.
You don't have to know any programming languages to program a chatbot, be that as it may. The procedure is just point, click, drag, drop, sort in the words you need, transfer your picture, put in the install code for your YouTube video, et cetera.
The bot keeps a rundown of everybody who has drawn in with you, and you can pull up the individual visit discussions. You can likewise sort your rundown. Or rather you can hire a professional and let him do all the hassle of a work for you.
Here is some more important information about chatbots service and how one can benefit in the marketing strategy in seven different categories:
3. Natural Language Communication
4. Proactive customer interaction
5. Chatbots track user data
7. Maintain a presence on a messenger act via a chatbot.
My final words would be that Chatbots are potentially the most effective automation marketing strategy for business to date.
Popular in the Community