Combining her passion for fast cars, hysterically funny films and hook-filled tunes, pop-country singer-songwriter Kylie Hughes has shifted into high gear for the music video release of "Heat," which premieres exclusively today (April 20) at The Huffington Post.
Taking a cue from the hilariously raunchy team that created Talladega Nights: The Ballad of Ricky Bobby starring Will Ferrell and John C. Reilly, Hughes and directors Frank Borin and Ivanna Borin went for high-octane laughs in the video that was shot on a hot, sunny day in March at Irwindale Raceway east of Los Angeles.
"I mean, if that doesn't scream NASCAR, I don't know what does," Hughes, a fourth-generation Californian who grew up in Malibu, wrote in response to a series of email questions for this accompanying article.
"Talladega Nights is one of my favorite movies and I felt like it could be a great vehicle to tie in the racy feel of the song while also showing my less serious side," added Hughes, showing her pun-loving side. "I couldn't be sexy dancing on a car, like in a Carl's Jr. commercial, the whole time. It's so much more fun when you get to break that up with some storyline and a nod or two to the great Will Ferrell."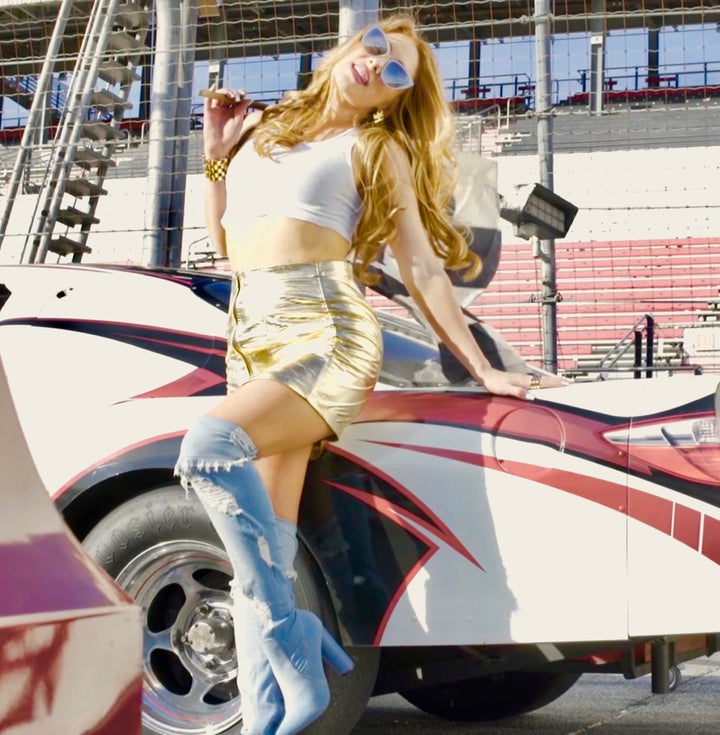 Hughes isn't afraid to reveal her sex appeal, though, whether she's wearing skin-tight racing garb that brings to mind Shania Twain in the "You Win My Love" video or making a fried chicken dinner look better than finger-lickin' good.
Her "going all the way" approach to comedy throughout the video impressed Frank Borin so much that he said "she knocked it out of the park" while nailing every performance in one take.
"She improvised all of the dialogue scenes with the actors and surprised us with her amazing chicken make out scene on the dining room table," he added about the director's cut. "She shined when most artists would have frozen and climbed into their protective shells when taken out of the comfort zones of just performing with minimal acting."
After working up an appetite for Hughes' music video of "Heat," it's time to satisfy your hunger. Repeat with a second (or third) helping, then check out more of Hughes' origin story in which she reveals her most awkward moment in the video, what's so hot about Sacha Baron Cohen's character Jean Girard and why cars turn her on.
If anyone is spinning their wheels wondering "Who is Hughes?" this song and video should get their motor running. And there will be more hard-driving tracks, along with a few love-me-tender tunes, to hear when Hughes releases her self-titled album on May 26.
Splitting time between Nashville and Los Angeles these days, Hughes shows a shared love for pop and country music, stating that listening to Michelle Branch "made me want to pick up a guitar and be a heartbreaking badass" at age 13, a year after she began writing and recording songs.
"She was my everything," added Hughes, whose first concert was seeing Sheryl Crow at the Hollywood Bowl. Other musical signposts during her formative years included "borrowing" a Spice Girls CD from a friend and competing in her dad's version of trivial pursuit with subjects covering Bob Dylan, the Beatles and Neil Young.
"But nowadays I love everything that Kacey Musgraves, Elle King and Maren Morris are doing," Hughes said. "They would be great company and I think we should all go on tour ASAP."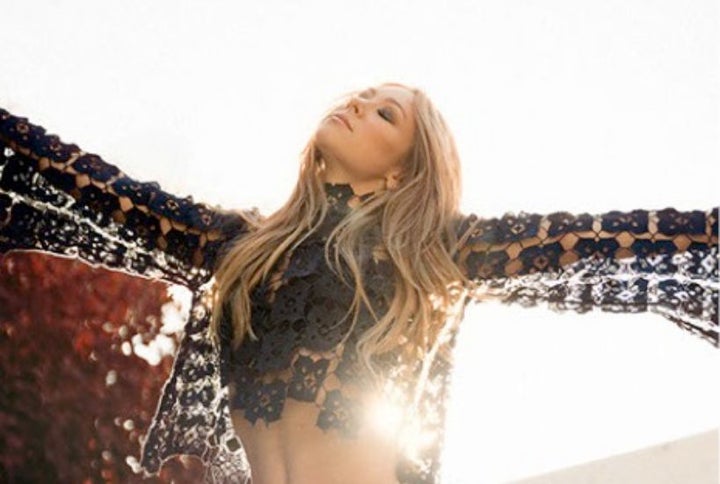 Hughes would fit in nicely among some of music's finest up-and-coming crossover artists who bring a fresh, edgy approach to their heartfelt songs with a whole lot of shaking and baking going on.
A graduate of hometown Pepperdine University with a degree in advertising, Hughes is ready for this music career to pick up speed. But if she hits a wall, Plan B would involve helping other artists "reach their music dreams," this "Calipopicana" Girl said. "I would love to write for other people and help creatively direct their endeavors. … I would also try acting or interior design and decorating. I just need to be doing something creative."
That might entail more than a woman behaving bawdily in the video.
Asked what character from Talladega Nights she wants to play in real life, Hughes initially mentioned the French villain Girard (embodied by actor Ryan Manuel in the video) "because he drives for Perrier and he's so boujie."
Then the rebel with a cause added, "But I'd probably more likely be one of the shit-talking little kids who like to throw gasoline on the fire. I've never been great with authority or people telling me what to do."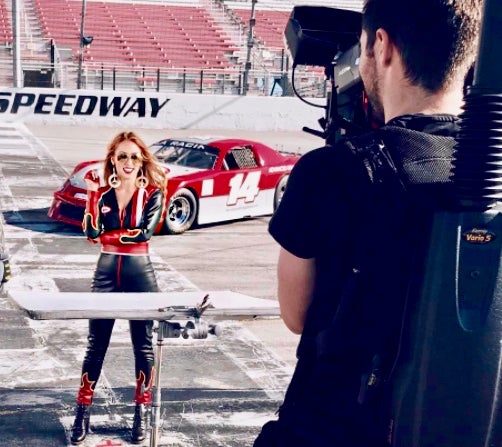 Still, Hughes took directions well in the video from Borin, who said, "Kylie is a director's dream to work with and the perfect example of an artist listening to her gut instincts and not afraid of holding back."
That's apparent in what she called probably her most awkward moment while shooting — the "Shake 'n Bake" make out scene in which the Girl Gone Wild makes kissy-face with her costar Jonathan Parker "with my butt up in the air on a collapsible dining table in front of the whole crew, a 10-year-old, an 80-year-old and my fiance, who was running sound. That will never not be awkward, ha ha."
Sometimes performers have to make sacrifices for their art, though. For a self-professed "ham" who at summer camps was "always fighting to be the most entertaining" around the campfire, the stage seems to be set for Hughes — whether she's singing or acting.
Right now she's revved up about getting in the driver's seat and putting her music career into overdrive.
Previous work, including 2014's Calipopicana EP, was "more experimental in testing out my sound, who I wanted to be and what I wanted to sing about," said Hughes, who wrote all 12 tracks on the new release and gets serious on songs such as "Always on Your Side," in which she explores a toxic relationship. "This album is 100 percent authentically me with all personal material. For the first time I'm really, really proud of what I've created and curated. I'm excited for this album and the direction of my music. I'm excited to see what people will connect with."
For a lover of The Fast and the Furious film franchise who inherited her fixation for nice cars with sporty lines and growling engines from her mother, the competitive Hughes can't wait to see that checkered flag signaling her arrival.
"My friends say I'm an aggressive fast driver; I just say, 'I drive with purpose,' " she noted.
Her need for speed "probably only applies when I'm literally behind a steering wheel," the adrenaline junkie said. "I'm actually very laid back but also very spontaneous. I'm ready to go, just say when."
All it will take is a green light for Kylie Hughes to start kicking some asphalt.
Photos courtesy of the artist.
Popular in the Community