The cool Toronto-based duo actually named after a remote town waaay north of the U.S. border and embodied by powerhouse couple Luke Doucet and Melissa McClelland are no longer satisfied with just writing and playing tunes that sound good. Full of sturm and twang, they capture the emotional essence of a song and make sure to deliver those feelings by any means necessary.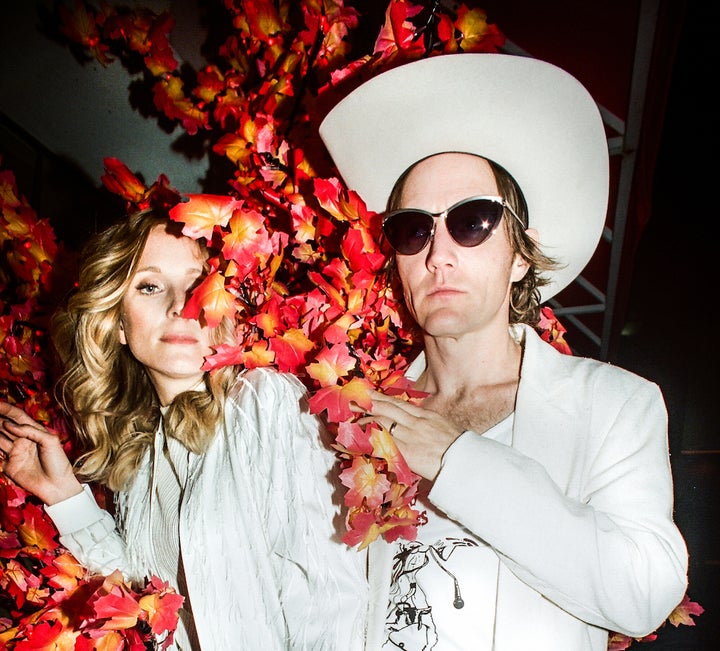 Three months after releasing Panther In The Dollhouse, Whitehorse's latest album for Six Shooter Records, Doucet and McClelland refuse to play if safe in terms of the musical or topical ground that Whitehorse cover.
To prove it, the husband and wife of 11 years continue their adventurous climb today (Oct. 12) at HuffPost with the music video premiere of "Pink Kimono," one of 10 cuts they wrote for the intoxicating album.
Directed by Katrina Beatty of Loud Whisper Productions, the video is as bright and suggestive as the song title implies, with vivid makeout sessions involving twosomes and threesomes who could inspire another "make love/not war" movement that's in need of a serious reboot during these troubled times.
So if you're yearning to add a little color to a world that's currently overshadowed by one dark, dismal cloud, ditch the halo, grab your "Pink Kimono" and get ready to live the dirty dream. Then, with hearts and minds racing, check out more details about the making of the music video and explore the further adventures of Whitehorse, Doucet and McClelland.
"We're getting more irreverent, flamboyant and playful," Doucet and McClelland offered in response to series of email questions for this article that accompanies the video. "Keith Richards was my muse," Doucet added. "We're less and less interested in being honest and sincere. Those things are boring."
There's nothing dull, though, about Doucet and McClelland, who spoke openly about their lives and loves in our 2013 interview. Since basically giving up solo careers to form Whitehorse in 2011, they have continued to revolutionize their sound, though Doucet's trademark guitar riffs and McClelland's sparkling vocals remain intact.
On Panther In The Dollhouse, Whitehorse's fourth full-length studio album, they got involved with New York City hip-hop production duo LikeMinds (Kanye West, Snoop Dogg), adding bold brush strokes to their earthy sonic palette.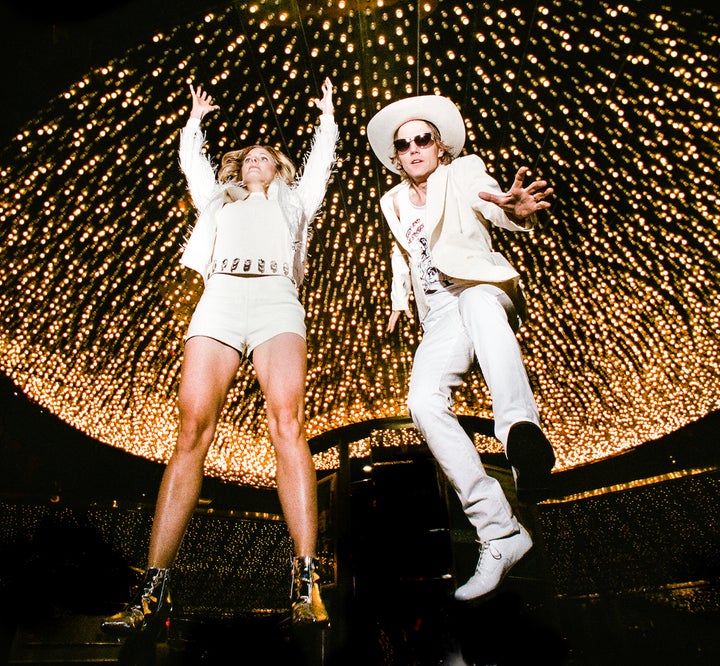 "We were listening to Gorillaz, Beck, Portishead … and other early '90s trip-hop/hip-hop-lite stuff," Doucet and McClelland wrote. "We wanted to build grooves rather than play them hippie-style. Likeminds share a studio with Gus (Van Go) and Werner (F) , our production team in Brooklyn. It was easy. They are all inspiring and creative people."
The music video also was a chance to experiment for Beatty, who wrote the treatment with the multiple cameras while incorporating ideas from Doucet and McClelland.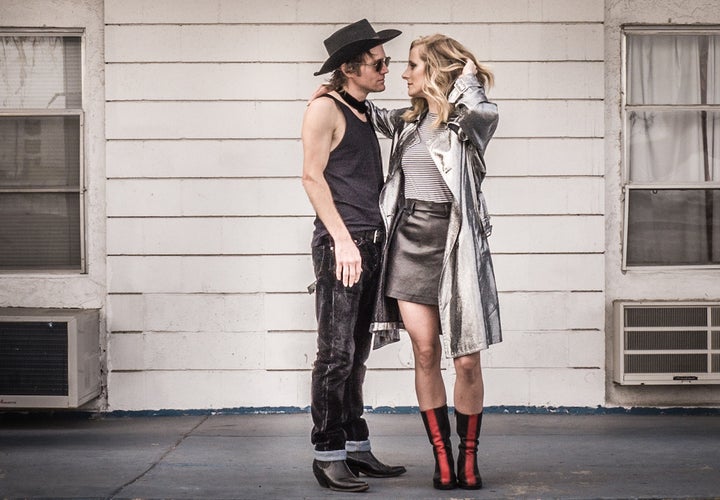 "I fought hard for the unorthodox sexual couples," Doucet said. "I think they give the story a degree of depth that it benefits from."
Trevor Anderson, the previous director of Whitehorse projects, begged off on this one but mentioned Beatty to Doucet and McClelland, and the change was "to our benefit, clearly," they said.
Beatty, an Edmonton, Alberta, filmmaker who graduated from Concordia University's Mel Hoppenheim School of Cinema, proved to be an enthusiastic project partner, and provided the following quotes for this article.
"I think music videos can provide a platform for experimentation within the mainstream," she wrote. "Creatively speaking, this process opened my mind to a whole new approach. We are trained as filmmakers to consider the aspect ratio of a film — essentially pick the box the movie will fit in — but this project allowed me to approach 'the box' like a canvas and the images like live-action paints that could be strewn on the canvas. I had to embrace negative space in a way that I had never considered before and the video is so much stronger for it.
"Without question, this was the single-most complicated editing process we've ever come up against. Instead of one picture on screen, we were often editing six or more, which meant we were essentially performing an edit of a standard (single image) 21-minute video instead of a 3.5-minute video."
If that's too technical to absorb, just think about whether there is an intentional (or unintentional) nod (and a wink) to The Brady Bunch around the 3:15 mark of the video. Then imagine Luke and Melissa as the 21st century's Mike and Carol Brady — in pink kimonos, of course.

GETTING PERSONAL: WHITEHORSE'S LUKE DOUCET AND MELISSA McCLELLAND
1. Who wears the pink kimono in your house?
Luke: "Me. I run long distances and when i get home, I just throw it on and let the business loose. Feels good."
2. Who has the best fashion sense in your family (and why)?
Luke and Melissa: "Jimi (our 3-year-old son) owns the catwalk. He's pretty small so he's been wearing the same white Mini Mioche jeans since he was 8 months old. They are worn in beautifully and fit him like a (small) glove. Yeah, it's after Labour Day. Jimi gives no fucks."
3. If you have a passion for fashion, who do you credit/blame?
Luke: "My sister, Sarah, used to pass her pocketless Jordache jeans down to me. Those were hard days. My mom didn't understand why it was such a problem."
4. In the song, you sing "I'm livin' the dirty dream with you." Which of the two of you is the dirtiest dreamer (and have you had the same dream more than once)?
Luke: "Melissa is emerging as the dirty one, much to my surprise. She also reads into dreams in a way that I don't. I can't share all the things she tells me but you wish I could."
5. When you're asked to think pink, what immediately pops into your head:
A. Pink flamingo
B. Pretty in Pink
C. Pink Floyd
D. Pink Panther
E. Pinkie ring
F. Pink Cadillac
G. None of the above (my own choice is …)
Luke and Melissa: "No, actually, it's vagina. But you knew that."
Michael Bialas is a journalist and photographer who enjoys writing about entertainment and sports for a number of online publications, including HuffPost and No Depression Follow him on Twitter: @mjbialas
Whitehorse publicity photos courtesy of the artist.
Related
Popular in the Community