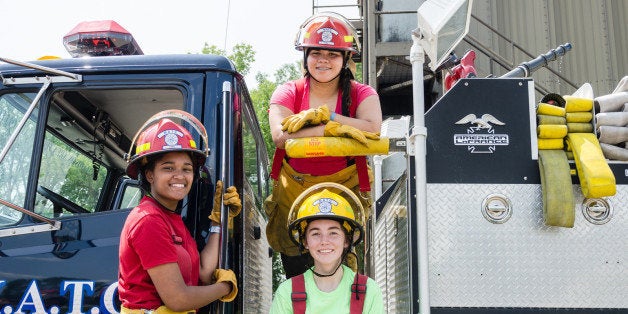 I am statistically insignificant. That's not something I ever aspired to; I was prepared for it by the Girl Scouts. Allow me to explain.
I am a woman working in the fire service. Nationwide, only four percent of firefighters are female. Achieving the rank of Captain makes me part of a group so small, it's considered statistically insignificant. My career in firefighting and emergency medical services has been a good one. It is an incredibly challenging and satisfying career. I help people when they are surrounded by chaos and get paid to do it. It's my dream job, yet interestingly, I had never dreamed of it. I didn't know it was a possibility. I, like many little girls, wanted to be a teacher. I'd seen plenty of women in the classroom, but never seen on a fire truck.
In my life's journey, there have been many influences leading me to a career in the protective services. But when I think about what truly prepared me, I think of Girl Scouts. I was a Girl Scout during grade school, many years ago. I never considered volunteering, but as a young adult, a friend tried to sell me cookies. I replied by asking if there was another way I could help, and that moment changed my life. I decided to become a Girl Scout volunteer.
Initially, I volunteered for Girl Scouts just because it was fun, cool way to help others, but over time I realized I was benefitting as much or more from my volunteer service than the girls I was helping. When the girls discovered or learned something new, so did I. As I figured out how to lead a troop, I learned to be organized and dependable, and was continually given opportunities to grow. I began modeling essential characteristics for the girls like honesty, courage, strength, and responsibility. As I nurtured relationships with girls, parents and other volunteers, I became an expert communicator, mediator, and friend. I planned special events and created and delivered lesson plans. While I was helping girls develop their leadership skills, I reflected on and developed my own. All along this journey my Girl Scout sisters, young and old, were there to teach, guide, support and encourage me.
In a speech in 1924, Juliette Gordon Low, the founder of Girl Scouts, declared that "Girl Scouting is the cradle of careers," and she was right. All the work done in my Girl Scout uniform led me to service in my fire department uniform, including a CPR/First Aid class my Girl Scout Troop took to go camping. The rest, as they say, is history.
I am extremely proud to be a member of my fire department. The work challenges me physically, emotionally and cognitively. It is deeply satisfying. Shouldn't a career like this be open to any man or woman who wants to pursue it? I believe the answer is a resounding yes, and yet there are enormous barriers for women. As someone who has a statistically insignificant career, it is my responsibility to volunteer and show them they can do and be whatever they want. They need to see it to be it. Starting at a very early age, boys and girls develop stereotypical attitudes related to career and gender. There are few female role models to inspire or mentors to help girls. To some, the situation may seem insurmountable but to this Girl Scout, it's just another opportunity.
I want girls to know that they are smart enough and strong enough and savvy enough to be our next generation of firefighters, police officers and EMTs. The Girl Scouts of Wisconsin-Badgerland Council put their trust in me to recruit and lead a group of volunteers in creating CampHERO! CampHERO is a camp for girls in Kindergarten through 12th grade designed to help them develop courage, confidence, and character while experiencing hands-on activities in firefighting, emergency medical services and policing. In addition to camp, the program offers a mentor network for girls who want to pursue a career in the protective services.
Real firefighters, police officers, and EMTs help girls to discover their interests and abilities. Girls connect with each other and mentors in the professions, and they learn how to take action to make the world a better place through public service. CampHERO is open to ANY girl from anywhere. It debuted in 2012 and has since served over 450 girls from all over the country.
I dream of the day when I can ask a little girl what she wants to be when she grows up and she immediately says, "Firefighter." CampHERO, and volunteers like me, will make that dream a reality. If she sees it, she will be it. Together, we can make that happen.
Calling all HuffPost superfans!
Sign up for membership to become a founding member and help shape HuffPost's next chapter