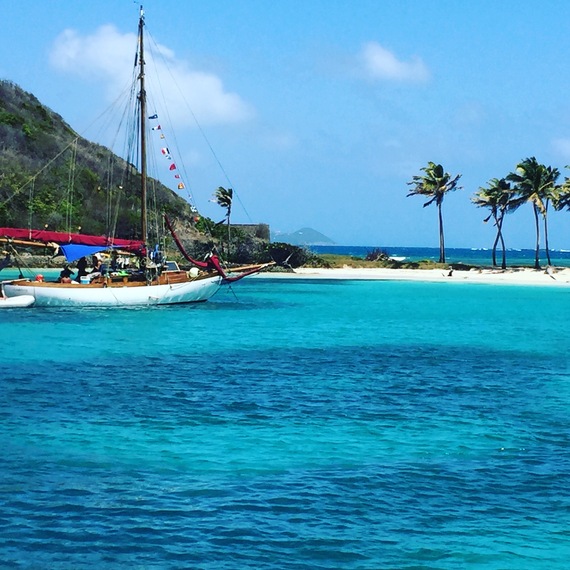 "Those are Cumulonimbus clouds. A squall is coming. In a second the wind can go to 30 knots." Captain Alessandro says with a tad bit of urgency in his voice. "We are going to heave to and you guys need to put a reef in the sail."
Heave to? My mind races through the jumble of sail terms I've learned since the day prior when the sail course in the Grenadines began. I stand up quickly on the sharply slanted deck of the 44-foot keel boat, trying to look prepared.
My mind repeats, Heave to. Reef.
I examine the faces of my three fellow crew members, hoping they feel more capable than I do.
Soon after we get the reef sorted, with our capable captain doing most of it, the steering wheel breaks. I wonder if I should be alarmed, but Alessandro is practical and calm as he takes out the emergency tiller.
Do you dream about sailing around Caribbean islands? Yeah, I do too. So does my friend who invited me on this week-long sailing course with Barefoot Offshore out of Saint Vincent.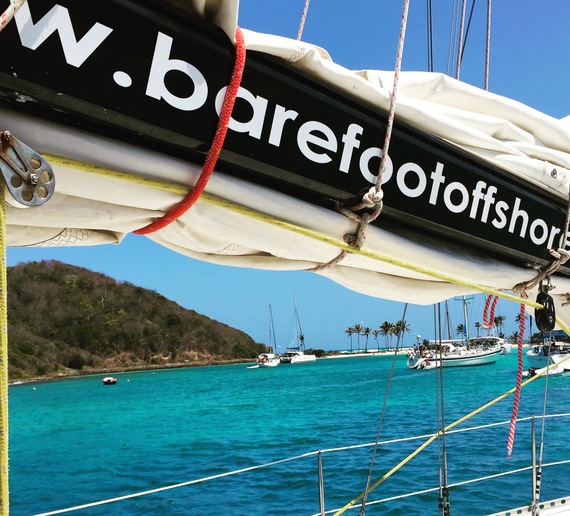 If you are the intrepid, no frills type, and want to learn to sail a basic keel boat, this could be a good course for you. If you prefer your bed and toilet to have a bit of space around them, and if you don't want to do any work to make your boat get to the destination, then consider a bespoke private schooner trip or a luxury yacht cruise.
I have sailed lasers casually so I know some of the terms but still, it's a mental scramble to come up to speed with the rules of navigation, the rigging, and who knew that dropping an anchor was so complex?
The boat has an old windlass and in spite of Alessandro's patient instructions, we manage to get the chain stuck in the windlass pretty much every time we anchor.
The windlass isn't the only rustic thing on the boat. My so-called double berth has a mattress and a half instead of a two person mattress. Only a small child might fit comfortably next to me. Thank goodness my friend is willing to sleep on the deck.
The boat has two toilets. The one at the prow has a bit of room in which to turn around, but the one near my berth is smaller than a phone booth and has no vents. Those who use it, exit it covered in sweat.
I voice my sneaking suspicion that Catamarans are more comfortable.
Captain Alessandro looks appalled. "At anchor, yes, more comfortable, but sailing them? That's like driving a motorhome versus a sports car!"
Alessandro, an Italian in his thirties, tells us that he left a career in Italy, "because life was passing by while I was sedated in front of a computer."
He now lives on his boat moored in a Saint Vincent harbor and says, "It makes no sense to me why everybody in that other world is in such a rush."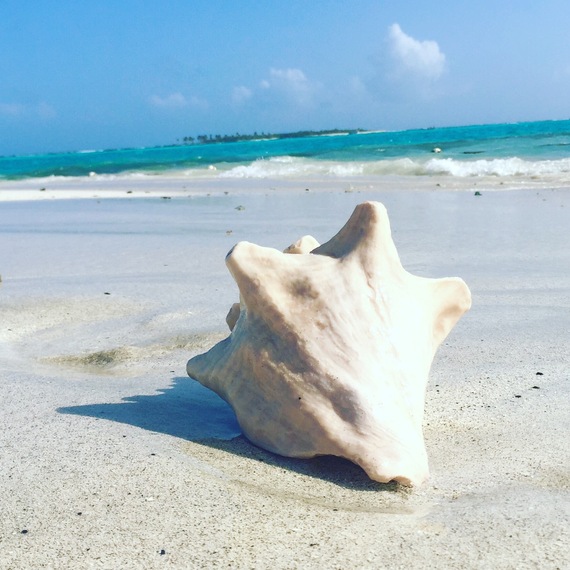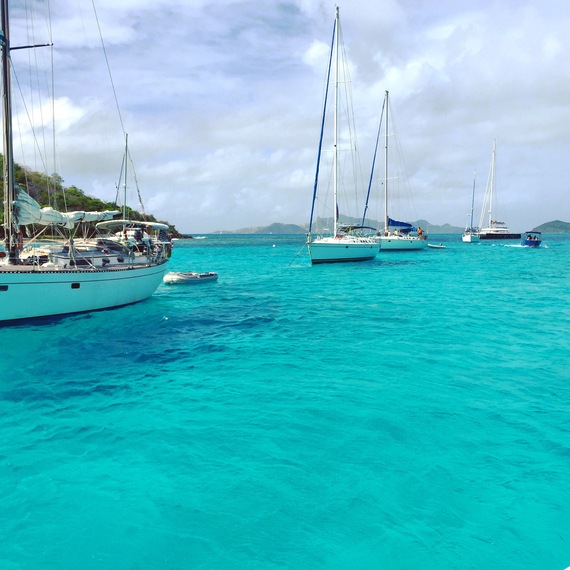 We arrive safely in Tobago Cays, stunned by the transparent azure water. This marine park has five uninhabited cays, which includes a turtle sanctuary. Across a short stretch of saturated blue water is an isolated cay where a scene in Pirates of the Caribbean was filmed. The next day we moor off Union Island. Kite surfers whiz by all afternoon, creating a colorful spectacle in the sky off our prow. The private Palm island with it's romantic and remote resort, is a mile away.
But an island of a very different nature is a stone's throw from our boat.
"It's my favorite bar in the Grenadines." Alessandro says, as he putters us in the dingy over to Happy Island.
This man-made pint-sized island is the creation of a local named Janti, who began his project by spending a few years piling conch shells on a reef in Clifton Harbor. Mixing cement into the growing pile of shells, he fashioned a unique island bar that has quickly become the favorite happy hour destination of yachties.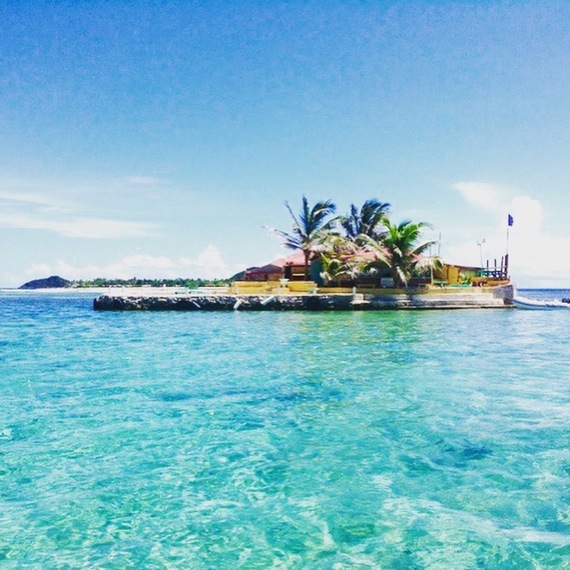 Adding to the lively atmosphere are the skilled kite boarders who put on a splendid show, swooping daringly close to the cement edge of Happy Island, and then lifting and spinning high into the sky above the heads of the cheering rum punch drinkers.
The town Clifton of Union Island charms me with it's baguette selling bakeries, colorful fruit stands and beachy street-side cafes. The Captain and crew make a bee-line for the provisioning store but I linger to talk to locals and take their pictures.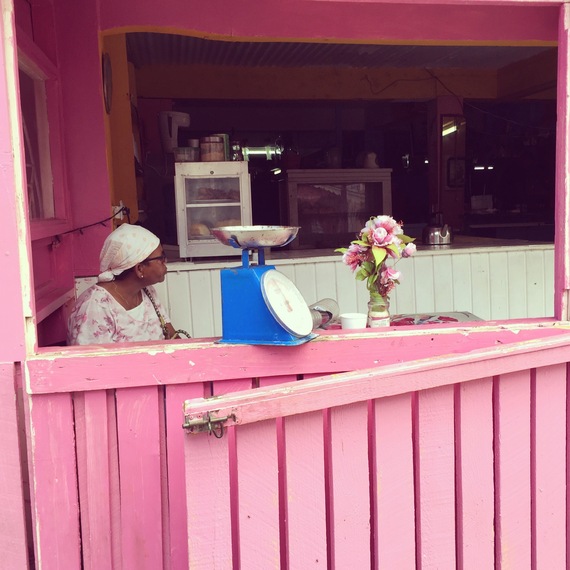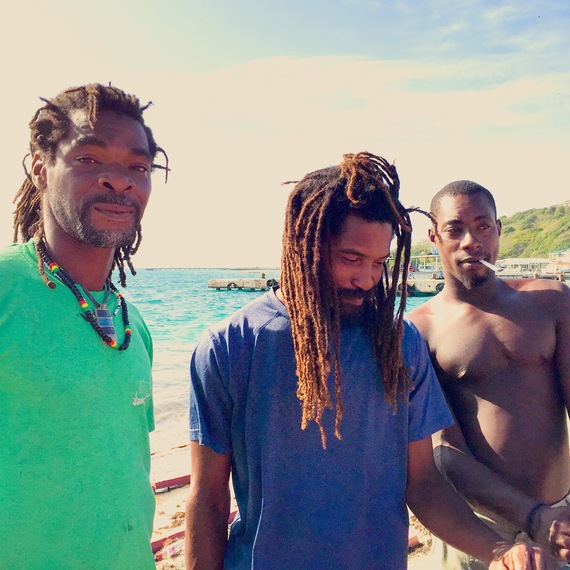 I stumble upon a deli/cafe providing quality French food items, with cheeses, pates, and wines from France, and excellent home-made yogurt. I could have happily sat for an hour on their patio with my coffee and their free wifi, but it's time to sail to Mayreau.
"Just wait," Alessandro says, "It's the best of all."
Saltwhistle Bay on Mayreau is the poster child of Caribbean dreams.
A glassy turquoise bay that instantly calms the soul; a palm fringed crescent beach with a few simple bars; and a single road that leads to a un-named village on a hill above Saline Bay.
Mayreau had no electricity until 2003 and is as slowed down as you can get. No wonder it's Captain Alessandro's favorite.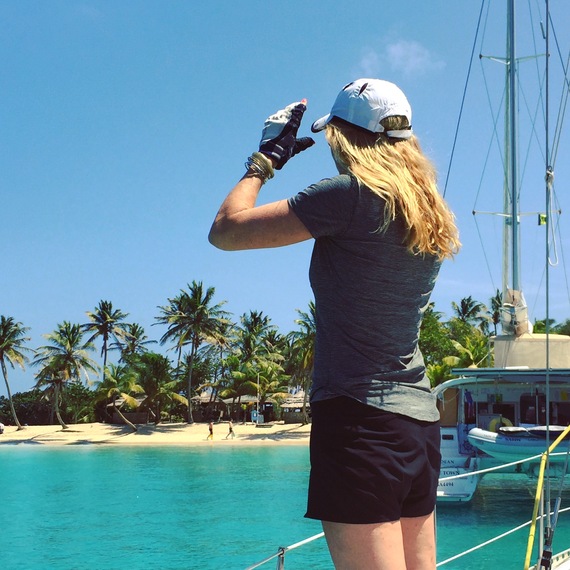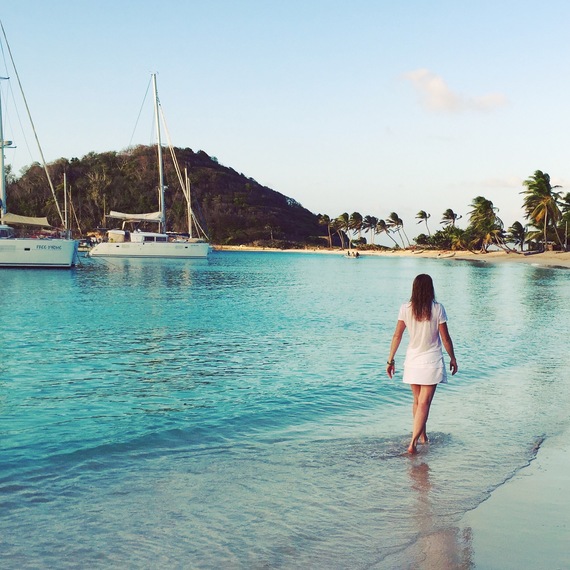 We sail back to Bequia on the last day, and moor in Admirality Bay. On shore I find Port Elizabeth to be more bustling than it was on my other visit, twenty years ago, but there's still an absence of major chain hotels and a prevalence of that Eastern Caribbean limin' vibe.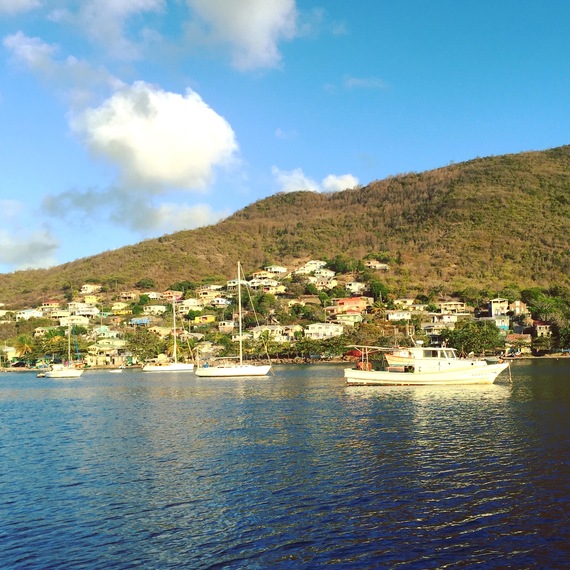 Our end-of-trip-dinner is at Bequia's Yacht Club. Lucky for us, on Friday nights the restaurant hosts an excellent local singer called Kyron. You can also hear him croon at Jack's on Sunday afternoons and Tuesday nights.
Jack's is the only establishment on Princess Margaret Beach--the prettiest beach on the island. It used to be considered "hard to get to" but now the Belmont Walkway has been extended. Just follow it from town, and you'll arrive on Jack's door step. For me it was even easier. I took a paddle board from the sail boat and paddled over to the beach.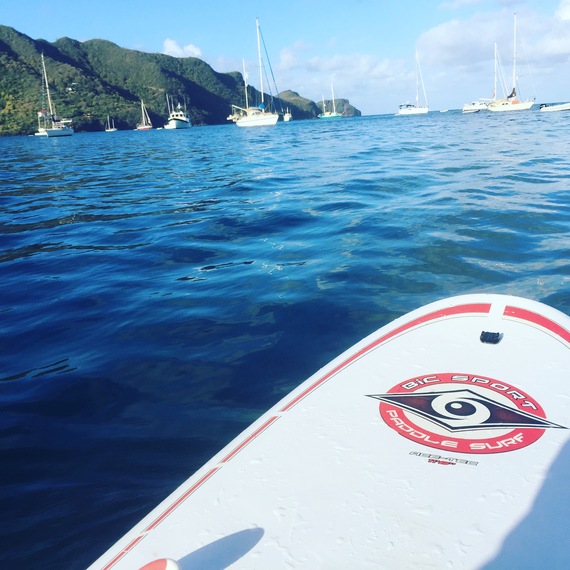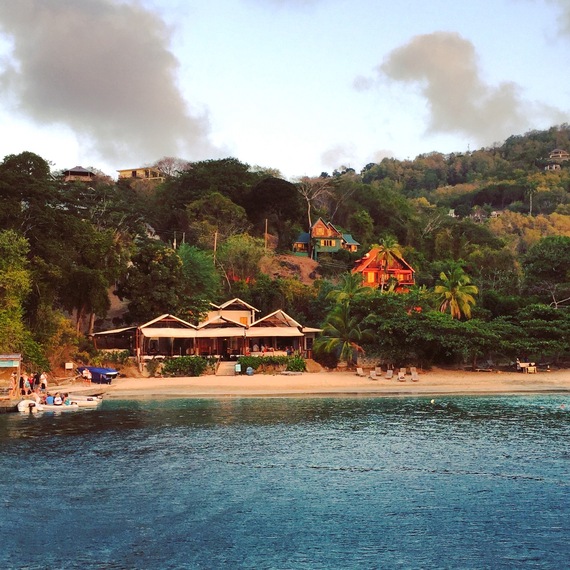 Unfortunately we were not there on a Tuesday when the island's best Jump Up happens at Jacks. Sounds like Tuesday at Jack's is not to be missed.
At the trip's end, I'm sitting at a cafe on a dock in front of the Blue Lagoon Hotel on Saint Vincent, watching people carrying groceries and rum to their chartered catamarans that will head out the next day. I think, maybe I'm a sailing wimp but I'd like to take a catamaran next time.
With so much to explore and with such friendly people, I hope there will be a next time.
While there are ferries that service the Grenadines, the best and most classic way to see the islands is by sailboat. If you don't qualify to charter a boat yourself, and don't fancy a sailing course, you can take the pressure off with a crewed yacht charter.
Here are a few companies that offer them:
Sail Heron and Jambalaya both offer bespoke week-long schooner cruises:
And for a day's sail from Bequia to Tobago Cays on a typical West Indian Schooner check out Friendship Rose: