Gina Seebachan doesn't just believe that the impossible can become reality, she knows that it can. As the mother of four children, Gina has seen a lot: the daytime playgroup that shunned working mothers; the working moms who looked down on stay-at-home moms for not being more career-oriented; and the nannies who were not welcome to join in conversations with mothers at the playground. None of this felt right to Gina, who believed that all mothers, and others caring for children, should be able to feel comfortable in the same place at the same time.
In 2007, with her oldest a tween and her youngest still in diapers, she began dreaming up an idea for just such a place, where the exhausted mom who had been up all night her infant could take her toddler and enjoy herself just as much as the mom who wanted to enjoy quality time with her kids after a long day at the office and the nanny searching for enriching activates for her young charges. Gina made sketches on paper late at night, imagining a small and welcoming "city" that children could explore and enjoy alongside their grown-ups.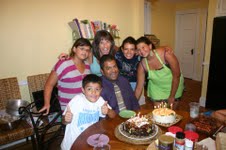 Gina knew there was a demand for a play area like this and all the moms she told about her idea wanted to know when it would open. Gina began searching for funding to make her dream a reality. She approached large banks and individual investors, but no one seemed to understand her idea and no one would get behind her. Even her husband, himself a banker, was skeptical and unwilling to help her find financing. Gina is certain that if she been able to find an investor who was a mother herself she would have invested without a second thought, but Gina never found one.
Gina, however, was not deterred. With no funding, no space, and not even a name for her new venture, she kept planning as the months went by and turned into years. She got inspiration for play areas from her children. Her son insisted on a firehouse themed room. Her daughters wanted a "pet shop" with live animals, a dress-up salon, an art studio, and a bakery. Inspiration came from unlikely sources as well. Discarded cardboard shelving in a neighborhood store's parking lot sparked the idea for a play supermarket. A small, wooden bridge spotted on a family vacation to Amish Country planted the seed for an outdoor-themed play area.
As soon as her idea took root Gina began collecting items for the play space she knew would one day become a reality. For three years, Gina kept her eyes open for gems she knew children would enjoy wherever she could find them. She took money from her family's clothing budget and scouted yard sales, thrift stores, and scratch-and-dent sales. She bought dress-up clothes, furniture, instruments, art supplies, and toys bit by bit. When she came across a book sale with 4,000 children's books on sale for a $1.00 each she bought them all by maxing out her credit card. Her husband, still skeptical that her idea would work, insisted that she move her ever-expanding stock out of their home and into storage. He asked her to reign in her spending, but she kept at it, planning and preparing for the day her dream would become a reality.
In the meantime, with no business background, Gina bided her time and set out to learn all that she could. With a limited budget, and her own money on the line, Gina had no room for error and could not afford to make any mistakes. She spent many days at the municipal planning office learning about permits, ceiling height regulations, and acceptable door widths. She consulted with architects and spoke to real estate agents. She visited children's museums up and down the East Coast to learn what worked and what didn't. With the years passing by and being no closer to making her dream a reality, Gina nevertheless kept planning, learning, buying, and waiting.
Finally, in 2009, still with no financial backing, Gina found a space she could afford. Where others saw old abandoned offices and heard only the sound of air conditioners humming, Gina saw bright colors and heard laughter. With only a shoestring budget, her entire family helped create what became the first Playseum. Gina's husband, still not believing her dream would be a success, nevertheless came in on weekends to help. Week after week the family of six worked side-by-side to get the Playseum ready to open. Needing to stay within her very limited budget, Gina did everything she could herself. She looked up how to lay tile herself, created whimsical trees from papier-mache, and enlisted her friends and neighbors to help paint furniture.
The hard work paid off and the result is a fun and creative play space with 4,800 square feet containing everything Gina and her children imagined -- and more. The fire station-themed room with a ride-on fire truck dreamed up by Gina's son is now a reality, located near the rooms dreamed up by his sisters: the bakery where children decorate their own cupcakes; the art studio where children paint on the wall or create a tile handprint; the dress-up room bursting with fancy costumes; and the "pet shop" filled with birds, lizards, and bunnies that children can pet. The supermarket is also there, complete with play food Gina and her children shellacked and painted in their home years ago when the Playseum existed only in sketches on scrap paper. Among other things, there is also: a full-scale pretend pizza restaurant; a president's gallery; an ice cream shop; an international room; train tables; a paddle boat; a sand table; and a stage stocked with musical instruments. Whatever your child enjoys, chances are Gina and her children have already thought of it and made it a part of the Playseum that was once considered unwise and impossible. Children love their time at the Playseum, as do all of the parents and other caregivers Gina envisioned playing side-by-side so long ago.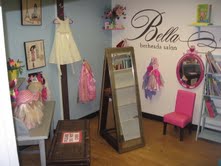 When the Playseum opened, demand was as high as Gina knew it would be and word spread quickly. Against all odds, the Playseum became profitable after only three months and quickly attracted major sponsors such as Safeway, Domino's, and Madame Tussauds. Witnessing her rapid success, her husband apologized for not believing in her from the beginning and acknowledged that her idea had been a great one all along. In the years since opening, the Playseum has been so successful that Gina was able to open a second location in DC in 2011 and the "Playseum Upstairs" for tweens and teens at the Bethesda location in 2012. Gina has also been able to incorporate charitable giving as part of the Playseum's mission and a portion of each admission is donated to help support orphans in her husband's homeland of India.
Now her biggest supporter, Gina's husband thinks it is time for her to rest on her laurels, relax, and enjoy her success. But, knowing now that nothing is impossible, Gina can't stop thinking up new ideas and doing whatever it takes to make them a reality.
The Bethesda location of the Playseum is located within walking distance of downtown Bethesda. There is plenty of metered street parking and nearby metered municipal parking lots allow for up to 15 hours of parking. The DC location of the Playseum is located on Capitol Hill two blocks from the Eastern Market metro station. There is also metered street parking. Both locations of the Playseum are open from Monday through Friday from 9:00 a.m. until 6:00 p.m. and on Sundays from 1:00 pm until 6:00 pm. The Playseum is a great place for a birthday parties and occasionally closes early when the entire facility is rented. These dates are posted well in advance on the Playseum website. Both Playseum locations have plenty of room to sit down and enjoy a packed lunch, but there are child-friendly restaurants within walking distance of both locations if you prefer to take a break from your play. Just ask for a wristband on your way out to be admitted again after lunch.
Admission is regularly $7 for caregivers and children over eleven months. However, through Feb. 5, admission to the Playseum is only $5 making this a great time to visit. The Playseum recently started offering an annual plan for $300 that gets you 75 visits with one free adult visit per use.
Photos from top to bottom: Seebachan Family; Outdoor themed play area at the Playseum; Dress-up salon at the Playseum
Author has permission to use photos.
Calling all HuffPost superfans!
Sign up for membership to become a founding member and help shape HuffPost's next chapter