Family reunions are always a special time, but they're even more special when a whopping six generations get together in the same place. 
Lois Hubbard, 97, enjoyed the treat of a lifetime when she got to meet her four-week-old great-great-great-granddaughter baby Bonnie Hinch this past weekend in Mason City, Iowa. 
"She got to hold the baby and I said 'Is your arm getting tired?'" Hubbard's daughter, Janet McBride, 76, told The Huffington Post. "And she said yes so I said, 'Well, I'll take the baby' and she said 'No!'"
McBride says Hubbard just didn't want to let her new grandchild out of her arms. "She loves babies and she was very happy to see the baby," she said.
All six generations of the Hubbard family were photographed together in a heartwarming moment as Hubbard saw baby Bonnie for the first time. "This gives me chills," B.J. Brockett of Odgen, the wife of Hubbard's grandson, Lynn Brockett, told Iowa's Globe Gazette.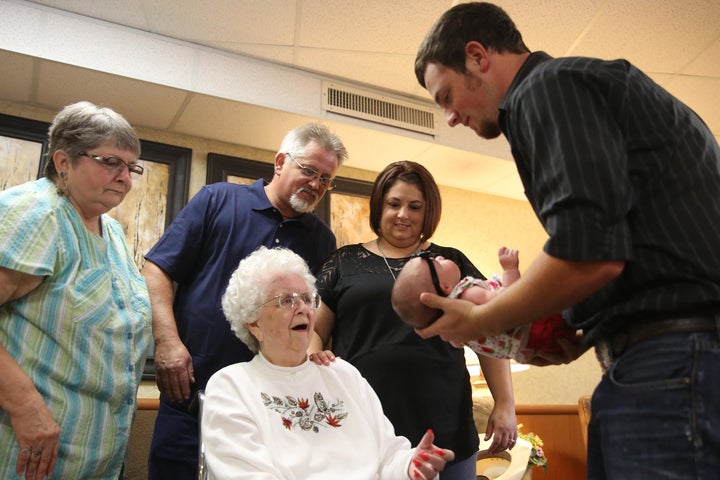 Daniel Hinch of Adel hands his newborn baby Bonnie Hinch to her great-great-great-grandmother Lois Hubbard, 97, of Mason City as other members of six generations met for a family reunion on Saturday. From left are Janet McBride, of Polk City, Lynn Brockett, of Ogden and Trisha Smith of Minburn. 
Lois Hubbard was joined by members of five other generations of the Hubbard family in what can only be described as a once-in-a-lifetime moment. "It's not every day you have six generations," Brockett said.
Being young for a great-great-great-grandma, Hubbard was married when she was just 17. She had two children and spent most of her life as a homemaker, but later went on to work in a sales office, McBride said.
"She was always very family-oriented and loved being around her family," she added. "And she still gets to do that."
Hubbard has only been living in an assisted living facility for a few months but, luckily, much of the family lives close by, meaning she has plenty of visitors.
As for the entire family coming together for one big reunion? Unlikely. With six generations, "there's too many of us," McBride said.
Also on The Huffington Post
PHOTO GALLERY
Grandparents Play An Important Role In Families, AARP Study
REAL LIFE. REAL NEWS. REAL VOICES.
Help us tell more of the stories that matter from voices that too often remain unheard.