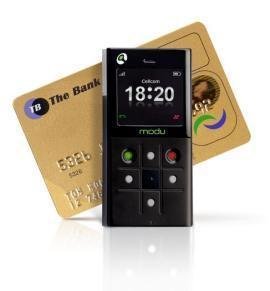 The Guinness World Records named the Modu phone as the lightest cell phone in the world. At just 1.5 ounces and 2.8 by 1.4 by 0.3 inches, the Modu is a full ounce lighter than the already miniature Pantech C300. Without a doubt, it's the tiniest cell phone I've seen outside of Zoolander.

In case you're not familiar, Modu is a modular cell phone that can be placed into "jackets" that change the both the appearance and the functionality of the handset. The Modu only has a tiny display, a couple of navigation controls, a mini-USB port, and a charger jack. It's a normal cell phone in most respects but you're not really meant to use by itself. Instead, it's designed to be inserted into one of the jackets, which basically are the shells of a larger candy bar phone. My Modu hands-on from the GSMA World Congress will give you the full report.
Moco News, via The Washington Post, reports:
Modu was started 18 months ago by Dov Moran, who previously founded msystems, a company that was sold to SanDisk for $1.6 billion. So far, Modu has raised $20 million from Moran, but also outside investors, including Genesis Partners, Gemini Israel Funds, and SanDisk (NSDQ: SNDK). The investors in the latest round are undisclosed, but the Globes reports that it will be raised on a pre-money valuation of $150 million.
Related
Popular in the Community