Fifteen of us, from Israel, Palestine, Egypt, Jordan, and the U.S., sat in a circle on the grass under the shade of a large oak tree. Warring nations and divided people had come together in the form of teenagers at Seeds of Peace in Otisfield, Maine. As I prepared for Seeds, I wanted to believe that everyone would become a family, but that seemed pretty lofty considering the tensions in the Middle East. I thought, maybe as an American I could feel that sense of unity, as I am less directly engaged in the conflict. But would Israelis and Palestinians be able to let go of their deeply held views and losses for the sake of a friendship? I had my own fears as well—as an American, how would I be able to contribute? Did I know enough about the conflict? Was my role to be a mediator, represent my country? Sure, I come from a diverse family—a Lebanese grandfather, a Jewish grandmother, and an Italian Catholic "Nona." But where did that put me?
I was told, "Trust the process," one of the mottos of Seeds of Peace. Now looking back, I am glad I did. The process began and ended with the buses that brought us all together … and returned at the end.
As we arrived on the first day, we were led under a tunnel of interlocking arms. Each arriving delegation was welcomed. Our first interactions were polite and jovial, albeit a bit cautious. We introduced ourselves with smiles, handshakes and some hugs. Although there was some initial hesitancy and anxiety, I was surprised to see how well we were all getting along. New signs of commonality began to appear. Emerging from our bunks on the first day, we all wore the same "Seeds of Peace" green t-shirts and navy sweatshirts, our uniform for the next few weeks. As we progressed further into the program, friendships even began to develop.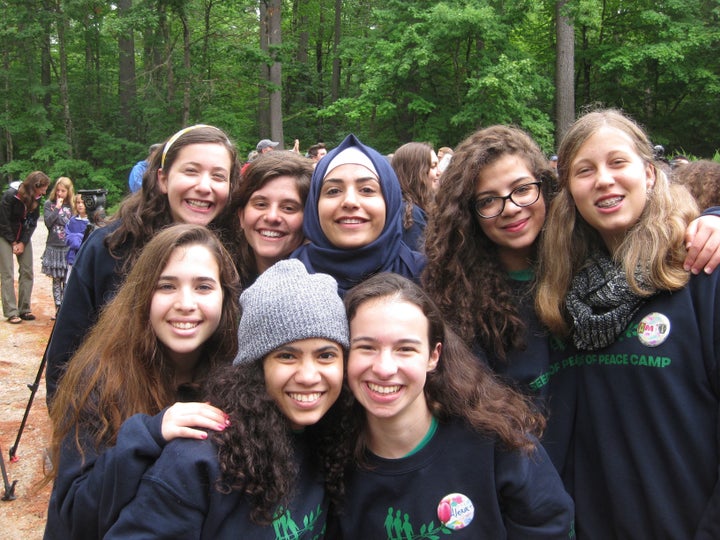 However, as we entered our second week, there was a noticeable tonal shift, particularly during "Dialogue Sessions," where the difficult discussions surrounding history, religion, and personal experiences began to take place. Dialogues, each consisting of 15 people, included discussions about checkpoints, Gaza Strip, rival military groups, and past events leading up to the conflict. Initially, dialogue sessions, two hours per day, had been name games and icebreakers, but it wasn't long before tensions, passions, emotions, and insecurities became evident. At first, I was impatient with the icebreakers, wanting to get directly into real dialogue. But as the discussions became emotionally charged, there were times I wished we were participating in icebreakers. We ripped off the band-aids of surface level discussions and dove into the real issues, discussing the Arab-Israeli conflict ― sometimes from a broader perspective and other times at a more personal, intimate level. There were days we felt like we had to defend our countries, even if we didn't in our hearts. Or we felt like we had to take sides, and the "us versus them" mentality took over. At times, we felt attacked or personally insulted. Small details often became the center of conversations. We engaged fully in tough issues, which resulted in pain, emotion, and exhaustion.
But we made large strides. As we entered the third week, a deeper level of understanding and empathy emerged. We began accepting each other's truths. We realized that a person's knowledge is his or her truth, not just a perspective. We would say things like, "I'm so sorry you have to go through that," or "Wow, I didn't know you had to deal with that every day." We tried to make compromises and adjust our own thinking. People weren't talking over each other as much. We began to look at each other as individuals and also found parts of ourselves in each other. We were able to identify transcending commonalities of religious and ethnic characteristics. When we attended religious services together, we saw a shared objective of "goodness" emerge.  Geographic, religious, ethnic, familial, and rhetorical dividing lines began to fade.
I cannot say that in the end, we developed a comprehensive plan for the Middle-East that can be implemented tomorrow. But we made progress in a different way. By meeting each other and hearing each other's stories, we were making change. By getting to know adversaries face-to-face, we found friends. We found compassion and, yes, love. We saw "the way life could be" (a seeds motto). That is the change. We will share each other's stories in our hometowns. Because we had a taste of peace, we will chase it for the rest of our lives and work to have whole nations live it.
On the last day, the buses arrived to take us back to the airport and home, apart from each other. Was it really already time to leave? I had a pounding headache by the end of the day from crying. As I watched my new family members drive off in the buses, I kept thinking, "When will we see each other again?" And there was no guarantee that we would. But I realized that the depth of our bond would keep us together in our hearts. As seeds, we will work together to grow peace by planting ourselves in countries thousands of miles apart. 
Calling all HuffPost superfans!
Sign up for membership to become a founding member and help shape HuffPost's next chapter