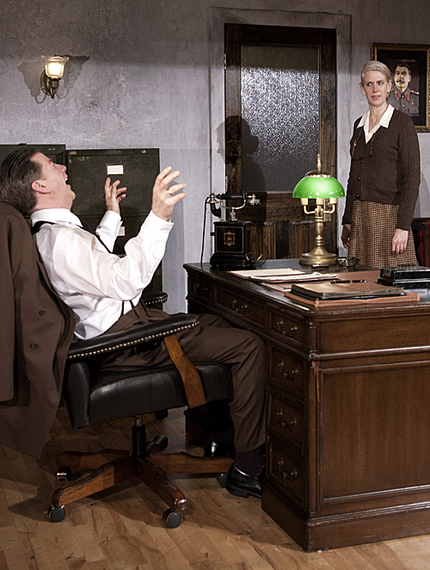 The Director (Michael Ray Wisely) finds something funny; employee Anna (Beth Wilmurt) doesn't share his amusement.
Photo by Sarah Roland
Two nights, two new theaters, two small theatrical gems. That's the triumphant scorecard for Berkeley, where the neighboring Aurora and Berkeley Repertory theaters inaugurated black-box facilities just a few steps from each other with compelling productions on consecutive nights.
The first to open was John W. Lowell's The Letters, in Aurora's 60-seat Harry's UpStage: 75 minutes of excruciating tension between a slimy supervisor and his frightened female subordinate in the 1930s Soviet Union. Lowell set the action in a very specific time and place, but the interplay can easily be transferred dozens of countries -- possibly including our own -- in this 21st century.
The drama is a perfect choice for introducing the facility, which shares the lobby, ticket booth and other amenities with Aurora's main auditorium. The seats are located on a fairly steep set of risers, giving perfect sightlines to everyone and creating an intimacy that makes the connection between actors and audience all the more affecting.
One evening later, on the opposite side of Addison Street, Berkeley Rep launched its 200-seat Osher Studio with a revival of Brian Copeland's personal, painful and often hilarious Not a Genuine Black Man. Written and performed by Copeland, the show ran for a record 25 months at The Marsh in San Francisco, then toured nationally to some 30 cities. This year marks its 10th anniversary.
The play blends social and personal narratives, tracing the actor-author's youth in nearby San Leandro, then shifting into aspects of his adult life, where success in radio, TV, the concert stage and theater didn't always bring happiness. Race relations, perceptions and frustrations play a huge role at every point. And the Osher is an excellent venue for the play, whose scenery consists of two wooden stools.
Lowell's Letters pits an aggressive mid-level bureaucrat (Michael Ray Wisely) against a frightened employee (Beth Wilmurt) in a duel of wits whose stakes don't surface until late in the game. The drama's tone suggests from its opening moments that the stakes are high and deadly.
Summoned to his office for no obvious reason, employee Anna is certain only that such calls never bode well. A tall, thin woman whose blond hair is pulled back into a tight bun, Wilmurt bristles with obvious trepidation, pacing alone in an room whose most distinctive elements are portraits of Stalin and Lenin on the wall, above a discordantly bright red loveseat.
Her boss, known and addressed only as "Director," enters and does his best to calm and even befriend her. For a while his convivial tone and his offer of a promotion even suggest that his motives might be sexual. But the mood fades quickly.
What follows is the gradual tightening of the screws, employing innuendoes, threats and a tale of surveillance, torture and murder in an effort to find and destroy letters that the puritanical Soviet state would find embarrassing. He believes they have been copied and hidden by one of Anna's colleagues, and that she must know their location. All work for a ministry of information: Its most important role is censorship.
The missives concern sexual escapades -- presumably homosexual -- that were vividly chronicled by one of the nation's most famous composers. Allowing them to reach the public eye, in the view of the Director, would be a blow to the state.
With pitch-perfect characterizations by Wisely and Wilmurt, under Mark Jackson's taut direction, the narrative grows increasingly tense until facades fall away, power positions reverse and illusions burst. It's a masterful tale, masterfully told, and displayed at its best in Aurora's new venue.
At BRT: Not a Genuine Black Man
Although San Leandro these days can boast of being ethnically diverse and tranquil, that wasn't the case when Copeland's mother rented an apartment there in 1972. She made the move without knowing the East Bay city's well-established reputation as "a racist bastion of white supremacy," in the words of a report by the National Committee Against Discrimination in Housing. Its conclusions were echoed in a CBS documentary, a Newsweek article and a federal hearing.
She learned quickly, but not as fast or dramatically as eight-year-old Brian, whose search for the neighborhood park was interrupted by taunts from a carload of teens and minutes later by a policeman's grilling, a pat-down search and a ride home in the back seat of a squad car.
Copeland tells that story and many others with as much astonishment as indignation, employing vocal skills that range from his kid sister's falsetto squeaks to his abusive father's resonant basso, and facial flexibility to match.
He rarely erupts about events that he seems to regard as ancient history, but leaves such emotions to viewers, where they surely resonate. Episodes of cruelty, humiliation, struggle and resilience punctuate the narrative, delivered most often with the innocence and bewilderment of a child, and generating laugh after laugh, before reflection.
Copeland is not above rage, however. That quality comes through most vividly in his explanation of the source of the play's title: A neatly typed, but unsigned, letter that arrived at San Francisco radio station KGO, where he has a talk show. It read: "As an African American I am disgusted every time I hear your voice because YOU are not a genuine black man!"
That forces him to confront an obvious question: How can anyone define the essence of black males? Do stereotypes ever ring true for every member of a community, whether they come from bigots of paler races or within the black community?
He offers a few anecdotes, prompted by stereotypical generalizations, and notes that some apply to him and others don't: His skin says he's black, and so do his affection for Motown music and watermelon, but what about his non-ghetto speech patterns, his fondness for the Beach Boys or his membership in the Catholic Church, all outside the conventional profile?
The contradictions and stresses are enough to make heads spin, and could easily have contributed to the show's darkest episode: An attempt at suicide that occurred after Copeland had achieved success and celebrity in the Bay Area. He milks the tale for boisterous laughter, and a twist of irony.
I won't reveal the details, except to note that Copeland's life was saved by two policemen. One was the officer who had harassed him years earlier, on that first walk in San Leandro. After performing his rescuer's duty, the cop asked for Copeland's autograph, explaining that his wife was a fan.
The play skitters back and forth through decades, incidents and personalities, but Copeland's skill (and presumably that of collaborator/director David Ford) gives the narrative a seamless flow. It's at once familiar and unique, funny and painful and poignant, and a terrific opener for the new theater.
The Letters runs through June 1 in Harry's UpStage at Aurora Theatre, 2081 Addison St., Berkeley. Tickets cost $28 for subscribers, $32 for others.
Not a Genuine Black Man runs through May 31 in Berkeley Repertory Theatre's Osher Studio, 2055 Center St., Berkeley. The theater can be reached through an arcade that connects Center and Addison streets.