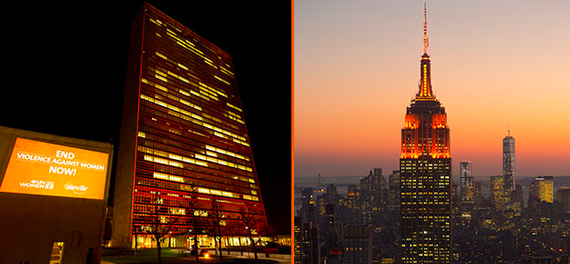 It's the time of the year to put an away message on your e-mail account, to log off, and shutdown. It's time to embrace the company of your loved ones, to share stories and ideas with friends and family. But this year feels different. We cannot so readily sign off without acknowledging our world's status. Lately we have been looking into the eyes of evil -the terror that struck Paris has reverberated around the world. Our hearts are broken for the victims in San Bernardino, we are scarred from the extremist attacks in Mali, Kenya, and Lebanon, and distraught from the crash of a Russian charter flight.
As we begin to celebrate the holiday season, we must remember how crucial this time is to stand together for humanity. Perhaps you have noticed the cascade of orange light that has lit up our cities the last two weeks. The color orange -bold and bright, just like the movement it stands for- was deployed in over 70 countries to galvanize a UN campaign to end violence against women.
In Pakistan, 10,000 girls from eight different universities draped themselves in orange clothing and took to the streets. The Nelson Mandela Bridge in South Africa and the ruins of Petra in Jordan were eclipsed in orange, and in New York, the UN headquarters cast an orange shadow into the Manhattan skyline.
Orange is a visual reminder, and a light of hope for millions of women across the globe. The UN campaign encourages the world to stand together to address one of our most pressing issues: the fact that one in three women in the world have experienced sexual or physical violence.
To be a girl in Malawi means that you will likely be married before 18. UN Women concludes that when a woman is married before 18 she is far less likely to complete an education, and far more likely to experience sexual violence and extreme complications during childbirth. This is not just Malawi's problem; this is our problem.
Recently, in Kerala, India, local news reported another gang rape. The reaction from the media and law enforcement was that the woman "shouldn't have been walking in that area." There is an obvious link here, between blaming women who are sexually assaulted, instead of blaming those who assault them. In the Democratic Republic of the Congo, 48 women are raped every hour -and nearly every minute a woman is subjected to some form of sexual abuse. This is an epidemic and a war against women.
In India, the problem is equally as bad. The International Conference on Gender Equality stated that rape cases in India more than doubled between 2001 and 2014. In Cambodia, the latest Demographic Health Survey showed that one-in-five women are victims of physical violence. And in the States, the film, The Hunting Ground courageously shown on CNN to much debate, has brought up a rigorous national discussion on the increasing problem of rape and sexual predators on college campuses, and what can be done about them.
In some cases there has been strides forward -like Guatemala that just banned child marriage (an extraordinary feat considering one third of the population was married before the age of 18). Rwanda has become the golden standard in closing the gender gap -the small country in the heart of Africa ranks highest in the world for pay equality; Rwandan women now make 88% of what men make and 64% of Parliament is made up of women.
But to be sure, there is far to go. This orange light is a glowing reminder of our need to stand together for women's rights. Orange is intended to illuminate our lives, not to produce stress or sadness, but rather to instigate a dialogue. Awareness is our first step in ending the global violence against women.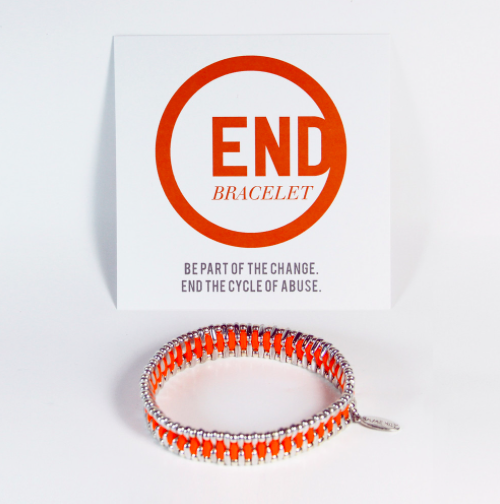 I encourage everyone to join us in the awareness movement with Same Sky's UNiTE to End Violence Against Women bracelet. The bracelets are finely handcrafted by our women artisans in Rwanda who have overcome unspeakable violence during the Rwandan Genocide. By wearing their beautifully crafted jewelry, we are standing together in hopes of change.
REAL LIFE. REAL NEWS. REAL VOICES.
Help us tell more of the stories that matter from voices that too often remain unheard.