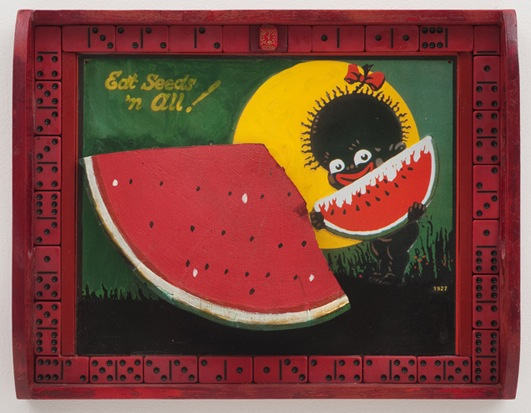 Betye Saar: Red Time | Much like the river Saar, which rises in the Vosges Mountains, flowing north to the Moselle River in Germany, Betye Saar chose an artistic current that runs contrary to the force of society's influence.
Red Time, an amalgamation of found, created, borrowed and recycled objects, is a site-specific retrospective installation set to divide Saar's practice into three categories: "In the Beginning," "Migration and Transformation" and "Beyond Memory," examining Saar's past, present and future.
"In the Beginning" includes works from 1960-1970, exhibiting Saar's interest in metaphysics, the occult and magic. These works incorporate Euro-centric concepts of palmistry, phrenology and astrology in addition to Afro-centric concepts of voodoo and shamanism. Works from this period take form in print, drawing, as well as Assemblage windows, boxes and alters. During this time, while mother to three, Saar became a respected member of Los Angeles art community with peers that include David Hammons, John Outterbridge, Ed Kienholz and George Herms. Many of the works Saar created during 1960-1970 begin to bridge the unknown and the uncomfortable, with allusions to such artists as Romare Bearden, Jacob Lawrence and Joseph Cornell.
Betye Saar: Red Time runs through December 17 at Roberts & Tilton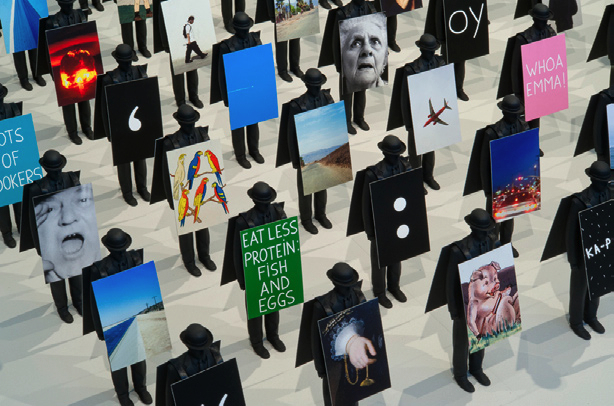 Richard Kraft: Something With Birds In It | A site-specific installation composed of four elements, Something With Birds In It invokes the friction and fluidity between familiar polarities--between the sacred and profane, sense and nonsense, play and violence, reflection and action. Using a variety of media--including photography, drawing, collage, and sculpture--as well as acts of alteration and appropriation, Kraft conjures a visual environment where anticipated meanings are called into question and in which contradictions and nonsense point to other kinds of truths.
100 Walkers: Los Angeles (shown above) is at center of the room, serving as a fulcrum for the entire installation. In this grid of one hundred 8-inch cast figures in suits and bowler hats, each wears a unique miniature sandwich board, that--subverting a form traditionally associated with advertising and proselytizing--has nothing to sell. Drawing from various visual and verbal lexica, some sandwich boards share imagery with Conturbatio, Nocturne, and Tube Portraits, and create their own collage, connecting disparate pieces of the world. Poised as if to animate at any moment, they might walk out into the world to interrupt the familiar with humor, distortion, and unexpected juxtapositions. This work is also part of the larger Walkers series that includes performances in which actual walkers with sandwich boards create startling incongruities in environments as diverse as Hollywood, Death Valley, Speaker's Corner in London, and the Las Vegas Strip.
Richard Kraft: Something With Birds In It closes October 29 at Charlie James Gallery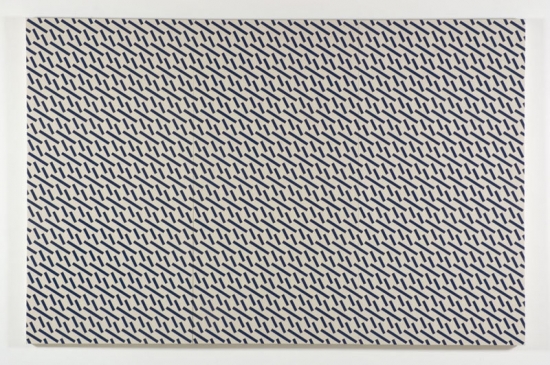 John M. Miller: Yesterdays | The exhibited works--all large-scale, magna on raw canvas paintings evidence Miller's dedicated and constant practice, in which the same image, consisting of two pairs of different sized bars, is meticulously rendered, by hand, across the entire surface of the canvas. These bars retain their pattern in each painting, but are scaled according to canvas size and altered through subtle variations of color; deep violets, blues, and greens may appear black at first glance, but with time reveal themselves otherwise.
This temporal experience forms the crux of Yesterdays. As Waxing (1993) travels from black to white, its mirrored twin Waning (1993) moves in the opposite direction. Miller's repeated pattern keeps the eye in motion across the canvas, but time allows the movement created by the alternating bars to settle, and eventually the paintings become perfectly and pristinely still. Passage (1994), over fifteen feet wide, anchors the gallery's soaring architecture as cool, crisp white bars march across the warm surface of the untreated canvas. Miller's practice has remained constant since 1973, but the results continue to look fresh and timeless.
John M. Miller: Yesterdays closes October 29 at Margo Leavin Gallery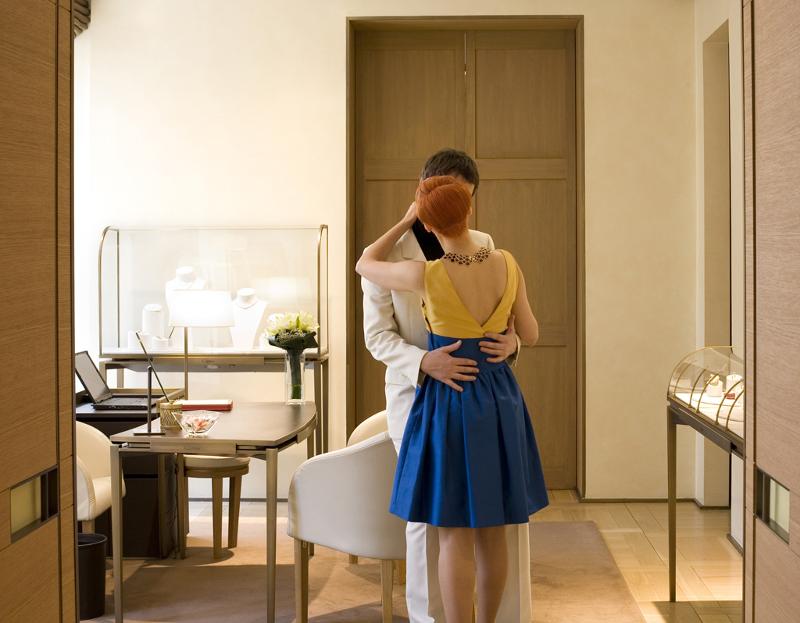 Marta Soul: Idillios | Idilios (Spanish lyrical word for 'romances') shows a series of romantic situations representing the experiences of one woman with different men. These idealised scenes are about the experience of romantic love; the kiss representing immediate satisfaction, a search for pleasure in a symbolic act devoted exclusively to seduce us, as advertising does. What emerges is a reflection about the ephemeral concept of love and happiness.
Marta Soul's past projects have also reflected on the interplay between image and reality, as well as the mutual influence that each has on the other's meaning. Her work continues to show a strong interest in contemporary society's determined roles for identity, sexuality, culture, and appearance.
Marta Soul: Idillios opens October 29 at Kopeikin Gallery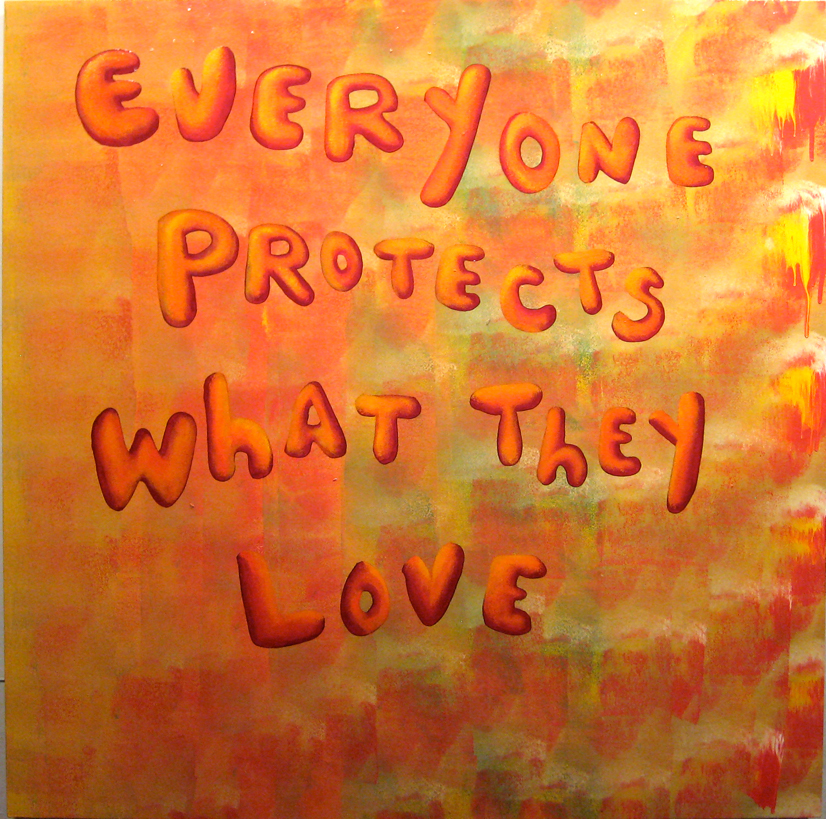 Chuck Agro: everyone | Writing has always been an important part of Chuck Agro's work and has helped him define and bring to life the characters of his past works. Having studied and painted people for over 20 years his new work again explores their state, their emotion, their being.
For Agro, words work as a tool used to clarify and define his painting. In previous work, he would write a verse or stories about the individual or individuals and use this as the structure for a painting. "everyone" started as a way for the artist to clarify an idea of the group and the individuals in the group; as a way to define the individuals need to display and then disguise emotion and opinion; and as a way to explore how the line between display and disguise blurs for each of us. After writing everyone he realized that everyone didn't need an image to define it. What it needed was to fill a space and to make that space a poem the reader could inhabit, walking between the cadences and feeling the slurring, the mumbling, the enunciation and the volume of the words and the slipperiness of people's lives.
Chuck Agro: everyone opens October 29 at CB1 Gallery
For more information about art events throughout Los Angeles go to Artweek.LA.
Popular in the Community