Columbia is a city of 110,000 people in the middle of Missouri that often hosts cultural events that put the far larger metropolises of Kansas City and St. Louis to shame. The city is probably best known as the home of the University of Missouri and the dreaded Tigers.
As a native Jawhawk, it pains me to admit that when it comes to music and film festivals, Columbia rocks.
One clear example of how well Columbia treats artists and their fans is the annual Roots `N Blues `N BBQ festival, which just wrapped up Saturday. For $75, attendees could catch Marty Stuart, John Mayal, Al Green and dozens of other top acts over the course of the weekend.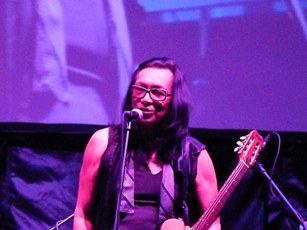 Joining this august lineup was Rodriguez, a singer-songwriter who's finally getting recognition for two terrific albums he recorded in the early 1970s. Actually, the Detroit-based Rodriguez ended up reaching fans in South Africa and Australia decades before anybody in the States ever heard of him.
Even Sixto Diaz Rodriguez himself didn't know of his international fame until the late 1990s, and his albums Cold Fact and Coming from Reality weren't available until Light in the Attic reissued them in 2008.
In 2012, however, America may finally be ready for Rodriguez and his start, often poetic calls for justice. Swedish filmmaker Malik Bendjelloul's new documentary Searching for Sugar Man has gained Rodriguez thousands of new fans, and his recent tour has taken him from Sweden to London to The Late Show with David Letterman.
In Columbia last Friday, Peace Park, which faces the MU campus, hosted a crowd of nearly 2,000 to 7,500, many of whom had recently seen Searching for Sugar Man at the local Ragtag Cinema, had seen the film at Columbia's True/False Documentary Film Festival in March or had traveled from places like Nebraska or other spots in flyover country to determine if he still had the same, smooth low key voice that runs through the previously neglected albums.
After a video celebrating Peace Day, Rodriguez tentatively made his way to the stage and quickly revealed that his voice and his Spanish strumming style still sound remarkably like they did in the studio 40 years ago. He comes off as quiet and unassuming, but if he was intimidated about going on stage after Joe Lovano US Five, which featured Grammy winner Esperanza Spalding, it didn't show.
On this tour, Rodriguez sometimes plays with pickup or house bands and sometimes plays solo acoustic sets. For this stop, he was backed by Edward Sharpe & the Magnetic Zeroes who were scheduled to play on another stage just a few blocks away. That might explain why they left him by himself the rest of the show.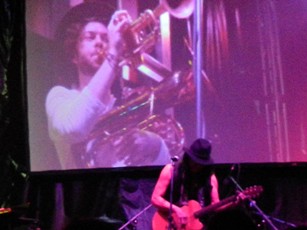 Sharpe and his crew feature horns and keyboards that come reasonably close to matching the original studio arrangements of Rodriguez's tunes, but their embellishments to his best known song "Sugar Man," a tune about waiting for a dope dealer to arrive, made the song sound even eerier and more surreal than on Cold Fact. Having driven two hours to see the show, it was gratifying that the crowd and I were catching something unique that people in other stops wouldn't hear.
Even thought the parents of half the crowd weren't born when Rodriguez recorded these songs, they'd yell, "Thank you for coming to Columbia!" The 70-year-old singer returned the affection by acknowledging the greeting and playing as if he'd written his self-penned tunes recently.
While the legends about his past performances indicated that he'd perform with his back to the crowd like Miles Davis did or not speak to the audience, on Friday night, he's tell jokes (he got a warm response for a naughty one about Mickey Mouse), encourage his listeners to vote (he's an unapologetic Obama supporter) and inform the crowd about the "secret of life." For those who didn't catch the show, it's making sure that we breathe in and out.
With only two and a half completed albums (the songs from the aborted album are featured on the Searching for Sugar Man soundtrack and as bonus cuts on Coming from Reality), he padded his set with covers. He seemed to pick them with a sense of mischief.
If someone in the crowd requested a tune he hadn't played yet, Rodriguez might get to it after having played a mash up of "Good Golly Miss Molly," "Whole Lotta Shakin' Goin' On," "Shake Rattle and Roll" and "Subterranean Homesick Blues." His covers of Little Willie John's "Fever" and Cole Porter's "Just One of Those Things" were assured and revealed a wider range of influences that a casual listening of his albums wouldn't reveal.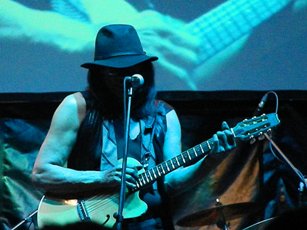 As he adjusted the tuning on his guitar, I heard some of the people next to me complaining that Rodriguez's microphone wasn't set loudly enough. I was facing the center of the stage from 150 yards away and heard every word and was grateful that I didn't have to break out my earplugs. The sound would go quiet when he was tuning, but once he started strumming, the songs came through loud and clear.
Before the covers got tiresome, he went back to his own material and sang "Like Janis" and "Forget It." The latter song was especially poignant when he reached the lines "Thank you for your time, and you can thank me for mine." In Searing for Sugar Man, South African admirers recall hearing stories about how he'd killed himself after performing the chorus on stage.
Thankfully, reality in this case was far more gratifying than fiction. Rodriguez seemed elated to have new fans, and if Columbia is any indication, he'll have a lot more before the tour is through.
REAL LIFE. REAL NEWS. REAL VOICES.
Help us tell more of the stories that matter from voices that too often remain unheard.