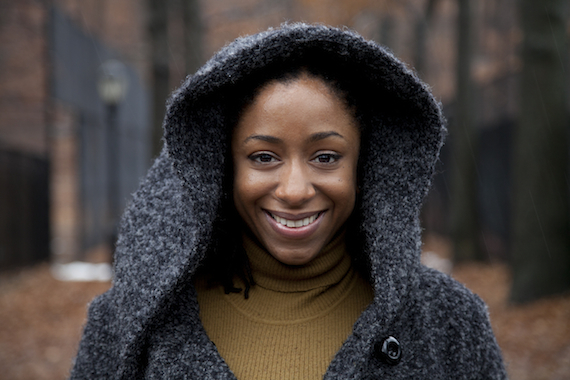 Anisah Miley, photo courtesy of Julie Hassett-Sutton/Frantic Studio via Global Kids
I was raised in public housing in Crown Heights. My family did the best they could to provide for us, but we were poor and my mom struggled with chronic illness. My dad was involved in my life, but it didn't work out between my parents romantically. My mother fell in love with another woman shortly after my birth, so growing up I had two mothers. The community had a really hard time with their relationship so once in a while, the glass would be smashed on their car.
At 16, I had already developed a love of history, social studies and politics when I found out about Global Kids. Global Kids offered me an opportunity to use my passion for current events to create social change.
In the summer of 1996, Global Kids and Global Action Project worked with Protestant and Catholic youth involved in the longstanding conflict in Northern Ireland. During my stay, I lived with a Catholic family and another Global Kids student, Siva Persad, who's Trinidadian, lived with a Protestant family. I often thought, "Wait, I'm a Black person in New York and now I'm a Catholic in Northern Ireland?" It seemed like a double whammy. When I saw Siva he would say, "Living on the Protestant side is great. That's where the privilege is." It was interesting to learn what it meant to be a second-class citizen in a way that had nothing to do with skin color. It taught me how to empathize with people who don't look like me, who have a different kind of struggle.
Global Kids trainers were genuinely interested in who we were and in being positive adult role models. Global Kids provided me with additional parents, as well as the structure and purpose I needed to protect against the problems affecting the community where I lived, like risky sexual behavior and substance abuse. They were a part of my family in a way that was powerful.
Through Global Kids, I learned about the Posse Foundation scholarship. The trainers told me that my interests and my hunger for social change made me a good candidate. They were there cheerleading, encouraging, every step of the way. I got the scholarship and went to DePauw University. I became a leader in developing programs that made freshman year more inclusive for people of color, for first generation college students, and for LGBT students.
A lot of young people don't know how to get what they need in terms of questioning power and authority, asking for change to happen and being at the table. Global Kids always invited us, and now I don't think about not being there. I'll be there.
Popular in the Community