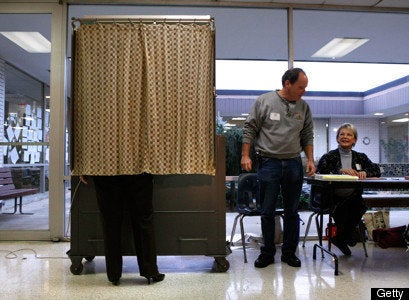 While I generally don't go for alphabet soup, from now on I'll have the OSDV. If you care about your vote being counted and are concerned about the flaws exposed by voting irregularities in the last four national elections, you should too. OSDV or "open source digital voting" refers to voting software for which the source code and certain other rights normally reserved for copyright holders are provided under a software license that is in the public domain (Thank you, Wikipedia!).
OSDV is overdue in this country and a new non-partisan non-profit, the OSDV Foundation and its companion Trust the Vote Project are out to change the way America votes. The Foundation begins from the premise that the nation's voting system should be secure, accurate, auditable and transparent. Moreover, the error rate in today's American voting would be completely unacceptable in the credit card or banking industries. This is why 8 large states (including California, Washington, and Oregon) representing 25 percent of the electorate are already on board with the OSDV Foundation's plan to build an open source solution which safeguards the citizen's most precious right.
Unless your name is Meg Whitman you probably already recognized that voting is not just a right but an important privilege of American democracy. But with only two voting machine companies left in this country, it is the transparency that OSDV will bring to the process that is of paramount importance. In the age of H1N1 as Justice Brandeis wrote, "Sunshine is the best disinfectant." Instead of the classic Diebold black box, the OSDV approach will let us scrutinize the voting process. OSDV is creating a roadmap for getting from our currently unacceptable situation to a future with a transparent, reliable, and auditable voting system.
OSDV holds promise as a solution to the voting irregularities that plagued the 2000 Florida, 2004 Ohio, 2006 midterm, and 2008 Minnesota recounts. While this last one between comedian Al Franken and politically confused anti-Vietnam War Democrat turned pro-war Bush Republican Norm Coleman lasted eight months and was worthy of a whole season on SNL, all four recounts make this country's election process look more like a presidential election in Iran or Afghanistan than in Jefferson's democracy.
Given the team involved in advancing this selfless if daunting project I expect the term OSDV will soon be as widely used as LOL, G2G, IMO and other acronyms baffling to those of us older than 18. Last month I had the pleasure of learning about the OSDV Foundation's important work at a panel discussion hosted by The Hollywood Hill. The event at the home of producer Lawrence Bender (Inglourious Basterds, An Inconvenient Truth, Pulp Fiction, etc., etc., etc.) was a pleasantly focused presentation worthy of the Oscar winner(s) in the room.
After some chit chat and food and drink the evening featured OSDV's Gregory Miller introducing the non-profit Silicon Valley effort which aims to reinvent the way the country votes. As Miller explained, OSDV developers are building an open source voting system that will do for the voter what Oracle and SAP's enterprise business software solutions (Dilbert's Elbonian database) have done for business. Rather than just another star-studded Hollywood reception in Bel Air, the focused geeky seminar featured a hands-on panel that included California Secretary of State Debra Bowen, software designer and entrepreneur Mitch Kapor (Firefox and Lotus), Rock the Vote Executive Director Heather Smith and Los Angeles County voter registrar Dean Logan. LA's involvement is essential in that the County's population exceeds that of several states.
The impressive panel and informed discussion made clear that this is a roll-up-your-sleeves effort, not just another tired non-profit think-tank writing white papers about the need for updating the voting system or pushing for legislative reform.
Think of the OSDV Foundation and Trust the Vote as a digital Public Works Administration project creating freely available open source technology maintained in a public trust. Envision the Grand Coulee Dam and the thousands of bridges, post offices, and other infrastructure projects that the Public Works Administration built at a time, not unlike today, when so many are unemployed and so much remains to be done to restore the foundation upon which this country is built.
Voting today remains right out of the horse and buggy era. But think about how the country's 49 million 18 to 29 year olds, and perhaps millions more, communicate in their everyday lives. For our social media, yesterday's technology is so, well, yesterday. Remember MySpace? But for a right that people around the world regularly die for, American still register to vote by paper via snail mail and vote using flawed, unreliable technology. Today's Twitter -- and Facebook -- savvy voter should not be required to register using a stamped, signed voter registration form. How sensible and efficient is that when the states already have most voters' names, digital signatures, and current addresses though DMV records. The Los Angeles County voter register has one staffer whose job it is to review and repair voter registration forms damaged in the mail. Think of all the low hanging fruit we could be harvesting by allowing OSDV to help make the voter registration process less error prone, automatic and permanent.
To address concerns from all sides of the political spectrum as well as from the Luddite camp about digital voting, OSDV requires that "all efforts and results (guidelines, tools, software, etc.) are conceived, designed, and produced in a transparent, open, collaborative, meritocratic, peer-reviewed and non-proprietary fashion." This of course all begs the question what are we voting for; Tweedle Dee or Tweedle Dum or here in California the most convoluted, contradictory collection of initiatives one could ever imagine. But let's leave that for another day.
In this age when we are looking to social entrepreneurs to improve the world let's celebrate the open source developers who are working to shine a light on how the country votes. As Richard Stallman, the father of open source software has said, "In the face of a thousand eyes, all bugs become shallow." Through the open source development process a transparent, auditable voting system is not that far off. To help along the process, the equally transparent, non-partisan OSDV Foundation and its Trust the Vote Project are efforts that are worth a closer look.

REAL LIFE. REAL NEWS. REAL VOICES.
Help us tell more of the stories that matter from voices that too often remain unheard.