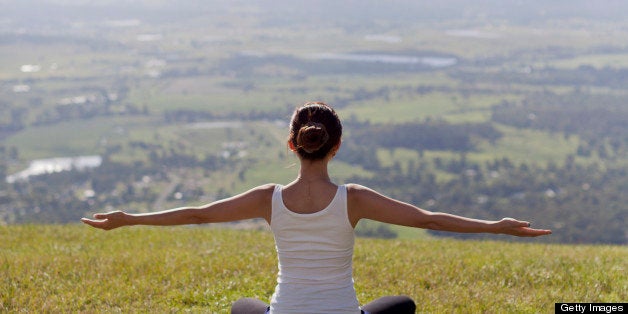 Hugh Jackman is looking for inner peace.
I stumbled upon this fact while atop a hill on Australia's Gold Coast where I am trailing behind the most enthusiastic organic gardener I have ever met. The dynamo named Shelley lopes across sloped fields, angling her hips through narrow passages of shrubbery as she snaps off stalks of coriander, mint and lavender. My small group strains to keep pace as medicinal recipes tumbled from her in a torrent.
We have come to Gwinganna, a wellness center that has perfected the art of peace for visitors. It's geared mostly for Australian guests, but not exclusively so.
Guests come seeking a break with daily life for both body and mind. Turns out Wolverine is one of them. Seeking a place to regain his equilibrium, Jackman frequently comes to this retreat, so frequently in fact that several years ago he became part owner. This unusual place is less than an hour's drive from the string of beaches that makes up Australia's Gold Coast playground.
I am at Gwinganna to experience the spa, which bills itself as the largest spa is the southern hemisphere. A massage therapist insists that the spa's circular architecture around a tree is mystical, though she didn't elaborate on just how. The spa resembles a spaceship, if a spaceship were made of reclaimed and sustainable woods.
Like many spas, there's a fountain with trickling water, botanical-based potions for sale and lots of vaguely new agey instrumental music emanating from unseen speakers. But what's different here is that this isn't just a place for a good facial, a body buff and a hot stone massage. All that's on the menu, but here it is served up as the gateway into the more serious business of wellness.
Therapists talk softly, in hushed, almost reverent, tones. The effect is disarming, and guests lower their own voices and slow the pace of their patter in response. Treatment rooms are spare, but not in the cold, clinical way so many modern spas are. These are warm pods designed to make you feel safely cocooned.
After my facial, my therapist gives me advice about my rosacea that refreshingly doesn't involved purchasing products. Try rose water, she suggested, before leading me to a curvaceous porch along the inner circle of the spa.
There, my group lunches on vegan fare created by the property's German chef, Herman Schafellner. From a platter of vegetable carpaccio to dense date and nut dessert bars, everything is made with fresh organic ingredients, much of it produced right on property.
Chef Schafellner tells us how he learned to cook this way here after decades of preparing meals in the classic European tradition. Coming to work in this kitchen, he says, has reawakened his creativity.
"Most satisfying is seeing how much people who have come here in weakened conditions benefit from the food," he said. "They are pleasantly surprised that something so good for them can taste so good."
Gwinganna has two-day programs and week long programs, some tailored to specific types of healing, like cancer treatment and alcohol detox, but mostly the people who come are simply seeking a way to push a restart button.
The wellness center offers group discussions, a library with holistically-minded resources, an herbal apothecary, guided meditation and yoga classes. Mostly, there is fresh air and a majestic view of the valley below.
Guests can stay in one of the restored historic cottages scattered about the property or in one of the luxury villas, some with steam showers and hot tubs.
Learning to eat, sleep, drink and breathe differently is a take-away few other restful vacations provide. It's fitting, too, that this wellness center is located so close to the hedonist heaven of the go-go beaches full of surf, sand and strong drink down below. Although it may be hard for those of us not lucky enough to live in this corner of the world to believe, apparently too much of a good thing can exist in paradise.
Tracy Willis, the surprisingly bubbly manager who is the very antithesis of the clichéd dour wellness maven, tells us that many guests, who live at the beach, return every year to find balance in their lives.
So the question is: would you travel all the way Down Under just for Gwinganna? Perhaps not, but you might think about kicking off your trip here to give yourself some jet lag relief and calm transition time before embarking on an authentic Australian odyssey of your own. You might discover your inner equilibrium or maybe, with a little luck, unleash your inner Wolverine.