The saga of Jackie Robinson West, the little league team from the South side of Chicago that won a U.S. Championship and then had its title stripped because of player eligibility violations, brings up mixed emotions. We all feel empathy for the kids, who played their hearts out and were almost certainly unaware of the manipulation caused by the adults. And we are disappointed in the adults who apparently concluded that winning was more important than ethics. But while this story made national headlines, and represents an elite youth team, it is also emblematic of what is happening on fields across America.
Many parents have become so invested in winning, they are blinded to why children should play sports in the first place. Sports used to be an outlet from pressure, and today it's every bit the pressure-cooker that schools are. Sports should be about fresh air, exercise, team-work, and just plain fun. Parental pressure has now seeped from the classroom onto the playing field, and little psyches are not meant to withstand this kind of pressure. According to the National Institute of Mental Health, 25 percent of children and adolescents meet the criteria for a diagnosable anxiety disorder. From flashcards for toddlers to trying to engineer sports scholarships, parents are under the false delusion that they can line up their child's future.
Our intentions start out honorably. We think we're showing our love by being very involved in our children's lives and activities. But many parents have gone overboard. If parents could understand the toll that the win-at-all-cost mentality is taking on their kids, they might call a time-out. Being so invested in winning sends a message to children that this is what's important and this is what you value. A recent Harvard University study ("Making Caring Common Project") with 10,000 middle-school and high school children exemplifies this point: a majority of respondents ranked achievement as more important than being caring. This is no surprise, because this is what we've taught them. How distressing that we're teaching our children that performance trumps being a caring and compassionate human being.
How often have you seen parents screaming on the sidelines, or breaking league rules by coaching from the stands? We are modeling craziness when we get into arguments with referees or berate parents who are from the opposing team. When parents have such a laser-focus on winning, they're missing an opportunity to teach their children what really matters, things like sportsmanship. I was at a youth basketball game and witnessed a woman loudly yelling "MISS, MISS" to a player from the opposing team who was standing at the free-throw line -- and the player was all of 9 years old! We have lost our perspective and our ethics. I've heard stories from local recreation leagues where volunteer parents rigged the drafts. In one case, a volunteer coach had a strong player from a different neighborhood intentionally tank the evaluations so other coaches wouldn't draft him. This is unconscionable behavior, particularly because we are the moral mentors for our children. We are undermining the very character development that we want to instill.
The adults from the Jackie Robinson West team who allegedly violated rules to stack their team not only didn't deserve their victories -- they tarnished their players' hard work and accomplishments by a myopic focus on winning. But there is a lesson here: parents have to back-off and get some perspective, let the games breathe, and give youth sports back to their rightful owners -- the children. That would be a real victory.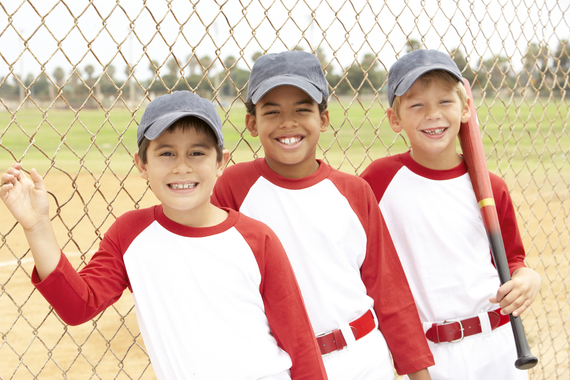 Dr. Berman is an Associate Professor of Psychiatry at the David Geffen School of Medicine at UCLA and the author of Permission to Parent: How to Raise Your Child with Love and Limits.