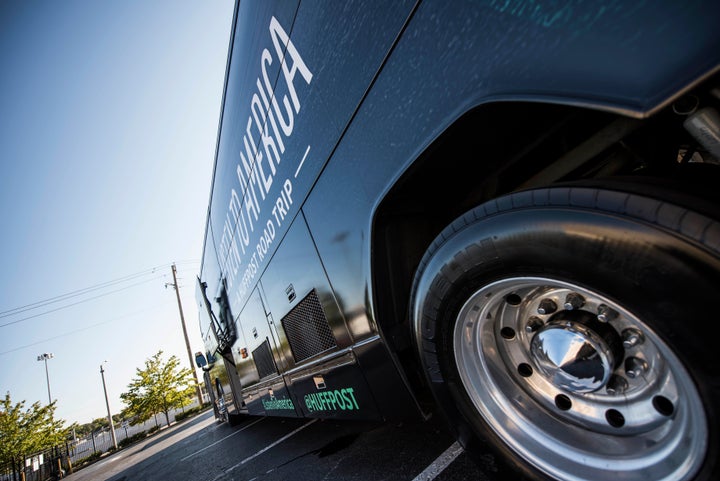 This week, HuffPost journalists embark on something normally reserved for politicians and presidential candidates. Over the course of the 25-city "Listen to America" tour, journalists at HuffPost will seek out voices from individuals and families of all ages and backgrounds to share their hopes, dreams and fears.
Listening tours provide an opportunity for political candidates to reach out and connect with everyday Americans and clear an important leadership hurdle: the ability to show that they care about people.
It's not every day journalists adopt a tactic used by political candidates. But in our tumultuous times, empathy appears to be a skill that is lacking across society. As Americans continue to grow further apart, they seem to have stopped listening and resorted to shouting down people who might disagree with them.
Americans may not agree on very much these days, but we can recognize the divisions in front of us. A Pew Research Center poll from January found that 86 percent of Americans believe we're more divided today than in the past. It's only through listening, understanding, and respecting one another can we start to bridge this divide.
The National Institute for Civil Discourse (NICD) is proud to be joining HuffPost journalists on this journey as they seek to give voice to everyday Americans. Established after the 2011 Tucson shooting that killed six people and wounded 13 others, including former Congresswoman Gabrielle Giffords, we regularly visit audiences across the country to talk about ways in which they can connect, in a civil manner, with people who may disagree with them.
At every stop along this 25-city tour, NICD will work with people we meet to foster the free exchange of ideas in a way that respects and affirms all persons. After all, the ability to civilly discuss our differences and find common ground is foundational to our system of democracy.
But it's not just everyday Americans who need to practice civility. Politicians also must practice it every day. That's why we're reaching out to mayors along the way and encouraging them to embrace civility during the tour and moving forward. NICD will work with mayors to proclaim a Listen to Revive Civility Month, in which the municipal government will encourage city residents to engage in respectful conversations with their neighbors, despite their backgrounds. And we will facilitate workshops and conversations upon request for mayors who want to make civility part of their cities.
This tour is about seeking out people who feel like they're not being heard and giving them a voice. For our country to succeed, we're all going to need to listen. The United States is a country of diverse perspectives, and it's in moments of great division like this that we must respectfully acknowledge our shared commitment to one another in order to uphold our democracy.
We don't expect to repair our democracy overnight, and we're never going to always agree with each other. But as a country, we need to rediscover how to disagree without being disagreeable. It is unfair and unproductive to be unwilling to listen and engage with people who hold different opinions – it is our differences that make us strong but we're unable to leverage this strength if we are unable to have civil conversations.
The "Listen to America" bus tour is an opportunity for people across the country to share what matters to them and what it means to be Americans. More importantly, it is an opportunity for us to listen and learn from each other.
Dr. Carolyn J. Lukensmeyer is the Executive Director of the National Institute for Civil Discourse at the University of Arizona.
Popular in the Community