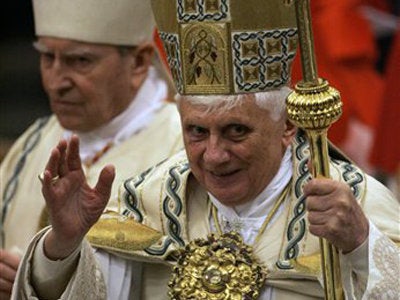 "Religion has not left us as a force in the world," commented Rabbi Justus Baird at an intimate dinner held recently in Manhattan's Church of Heavenly Rest hosted by Janera Soerel, founder of the global nomad site janera.com and Elizabeth Garnsey, an Episcopal priest at the church. "If we can't come to understand more of religions and religious diversity, we will not be safe. Our very security is at stake," Baird said.
The links between religion and security were just one of several angles discussed throughout the evening, which brought together a range of experts from Christian, Muslim, Jewish, Buddhist, Hindu and Episcopal traditions -- as well as one philosopher -- to gather around a long, candle-lit table for an intimate discussion of where we have been and where we are going.
The evening seemed to me a critical reflection of a broader national dialogue going on right now -- where and how religion is shaping our lives and our world. From the Pope's recent rescinding of the excommunication of a Holocaust-denying Bishop, to the disaffected Muslims bombing icons of modernity in Mumbai, faith is as much an influence on the modern world as ever.
With Obama's expansion of faith-based initiatives earlier this month and the newly created White House Office of Faith-Based and Neighborhood Partnerships, the President is reaching out to groups across America with an eye to fostering dialogue, understanding and commonality. The janera.com dinner was a clear manifestation of this. The evening set out to foster a peaceful exchange of ideas. But just beneath the surface lay the insinuation of conflict, war and what is at stake.
"This won't work if we smile at each other and say nice words, only to return home and bite our teeth talking about the other side," commented Dr. Uma Mysorekar, the President of the Hindu Temple Society of North America. "Only if we can sit together and fight it out will there be peace."
As pear and lettuce salads were distributed across the table, Faisal Devji, a professor at the New School and a scholar of Islam, rose to recount the story of the Bhagavad Gita offering the group Gandhi's interpretation of the epic story of two families at war. "You did not ask for this," was his first summation of Gandhi's analysis of the tragedy. "And the war will go on anyway." From this, Prof. Devji took a message of hope and resilience.
It was clear from the conversation among the diverse participants that the link between conflict and religion is timeless and that, from the collected group of thinkers, only common understanding, compassion and skillful ears for listening would help lead the way. As guests consumed plates of chicken with roast vegetables beneath the flickering lights of the church candelabras, the conversation moved to the broader challenge of reaching communities where poverty and despair have taken hold. "That's exactly where religious extremism is most fertile," commented Catherine Lazure, an illustrator and guest of the evening. "Religion gives people something to believe in when they have nothing else."
"Economic development and opportunity is probably one of the best ways to help people from falling into that trap," agreed her neighbor.
As the night came to a close and guests began to stream from the church and out to the cold February night, it was clear the evening raised more questions than it answered. But this duality is exactly what makes the challenge so compelling. As one guest put it, paraphrasing Desmond Tutu's famous statement, "Religion is like a knife -- it can be used to slice bread or to kill people."
While these challenges are not new, the development of young, dynamic communities that exist both online and on the ground are helping us to keep figuring this out.