Today, effective link building requires a well thought out creative strategy in order to earn links from high quality websites that will provide both referral traffic as well as a SEO benefit. There are plenty of ways to seek out quality links through email outreach and we are going to discuss three of them right now.
It is important to understand what you need to be looking for prior to starting a link outreach campaign. Many business owners will just mass spam websites trying to get a link and this is not an effective or beneficial strategy at all.
First, make sure that you are only identifying relevant websites. If your business sells a health related product then links from automotive websites are not going to help you in any way. Now, a link from a health related blog would be great because it is a relevant link and it can also introduce and expose your brand to an entire new audience.
Also, consider the odds of obtaining a link from a particular website. Link building through email outreach requires time to research and send out requests, so there is no sense wasting your time with websites that don't have content featuring outbound links.
The quality of your website and content needs to be addressed as well. Does your site provide enough value to warrant links from other websites? Will website owners be comfortable linking to your site?
The last thing you want to do is waste your time reaching out to websites that aren't into linking, wouldn't be interested in the content on your website, or aren't relevant enough to provide you with a traffic or SEO benefit. Let's jump right into some link building opportunities you can use for your website.
1. Industry Relevant How-to Lists & Tips
Your blog readers are going to absorb information much better if it is presented in a list or how-to format rather than a long and drawn out blog post. A list or how-to post can be created on virtually any topic, so this is something that every business can take advantage of. Here is a blog post we did a while back:

It was a post about local SEO and it featured five tips to help businesses conquer their local market. After the post was published we reached out to a few blogs with a very simple, "Hey check out this post - we thought you might enjoy it" message and included a link to the post. Here is just one example of what can happen: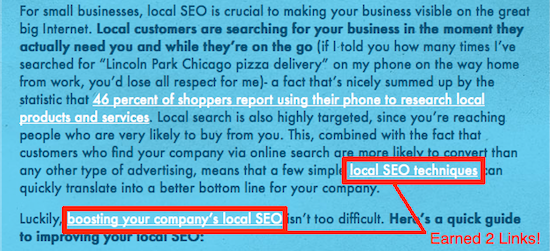 This blog not only linked to the blog post we sent them, but they also found another piece of content on our blog and linked to that as well. We were able to earn two very nice links with a single email.
2. Vendor & Supplier Testimonial Pages
Companies love to use testimonials on their websites, as it provides social proof that the product or service works. Here is a testimonial on the website of a call-tracking service provider we use:

As you can see, there is a nice link to the website of that customer. Being on the homepage of that site provides a lot of value. It is an nice link, providing SEO value (it is a PR4 root, and has DA of 45 and PA of 54) and it is receiving a tremendous amount of exposure in front of all the visitors that land on that company's website.
Visit the websites of suppliers and service providers that your business uses and see if they have a testimonial page. If they do, reach out and offer to write one. This is a great link building strategy that can produce great results, especially if you have a long standing relationship with the provider.
You can probably name a handful of the most influential people within your industry right now. Locate their websites and blogs and see if they are actively publishing content.
If you located some nice opportunities think about your pitch. So many websites receive multiple guest post requests every single day. My company receives about a dozen a day and we don't even allow guest posting, so in the event that a website does accept guest posts you can be certain that they are receiving requests around the clock.
Determine what value you can bring to the website. Do you have a unique case study to contribute? Do you have a compelling infographic that the site can use? Put some thought into your pitch because your email has just a few seconds to make an impression. It will either grab the recipients attention (and a reply) or a delete.
As you can see, it is very possible to get creative with your link building strategy and earn high quality and relevant inbound links for your website. Start small, and you will quickly get the hang of the process. You will learn what kind of websites to look for and what ones to avoid.
Want more free online marketing tips? Make sure yo sign up for the Market Domination Media weekly newsletter. You can sign up by clicking here and you will receive online marketing tips in your inbox every week for free.