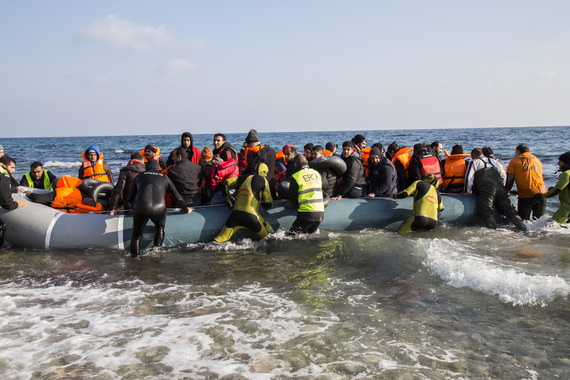 This year, more than 100,000 people have climbed into inflatable dinghies and unseaworthy boats in a desperate attempt to reach Europe. Most of them are from Syria, Afghanistan, and Iraq, all countries beset by instability and civil war. Among them, 400 people, many of them children, drowned while trying to make the dangerous sea crossing.
All of this follows a year in which more than one million refugees and migrants made the same journey through Europe seeking asylum. This mass migration is a symbol of a wider displacement crisis in which 60 million people around the world have been forced from their homes, mostly as a result of armed conflict.
International Medical Corps is working with local partner organizations in Serbia and Greece to deliver first aid and primary health care services, distribute essential supplies, offer psychosocial support, and provide other essential services to the thousands of people striving to find safety and stability in Europe.
Here are some of their stories.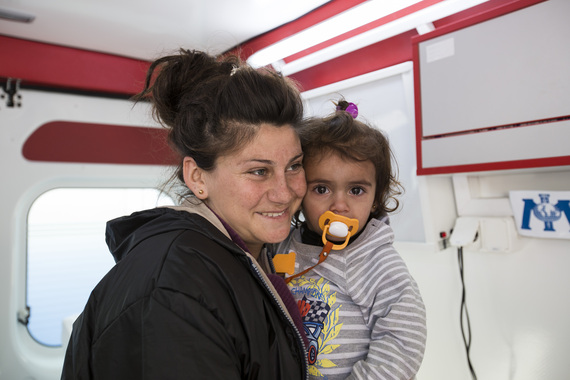 By the time they reached Samos, Greece, Asha and her family had been traveling for 25 days straight. The trip took Asha, her husband, and their one-year-old daughter through Turkey to the shores of the Aegean Sea, where they climbed aboard an inflatable dinghy in the middle of the night and headed west towards the nearest Greek island.
Just a few days before, 26 refugees and migrants drowned between Turkey and Samos. For Asha, the crossing was particularly dangerous: she is expecting her second child any day. "There were waves when we were in the boat," says Asha. "I am usually not afraid. I get tired sometimes and have abdominal and back pain."
The family reached Samos unscathed, but before traveling onto Athens by ferry, Asha visited the mobile medical unit that Praksis, a Greek non-governmental organization (NGO) and International Medical Corps, run seven days a week beside the transit site for Syrian and Iraqi families.
Her daughter was suffering from a diaper rash, for which the clinic staff provided cream. But the one they were most concerned about was Asha. Because she spent the past month in transit, Asha was not sure when she should expect to deliver her second child.
The mobile medical unit team helped Asha get to the hospital for tests so Asha and her husband could decide whether to wait in Samos or carry onto Athens, the next stop before they begin their long land journey west through Macedonia, Serbia, Croatia, Slovenia, and then finally Germany.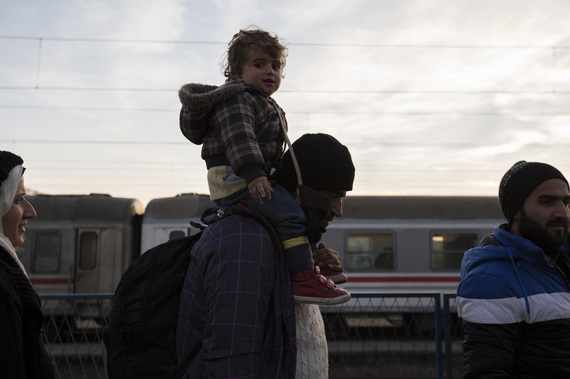 Hazam, 35, could no longer see a future for himself and his family in Deir al-Zour, a city that has been a flashpoint in the country's five-year-long civil war. A physical fitness teacher, Hazam could no longer work, while his wife was pregnant with their fourth child. The airstrikes relentless and schools shuttered, he decided that it was far more treacherous to stay in Syria than try and reach Europe.
The journey took them through Turkey to the edge of the Aegean Sea, where they paid a smuggler for seats in an inflatable dinghy that took them to Greece. "The way by the boat was so dangerous," Hazam says, holding his youngest child, two-year-old Wesam, on his shoulders.
They then took a ferry onto Athens, a bus through mainland Greece, and a train through Macedonia. By the time they reached Sid, a town in Serbia on the Croatian border, they had been traveling for two months straight. His wife Lana, now seven months pregnant, is exhausted, while their three children are worn down from having to constantly be on the move.
"I want to reach Germany quickly," Hazam says. "I am worried about my wife."
While in Sid, Hazam took his children to the primary health care clinic run by the Serbian organization IAN with support from International Medical Corps. The family then boarded a train onto Croatia, the next country on their long journey into Europe. They will then move onto Slovenia and, finally, Germany, where Hazam hopes to carve out a new life for his family far from the bombings and bloodshed that still grip Deir al-Zour.
"I want to teach," he says. "But first I want to save my children from war."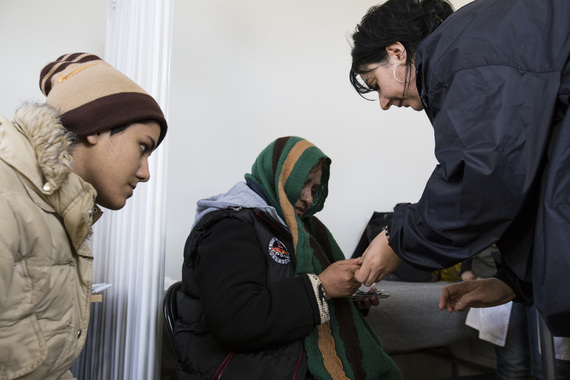 Sixteen-year-old Hedye, whose name means 'gift' in Farsi, crossed five countries with her mother, father, and brother over two weeks to reach Sid, the train station just a few kilometers from the Croatian border.
Originally from Kabul, Afghanistan, their dream to start a new life in Europe sent them walking through the snow in the mountains between Iran and Turkey and into a raft with dozens of other families to cross the Aegean Sea to Greece. They left with whatever savings they had and the clothes on their backs.
"[The journey] has been so hard," says Hedye. "I'm sick. My mother's sick and my brother, too."
By the time they reached Sid, the entire family was suffering from flu-like symptoms. The family of four visited the primary health care clinic run by International Medical Corps' local partner, IAN, at the train station to get medicine before boarding the next train onto Croatia, the sixth country that they need to cross before they reach Germany.
For Hedye, her biggest wish is to continue her studies in Germany so that one day she can become a dentist, a dream that she didn't feel she could realize back home. "I want to go to Germany for our future."
REAL LIFE. REAL NEWS. REAL VOICES.
Help us tell more of the stories that matter from voices that too often remain unheard.