Last week I wrote a swooning review of Zahav restaurant in Philly's Society Hill neighborhood, the brilliant invention of Michael Solomonov, one of the most creative chefs of his generation. Eating at Zahav was supposed to be just one of many stops on a tour of Jewish sites of the city. Philadelphia has a rich Jewish history, dating back to Colonial times, and I'd hoped to explore more of it.
With much of the city smothered under snow, however, Zahav ended up being the main highlight of the visit (although I suspect even without the snow it would still be). Despite the weather I was able to visit three other Solomonov restaurants: a hummus bar called Dizengoff (named for the famed street in Tel Aviv); Federal Donuts; and Abe Fisher, where Solomonov serves his take on American Ashkenazy cuisine.
All had the benefit of being right next door to my hotel in central Philadelphia, on Sansom Street. My son, a college senior in the area, joined me for the day of touring. We started with lunch at Dizengoff. Compared to Zahav, Dizengoff is a modest, lunch-counter type of place. Selection is limited: Hummus with a choice of toppings, fresh pita, chopped salad and some Israeli pickles, washed down with a choice of draft beer, soda or homemade lemonade. In short: Perfection. Solomonov's hummus is as good as you get in the pita dens of Jaffa and Akko. My son avidly agreed.
Conveniently located directly across the street from Dizengoff, is another Solomonov franchise, the equally modest Federal Donuts. If, upon wiping the last smears of hummus from the corners of your mouth, you decide: Hey, I'd like a coffee! And: Maybe a donut! -- they are right there, done to the same Solomonovian standard. Idiosyncratically, Federal's menu also offers fried chicken. It could be the best fried chicken in the world -- and I suspect it comes pretty close -- but I won't know, as I had no room left for it. Instead, while my son hailed us a taxi to the next stop on the tour, I fetched us coffee and a sampling of donuts to go.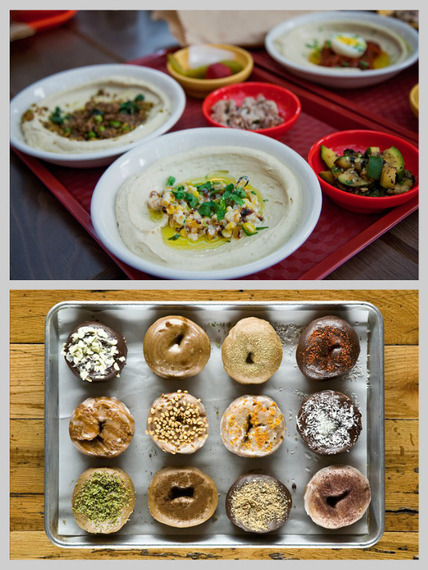 Above, hummus at Dizengoff; below, donuts at Federal Donuts.
For the record, I eat a donut maybe once a decade. It's not that I don't like them -- to me, there is no more perfectly suited companion to a cup of coffee than a warm cinnamon or glazed donut (perhaps that's because I grew up in Canada, where donuts are close to the national food). Nonetheless, in the interests of journalism, I asked for not one annual but three donuts at a serving: One, a glazed donut, and two others deep-fried to order. Franklin offers both choices, with the flavors of each varying from day to day. When we were there, the hot choices included sugared strawberry and apple-cinnamon. I ordered both.
My son was already in the back seat of the taxi when I came out, bearing two cardboard cups of strong coffee and a paper bag of donuts. As I bundled in beside him, the aroma from the take-out bag was overwhelming. The taxi driver's nose kept twitching in the direction of the back seat. As we journeyed to the next stop -- The National Museum of Jewish History -- I carefully tore pieces of the donuts for us to sample. We munched them in reverent silence. Warm or cold they were just crispy enough on the outside, dense and moist on the inside, and sugary without being cloyingly sweet.
"Krispy Kreme good?" I asked my son, between mouthfuls. "Like, when Dad took you guys to the factory that time at Hanukkah and you ate them right when they were still hot ...?"
"Bebber," he replied, his mouth full. "Way bebber ban Bispy Beam."
"Would you like to finish these?" I asked the driver when we stopped in front of the museum. The remaining donuts were whisked away into Philly traffic, where I'm sure they didn't live long. It explains why there are now five locations of Federal Donuts.
The Jewish museum had been recommended as a good site and it was. A large segment of it is devoted to the Jewish contribution to American culture: movies, music, comedy etc. The take away is: American Jews didn't just contribute to American culture -- they invented it! But as my son and I wandered through the exhibits, we were still talking about the donuts -- and of the meal we were going to eat that night at Abe Fisher. Perhaps we should have been an exhibit ourselves, as examples of how Jews are always anticipating their next meal.
Abe Fisher is next door to Dizengoff, which, when you add in the proximity to Federal Donuts, creates a kind of Monopoly effect. I wondered if we'd be sent directly to jail without passing Go. Instead we stepped into a fairly hip urban place: walls clad in strips of wood, Viennese cafe chairs, green leather banquettes. Our waiter passed us a menu which at first read like a send-up of traditional Jewish cuisine: Spinach Kugel: cheddar, jalapeno, pie crust. Manischewitz Glazed Beef Cheeks: celery root, apple, BBQ potato chips. Cholent Pot Pie: short rib, salami, kidney beans, barley. Only the "potato latkes" and "chopped liver" looked reasonably straight-forward, if with a twist (the latkes were served with smoked salmon and avocado cream cheese; the chopped liver with fresh-baked rye and a "pastrami-onion jam."). Most of the items were suggested as small plates to share. "Family-Style Entrees" were listed along the bottom, among them Hungarian Duck, Chinatown style with kishke, steamed buns, shmaltz rice and garnishes; and Montreal Smoked Ribs with housemade rye bread and garnishes.
The menu is overseen -- and often changed daily -- by Solomonov protege, and Abe Fisher executive chef, Yehuda Sichel. Sichel was born in Pennsylvania but graduated from the Jerusalem School of Kosher Culinary Arts in Israel. He joined Zahav in 2010, where he quickly rose to sous chef. Last September, he was promoted to the helm of Abe Fisher.
Sichel's own definition of what he is doing is described as follows: "A menu that pulls together centuries-old flavors that range from Budapest to Montreal to Brooklyn, creating a meal and an atmosphere that both modernizes and elevates the long-familiar classics of Jewish soul food. Nowhere is this effort more rewarded than in his now signature dish - the Montreal Short Ribs - which Food Republic called 'smoked meat nirvana.'"
Indeed, my son's eyes lit up at the description of the ribs. We have both eaten at the champion of Montreal Smoked Meat houses-- Schwartz's. Could Sichel's version be a contender for a Smoked Meat Superbowl? So of course we ordered that, along with a number of starters. I chose the most improbable of them because I felt that's what the chef would want me to do. Some were almost taunting in their audacity, such as Fois Gras Mousse: peanut butter & jelly, cinnamon raisin bagel. Really? PB&J? How was that going to work?
And yet they all did. The chopped liver was as creamy as could be, shmeared on fresh toasted rye with a dab of sweet salty pastrami-onion jam. The kugel was not like any kugel I've ever tasted, which is a good thing, as I find traditional kugel disgusting. No sweetened soggy noodles lurked in Sichel's recipe -- just fresh spinach mashed up with cheddar and jalapeno. And the fois gras with, uh, peanut butter and jelly and, er, a bagel? Stunning. The bagel seemed closer to a brioche; the PB+J more like a delicate peanut-scented fruit sauce that enhanced the fois gras.
But now the true challenge was just hitting the table: a huge steaming plate of smoked beef short ribs! Apparently the ribs can take as long as 14 days to prepare -- they are dry rubbed, rinsed, smoked and roasted. Schwartz's method boasts at least 10 days. Alongside the plate of elegantly carved ribs were four different types of homemade mustard and the softest circles of homemade rye you could imagine. I remember from Schwartz's that you didn't want toasted bread with the meat or it wouldn't be able to sop up the juices and mustard and form itself into a uniquely tasty composite of all three.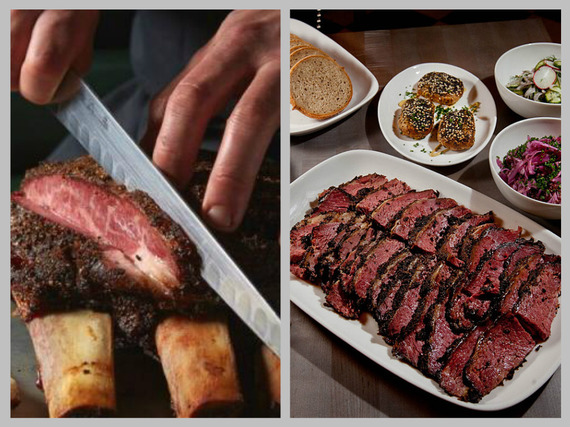 Abe Fisher's Montreal Smoked Ribs. Photos by Mike Persico.
I watched my son take his first bite. Then another. And ...
"Is it as good as Schwartz's?!" I interjected, eager to know before tasting myself.
"Bebber," he said, mouth full again. "Way bebber ban bwartzes."
And of course he was right. Smoked meat Nirvana.
It's no wonder Travel & Leisure named Abe Fisher "Best New Restaurant" in its January issue.
You can find the recipe for Abe Fisher's chicken liver mousse here. A perfect appetizer for a Valentine's dinner.
For more content like this, and beautiful artisanal Jewish products, please visit Fig Tree & Vine, the stylish destination for contemporary Jewish living. Follow us on Instagram @figtreevine and Facebook, or subscribe to our newsletter.