BRAWL IN CELL BLOCK 99 EXCLUSIVE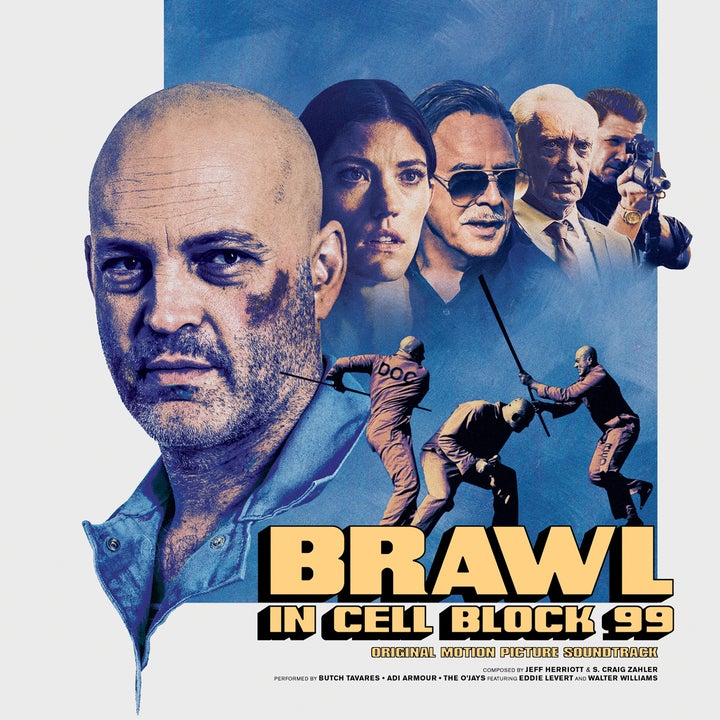 Lakeshore Records shares an album preview video to the upcoming soundtrack to Brawl In Cell Block 99. The album features seven new tracks performed by soul icons The O'Jays and Butch Tavares as well as newcomer Adi Armour. The songs were written by director S. Craig Zahler along with co-composer Jeff Herriott and are a throwback to lushly-orchestrated classic soul, a companion to the intense themes of the film. Brawl In Cell Block 99 is the story of lead character Bradley Thomas, a former boxer played by Vince Vaughn who finds himself incarcerated after a drug deal goes wrong.
Lakeshore Records will release Brawl In Cell Block 99—Original Motion Picture Soundtrack digitally on October 13th.
******************************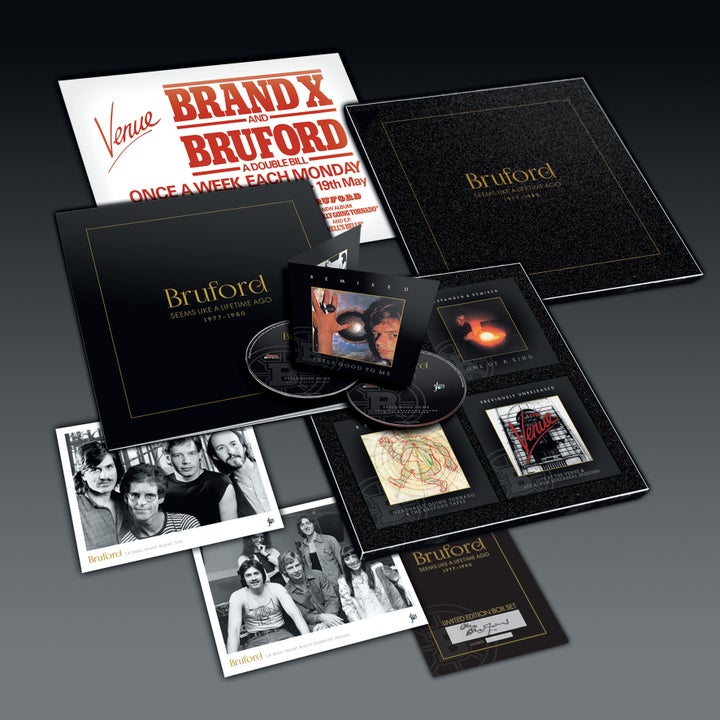 A Conversation with Bill Bruford
Mike Ragogna: Bill, your new box set Bruford 1977-1980: Seems Like a Lifetime Ago focuses on just those few years. As the artist, what stands out to you as most important about Bill Bruford and that body of work?
Bill Bruford: The importance it has to me—the beginnings of my efforts as a writer, as a band-leader, as someone 'getting to know myself' on my instrument—is incalculable. That, however, may be of little or no importance to the many who attended the band's frantic live shows from 1977 to 1980 for a beer and an evening out. The way music is received and the meaning it carries for those who consume it, performer as much as listener, are many and varied, so I'm probably in a group of one when asked about its "importance."
I was very lucky to have gotten the services of the other guys at the time that I did. They were all masters on top of their game and unstinting in the effort they gave to the whole idea of a noisy rock group with jazz harmony. I'd been working with Dave Stewart in his band National Health in 1976 after I'd been with Genesis for a year and around the time, I was putting the band together. Dave was sounding great and would be perfect for the band I had in mind but more than that, he was willing to be a writing partner to help me with the compositions. Then I wanted a stellar, featured soloist and Allan Holdsworth was turning a lot of heads with his work in Gong, particularly on the album Gazeuse! I'd never heard anyone play like that before or since. I thought he would make a good sonic partnership with Dave. That left the problem of finding a bass player who could keep up with those two. I was working with Patrick Moraz on Chris Squire's album Fish Out of Water, I think, and he was saying he'd heard this kid in New York who was stunning. The British/European players didn't have sufficient capability to play what I wanted to hear so it had to be a North American. I went to the US to meet with him, eat some pasta, and hear him play, and offered him the job on the spot. Turns out Jeff had almost too much ability! A lot of this is in my book Bill Bruford: The Autobiography. The entire boxed set is dedicated to the memory of Allan Holdsworth.
MR: What did working with Yes, Genesis, King Crimson and others add to your musical vocabulary?
BB: Well, they were the best known of the several bands I travelled through in my formative years so it was in them that I began to forge a musical vocabulary. I knew early on that I wanted to differentiate myself from others on the instrument, but it took a bit longer to realize I could differentiate the music in which my playing was heard by writing some or all of it myself. King Crimson was a good place for that creativity business. It seemed to be in a permanent state of evolution—just how I like it. When I know what's coming next I tend to get bored.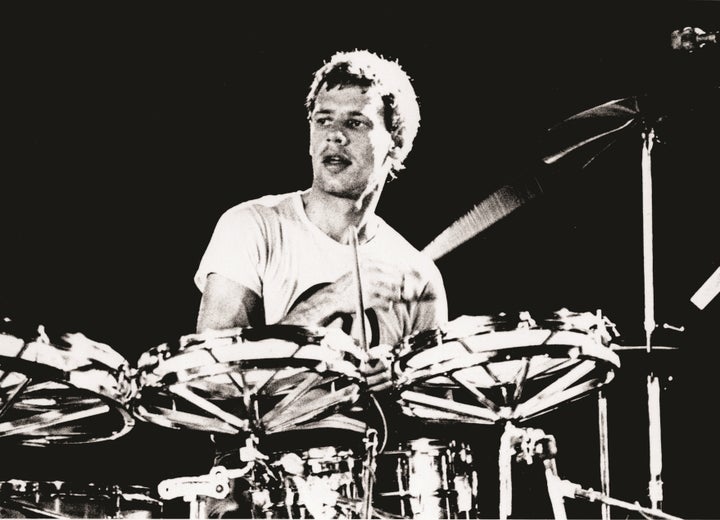 MR: During that period, many referred to you as a "jazz" drummer despite your associations with rock and prog rock. How would you describe the music you were presenting during that period?
BB: I grew up with jazz, developing both a light touch and an inclination to fiddle around with the music, to see what it could do, and to see what I could do within it. I always thought I was going to be a jazz drummer, but I sort of fell into rock, a genre which in the UK in 1968 encompassed a far more vibrant set of opportunities than a particularly politicized and atonal jazz scene. I didn't change my style much, just learned to play a bit louder. Of course, fiddling around irritates a lot of people.
Sometimes terrible musicians were a strong negative influence, and often non-drummers were a strong positive influence. So I was influenced by Miles Davis for economy and style, David Bowie because he was always moving and would never quite let his audience catch up—very smart—and the Rolling Stones who just seemed awful. Amongst drummers, I was transfixed by jazz, mostly from the U.S., on British TV in the sixties so I grew up with all the great players: specifically Max Roach for his economy, grace, and melody; Joe Morello for odd meters; and Art Blakey for the sound and the groove.
MR: Considering the diversity of music during the seventies, why do you feel all those "genres" were able to sit next to each other comfortably, especially on radio, and through the vehicle of rock?
BB: Music is more diverse now, I'd say. When I grew up there was only jazz and rock and the players in one genre were not remotely convincing in the other. Now, of course, expert drummers cruise effortlessly from EDM to hip-hop to straight-ahead to metal, projecting or sublimating their own identities as may be required. Starting out in the late '60s, we progressives had a fair wind, propelled by 24-track stereo, the development of FM radio in the US, and wildly expanding record sales. When there is money around, promoters, musicians, radio stations and labels can afford to take risks, look at new things. It's all timing. I've often said the only and smartest thing I've ever done was to be born in 1949. It was like being given pole position in a Formula 1 race.
MR: You're known for your holistic approach to creating music, how you get a feel for the bigger picture's parts—including other instrument as you're figuring out the minutiae. What do you think that balance comes from—your life experiences or musical training?
BB: A combination of both in balance. The acquisition of technical ability through training is useful only when allied to a musical idea. Technical ability for its own sake is an arid proposition. Conversely, ideas without the means to realize them—to turn them into meaningful sound—aren't going to go very far. I've been fortunate indeed to spend time with people who have a reasonable balance of both lived experience and the tools to express it in musical form.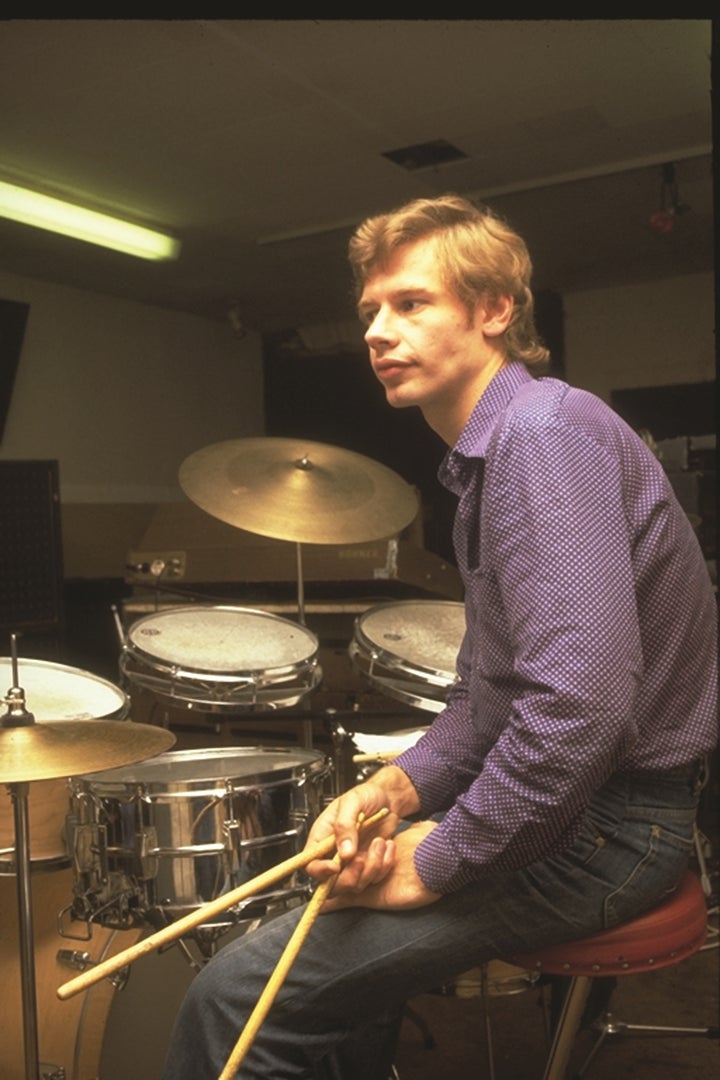 MR: Whatever happened to what was once labeled "jazz fusion"?
BB: All of jazz was a fusion so there's a redundant term if ever I heard one. Perhaps now a more useful distinction within instrumental performance is between the electric/electronic and the predominantly acoustic domains. I much prefer the acoustic now. The broad palette of sounds afforded by the former is temporarily very seductive but it comes at the cost of a more intimate relationship between player, sound and listener. In my experience, plugging my drums into electricity felt like a thin veil descending to separate me from my instrument. It constrained me in a profound way and made the music seem less meaningful—others will have another view—which is why my later group Earthworks eventually became an acoustic group. With respect to separation of performer from sound generation, I can only imagine what it must be like playing a laptop on stage. My idea of fusion now is perhaps Nik Bartsch's Ronin or Snarky Puppy with Jacob Collier.
MR: What do you think of rock and jazz these days? Are you listening to anything?
BB: So much music has been sounded and captured for replay in the last fifty years that I can barely comprehend it all, and like a man facing a plate that is too full, my appetite deserts me. Without seeking it out, I am replete. By way of proving nothing, the three pieces of music to which I paid most attention in the last couple of days were 1) 'Squib Cakes' Tower of Power 1974; 2) 'Wichita Lineman' Peter Erskine-Alan Pasqua Trio 2009; 3) 'Blackstar' David Bowie 2016. Broadly, my appetite to listen is waning. I'm not good company at a concert or gig. If the music is any good, I want to play. If it isn't, I want to leave.
MR: What advice do you have for new artists?
BB: Hope, perseverance and an ability to keep looking forward are three qualities that might come in handy. I think it must all stem from an incurable love of music, in the broadest sense—not what you might be able to screw out of it but what you may be able to give to it. What can you offer? To know that, you must know yourself, have some theory and technical ability, be flexible and imaginative. There are at least a dozen music-related jobs that exist for every one guy who gets on a stage, and it's certain that you will spend some of your time doing some of those. You may have thought I was 'just' a drummer, but I also taught, wrote words and music, ran a small record label, booked the band, road managed, travel agented, produced and publicized the heck out of it. You'll work if you can add value to something that's going on around you. If you can't, they might as well hire a machine.
MR: I was always curious about why you left Yes after playing with them on their initial five classic albums. Was it creative differences or something else?
BB: Four principal reasons, I think:
First, I wasn't about to go through Close to the Edge again. It had taken three months of all-nighters, and if I knew one thing at the end, it was that I wouldn't be able to improve on that effort with that group of people, so no point in hanging around.
Second, I'd only played with those four musicians for the majority of my short musical career, four and a half years at that point, and I was becoming desperate to hear myself in some other context. I never subscribed to the notion that after a few hit records rock musicians were supposed to atrophy, become a laughing stock, and then just stop.
Third, King Crimson beckoned.
Fourth, I couldn't wait for Chris Squire any more. The grossest form of insult any musician can bestow upon a colleague is to keep him waiting.
Then again it was half a century ago, so I may have imagined all of the above.
MR: [laughs] What are you working on now and what are your plans for the future?
BB: I retired from public performance in 2009 (a) to move over and let someone else have a turn; and (b) because, at its simplest, I could no longer hear what came next. If you don't know, can't hear or can't play what you want to hear next, the best option is silence. Every stage I was occupying was one a younger drummer was not occupying. I no longer perform, practice or teach on the instrument. I feel I can be more useful if I stand back from practice and reflect upon what it is drummers do, why they do it, ask if there is anything creative about it, and, if so, where such creativity might lie. I have just concluded doctoral research into the perceptions of a group of distinguished drummers, including Cindy Blackman Santana, Chad Wackerman, Ralph Salmins, Martin France, Asaf Sirkis, Mark Guiliana, Dylan Howe, Thomas Stronen and Peter Erskine, on these topics. I have a new book based on the fascinating results: Uncharted: Creativity and the Expert Drummer will be published in early 2018. Drummers are a lot more creative than they think they are, and certainly a lot more creative than the public thinks they, if their low status is to be taken seriously.
Generally, I think it's a difficult time to be a drummer and very few earn a reasonable living playing only the music they want to play. My generation was very privileged in that respect, emerging in a pre-digital era of rapid expansion of record sales. We didn't have to starve to death to play the music we found interesting. I've known Mark Guiliana [Bowie's Blackstar] for many years now and followed his development with great interest—a wonderful player. People say great things about Tyshawn Sorey but I don't know his performances. But generally, the technical standard of playing is extremely high now, and especially in view of the vast range of genres and styles that now have to be mastered.
If you've got this far, thanks for reading!
******************************
"FLOW" EXCLUSIVE FROM WILL ACKERMAN'S QUARTET FLOW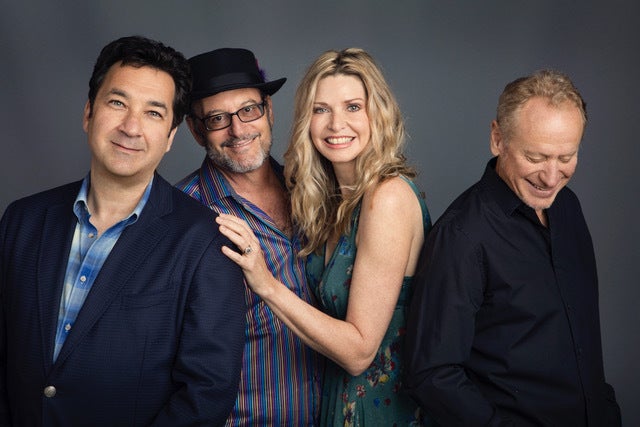 Flow is the brand new quartet featuring Grammy® Award winner, guitarist and Windham Hill founder Will Ackerman. In addition to Ackerman, the group includes world-class instrumentalists: acoustic guitarist Lawrence Blatt, Australian pianist/vocalist Fiona Joy, and flugelhorn virtuoso Jeff Oster.
When reflecting on the genesis of Flow, Will Ackerman says...
"The music I create and musicians I work with have to connect with me emotionally. My question is always, 'Does it move me ?' Obviously, I appreciate the mastery of an instrument, but my focus was always that it had depth and something meaningful to say. With Flow, I have found that, because with these three friend and accomplished artists, I tap into the breathtaking beautify of realizing that I'm in the presence of the truth."
Flow's Jeff Oster adds...
"The title track FLOW is a perfect representation of everything our group is about—four acoustic artists, each with successful solo careers, coming together in a magical way that surprised us all. There's a sound that emerged on this record, a special blend of horn, piano and guitar, that just feels right. All of it is captured on this track."
Their self titled album will be released on October 6th. Flow will celebrate tonight with their debut performance at New York City's Legendary Carnegie Hall.
*******************************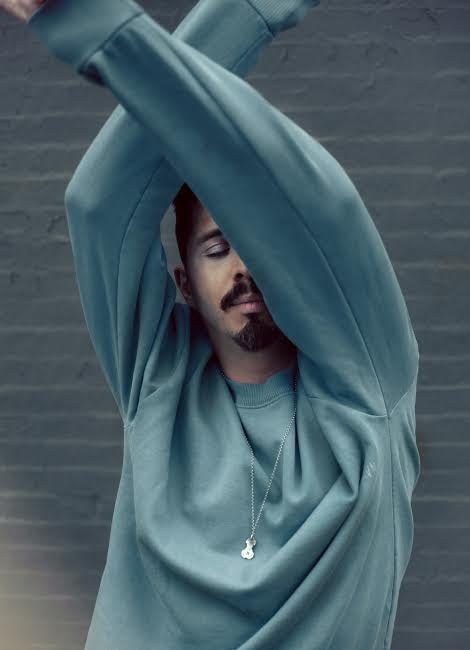 Jonathan Dagan—aka J.Views—is an Israeli electronic producer working out of Brooklyn, New York. The twice Grammy-nominated artist's new album 401.1 is a deluxe version of 401 Days that features popular acts such as Mike Milosh of Rhye, Gotye, Wild Cub, and more.
"The journey of making 401 Days was apparently not done when I finished that record. The songs continued to develop on their own almost; The show with the Revolution Orchestra created such beautiful new renditions, same as the new remixes and edits. Some songs carried on to create more change than I'd hoped for, and I wanted to acknowledge what happened since releasing the original album, with this 'version update': 401.1."
******************************
EMMA CHARLESTON'S "VOLCANO" EXCLUSIVE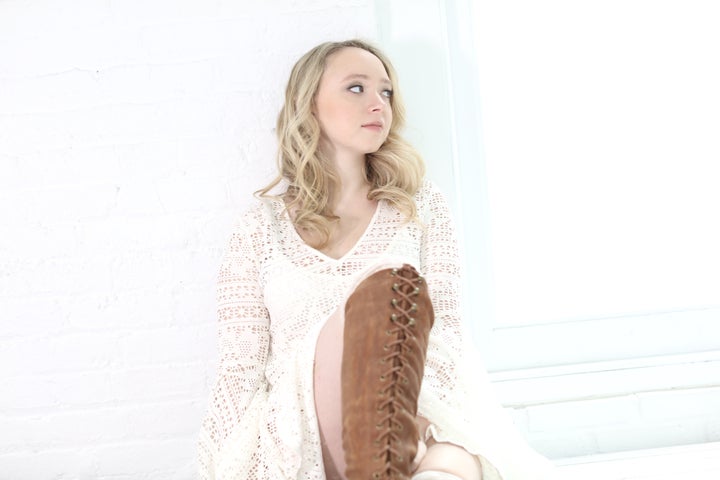 Singer songwriter Emma Charleston shares a live performance of her single "Volcano" at her hometown concert at the Levitt Pavilion in Westport, CT. The up-and-coming musician has enjoyed an incredible year having released her debut EP Enjoy The Ride in June, which garnered raves and exclusive song premieres.
A student at the Berklee School of Music, she's also rapidly honed her performing skills. According to Charleston, the show was everything she could have hoped for.
"I loved performing at the Levitt. The entire evening was a surreal experience, with me being in a huge outdoor theater with all of my friends and family there. The support I received was something I never thought possible."
Related
Popular in the Community