Now, as in the 19th century, ballet's most celebrated symbol is the ballerina. George Balanchine -- arguably the greatest choreographer of the last century -- went so far as to say, "Ballet is woman."
Yet for all the worship women enjoy on stage, they continue to be alarmingly under-represented among ballet choreographers. Although some of today's top choreographic talent is female, most women in ballet are still more apt to be seen than to have their artistic voices heard.
This bothered Tamara Rojo, artistic director and principal dancer at English National Ballet. Twenty years into her professional career, she had never performed a work created by a woman. So she decided to change that.
"We need those female voices on stage," Rojo said in a program note. "We need all ways of expressing feeling. We need everyone on stage."
The result is She Said, a triple bill composed of new works by acclaimed female choreographers from around the world: Colombian-Belgian Annabelle Lopez Ochoa, Yabin Wang of China; and Canada's Aszure Barton. Each of these women has a lot to say, and judging from the response of the sold-out crowds at Sadler's Wells last week, the dance-going public is ready to hear more.
The program opens with Lopez Ochoa's "Broken Wings," inspired by the life and creativity of Frida Kahlo -- an artist who also struggled for recognition in her day. Her tragic destiny is foreshadowed from the moment she (Begoña Cao) is introduced, emerging from a large box to join a band of dancing skeletons. Throughout the piece, her interactions with the skeletons -- sometimes violent, other times playful and supportive -- reveal the complexities of an artist for whom pain, death and illness were both nemesis and muse.
Following a crippling accident that propels Frida into painting, her signature self-portraits appear in vibrant, human form. The colorfully painted Fridas are portrayed by bare-chested men in flowing skirts, suggesting the artist's gender fluidity, as well as the inner strength belied by her frail body. As her physical and emotional condition deteriorate, her painted counterparts whirl deeper into abstraction, joined by a chorus of birds, skeletons and the iconic "wounded deer" -- one of Kahlo's final self-portraits.
Dieuweke van Reij's scenography is visually stunning, combining elaborate costumes and makeup with a simple, but ingenious set. The box that first produces Frida transforms into a mirrored hospital bed, a mural, a blood-smeared wall following a miscarriage and a colorful sarcophagus.
But for all the breathtaking imagery, what ultimately drives the performance is Cao's indomitable Frida, paired with Max Westwell's compassionate and charismatic Diego Rivera, and Peter Salem's Mexican-flavored score. With humor, grit and visceral physicality, "Broken Wings" tells the story of an artist shaped by hardship, but ultimately defined by triumph.
Wang's "M-Dao" is inspired by Medea, one of Greek tragedy's most infamous female characters. Playing on Medea's name and the Chinese concept of 'dao' -- "the way" -- Wang's creation incorporates the elemental forces of Chinese culture to offer a nuanced perspective of its anti-heroine.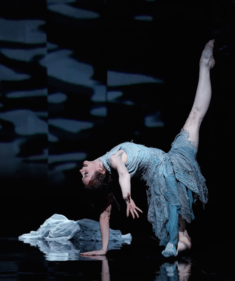 The classical Medea tells the story of a woman who avenges her husband's infidelity by killing their two children. "M-Dao" focuses on Medea's inner thoughts and feelings, opening with her (Ksenia Ovsyanick) walking alone in a wood projected onto a silk backdrop.
Photo by Laurent Liotardo
She wears a muted blue dress, bringing to mind the ocean to which Wang compares women's emotional depths. To disturbing effect, she also wears a single, blue pointe shoe, making her appear hobbled, off balance, missing something essential.
As the story progresses, the elements projected on the backdrop change to parched earth as her husband (Fabian Reimair) leaves her for another woman (Alison McWhinney); fire as she burns with rage; and water following the murder of her two children.
Jocelyn Pook's plaintive, decidedly Asian-sounding score provides a haunting couterpoint to Wang's sleek, contemporary style. Powerful and explosive at times -- such as when a chorus of dancers engulf Medea in human flames -- the choreography is most effective in its fluid and softer moments. The final image of Media tenderly collecting two fallen bundles of silk, representing her dead children, lingers long after the curtain has fallen.
Less memorable, unfortunately, was Barton's "Fantastic Beings." In fairness, placing this minimalistic, pure-dance piece after two visually sumptuous works probably didn't help -- it felt a bit like eating raw vegetables after dessert.
Still, even had "Fantastic Beings" opened the program, it would have been disappointing. Although the intention was to showcase the individuality of the dancers, the choreography seemed to favor bravura jumps and spins over more nuanced expression, and the murky lighting and uniform costumes made it hard to distinguish one dancer from the other. Somehow, it felt dated.
Given the limits of the choreographic material, however, the dancers were still superb, and the live orchestra playing Mason Bates' Anthology of Fantastic Zoology was a treat.
Earlier this year, choreographer Akram Khan controversially said, "We don't need more female choreographers simply because they are female; we need them because they are brilliant." What he meant by this is beyond the scope of this review, but what She Said makes clear is that female choreographers are indeed brilliant -- and it's high time we heard their voices.
REAL LIFE. REAL NEWS. REAL VOICES.
Help us tell more of the stories that matter from voices that too often remain unheard.