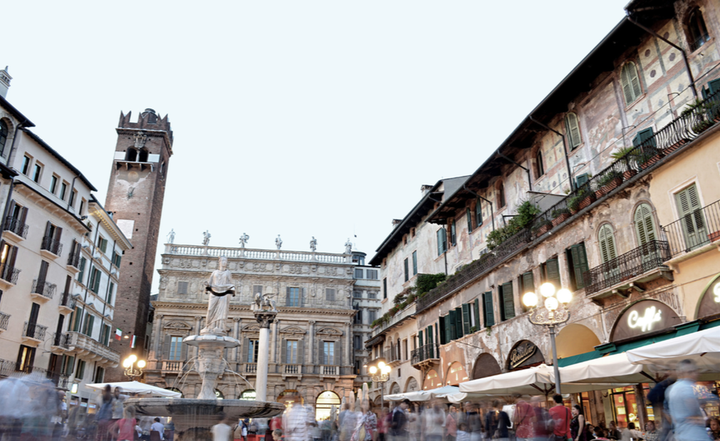 A whole world opens about an hour from Venice. Towns which made Italian art history can be a pleasant surprise. The first is Treviso, which Dante quoted in his "Paradise", surrounded by powerful walls and bathed by the Sile, the longest resurgence river in Europe, which creates a labyrinth of alleys and canals. You can shop in the arcades, you can stop to taste a slice of tiramisu, the local specialty which has become a world wide popular dessert and you can reach the Cathedral, where the Annunciation is kept, the altarpiece that Tiziano painted in 1517.
Art is also staged in Ca 'dei Carraresi, a medieval building that always has a calendar of original exhibitions. Padua, instead, is worth going to for the majesty of the Basilica of St. Anthony, which houses some of the most venerated relics in the world. Also for the magnitude of the frescoes of the Scrovegni Chapel, painted by Giotto between 1303 and 1305, considered one of the greatest masterpieces of Western art. In the evening, after the visits, it's nice to stop at one of the many cafes in "Prato della Valle", the large elliptical square, is one of the largest in Europe, second only to Moscow's Red Square. A monumental space with a green island centre, surrounded by small bridges, obelisks and 78 statues. The third destination is Verona, a city protected by UNESCO, which can be visited on foot, starting at Piazza delle Erbe, which enables you to see the foundations of the city from different ages, from Roman times to the present day.
The Palme d'Or for the most famous monuments is equally divided between the House of Juliet Capulet, where according to tradition, the protagonist of the play by William Shakespeare lived, and the Arena. The latter, the third largest amphitheatre in Italy, annually hosts the famous Opera Festival. Every third Saturday of the month the city comes alive with the three A markets, or rather, antiques, crafts (artigianato in Italian) and art, which takes place right on the square of the Basilica of San Zeno. For those who collect, or have a passion for antique books, Bazzani bookshop is worth a visit. It is located inside a sixteenth century palace and also houses a private collection of manuscripts.