A restaurant in Folsom, California, has egg on its face after the bizarre customer service reportedly offered a customer who claimed she saw a rat on the premises.
She didn't receive a free meal, just a $30.95 discount off her $116.80 bill and a note on the receipt that said "SEEN RAT" in all caps.
The woman's friend, Jackie Logan, photographed the rat receipt and posted it to Facebook, along with the following account of the incident, to let other area diners know what happened.
The female diner ― who has not been identified and who her friend wrote isn't on Facebook ― was eating at Fat's Asian Bistro last Thursday when she saw a rat run over her feet.
The woman notified a server about the rat, but no manager came over to her table to apologize, according to the Facebook post. Another couple in the restaurant apparently left.
Meanwhile, the server asked if anyone wanted dessert before bringing over the bill with the $30.95 discount.
In her post, which has since been deleted but appears in a screen shot below, Logan said in part:
"I'm sorry, but does anyone else see a problem with this. If a rat joins you at dinner at a very well known family of restaurants in the area...At minimum a Manager should visit your table and comp my meal. Not ok...ever (at any restaurant)!!! WTF?!"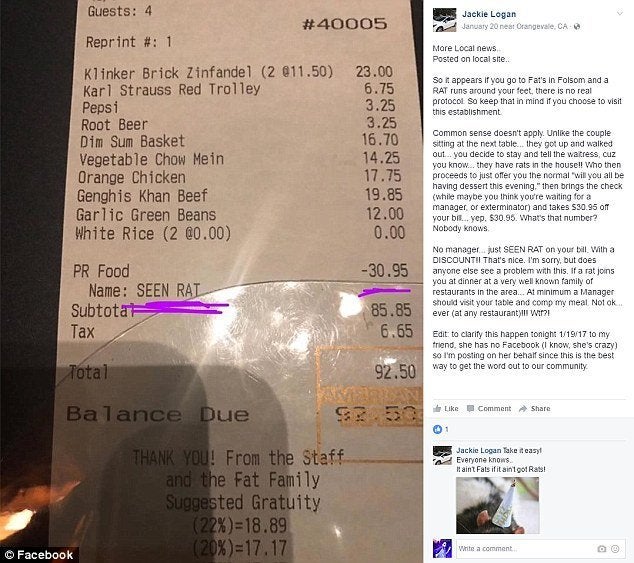 Restaurant manager Kevin Fat admits the note on the receipt wasn't standard procedure.
"The manager put it verbatim what the guest saw or stated ― that's not normal practice," Fat told KTXL, adding that the restaurant has not experienced any rat problems before.
Kelly McCoy, an inspector with the Sacramento County Environmental Management Department, checked to see if the place was infested. She said she found no evidence of rats living or dead, no nests or gnawed food packages, according to WABC.
A rodent might have come through the back door and wandered around before being chased out, McCoy suggested.
Fat told KTXL that he's trying to track down the customer who had the ratty experience and make it up to her with more than just a $30.95 discount.
Related
Before You Go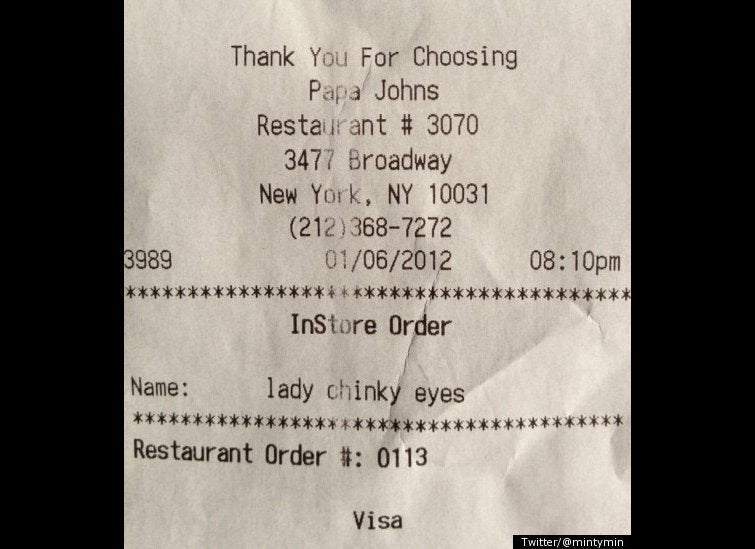 Outrageous Receipts (EXPLICIT LANGUAGE)
Popular in the Community