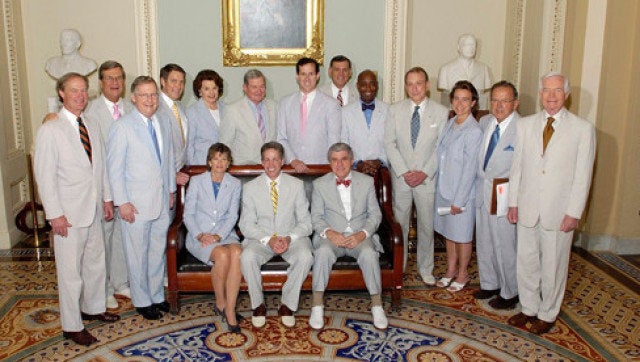 WASHINGTON -- Wearing seersucker can be a controversial fashion statement in the nation's capital. The light-weight striped fabric can cause skeptics to roll their eyes or prompt seersucker aficionados to strut their stuff around town with pride.
Wearing it is also a Senate tradition, albeit one that's on hiatus this year because of concerns that "it would be politically unwise to be seen doing something frivolous when there's so much conflict over major issues," The Washington Post's Dana Milbank wrote last month.
But Seersucker Thursday is not totally dead. Not if former Senate Majority Leader Trent Lott (R-Miss.), who helped start the tradition when he served in the chamber, can help it.
Lott will be on hand at the Occidental restaurant on Pennsylvania Avenue on Thursday, which is hosting a seersucker special -- any guest wearing seersucker will get a complimentary dessert or Mint Julep (one per person) with every food order.
Seersucker Thursday was fundamentally a Republican thing—the fabric recalling as it does some forgotten/sanitized era of mint juleps, big porches, and unapologetic Southern grandeur. But it was such a nice change of pace, such a charmingly novel bow to silliness, that everyone started joining in. Democrat Dianne Feinstein, it was known, even went so far as to buy a seersucker suit for every woman senator, of both parties. In its heyday, there were so many members wearing seersucker on the Senate floor that when you watched the C-SPAN feed—this was in the days just before flat-panel TVs—the picture would vibrate sickeningly from all those narrow-gauge stripes. We would joke about that, lovingly. There they were, the World's Greatest Deliberative Body, indulging in a weekly costume party.
Don't know how to properly wear seersucker? GQ has some fashion tips, including: "You'll never go wrong pairing your suit with a white shirt and a dark tie."

The Occidental's Seersucker Thursday special starts at 6 p.m.
Calling all HuffPost superfans!
Sign up for membership to become a founding member and help shape HuffPost's next chapter
BEFORE YOU GO