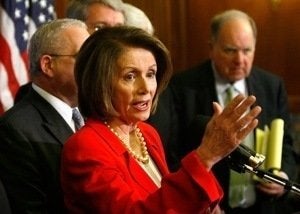 Democratic lawmakers including House Speaker Nancy Pelosi are adamantly pushing back against reports that she does not have the necessary votes to pass a robust public option and is poised to abandon the provision.
"Speculation that a final decision has been made about the public option are not accurate," read a statement issued by the Speaker's deputy communications director
Nadeam Elshami. "We continue to work with all the members of the caucus to build consensus."
"It's not true. No decisions have been made," said Kristie Greco, spokeswoman for Rep. Jim Clyburn (D-S.C.)
Rep. Donna Edwards (D-M.D.), meanwhile, told The Huffington Post that Pelosi did not tell the caucus that a robust public option was dead Thursday night.
The remarks, offered early on Friday morning, were a quick effort at damage control after Politico reported that Pelosi had determined that a "robust public option" could not get the 218 votes in the House needed for passage. The alternative approach, it was reported, would be a "trigger" option for a government plan.
In private, aides were seething that the story was based on politically motivated leaks if not sheer speculation. A Hill aide wrote in to say: "The leadership did not tell progressives last night that the robust public option is off the table. The votes are still being counted."
At the very least, the story as well as the reaction it engendered shows just how frantic and constantly evolving the reporting on the health care reform debate has become. In addition to Politico's story, several other publications reported that in meetings with Senate Democratic leaders, President Obama himself pushed for the "trigger" compromise. The New York Times, meanwhile, reported that Obama "did not express a preference" on what kind of public option (if any) he would like to see in the Senate's final health care package.
Indeed, a Senate aide whose boss was in the meeting said that Obama was "non-committal" on which approach he preferred, though he was "skeptical" on a proposal that would allow states to opt-out of a national public plan. Another aide whose boss was also in the room said that Obama "stopped short" of embracing the so-called trigger idea.
Exactly where deliberations stand is, indeed, quite difficult to pin down. But sources inside and out of government vehemently stress that talk of a trigger proposal is -- at this point -- off base. For starters, Pelosi doesn't need to go there.
"It makes no sense that she'd count votes, come up a few short, and just call it a day," said one Democratic health care strategist. "The debate in the House is over either a national public option, available everywhere, that pays Medicare +5 rates or a national public option available everywhere that has to negotiate rates. And that's only if the horse-trading doesn't come up with votes. [Pelosi] probably only needs at most a dozen - and the horse trading could involve other issues besides health care or the public option... the idea that the compromise will be a trigger is nuts."
Secondly, the Senate itself doesn't seem inclined to go for the trigger approach either. According to several sources, Majority Leader Harry Reid (D-Nev.) stands just a few votes short (one or two, really) of the 60 needed to pass a public plan with an opt-out clause. The work right now is to get those remaining votes not, necessarily, to scrap the work already done in favor of pushing a trigger proposal (which, it should be noted, is the preference of the lone Republican on board -- Sen. Olympia Snowe).
Support HuffPost
The Stakes Have Never Been Higher
Popular in the Community