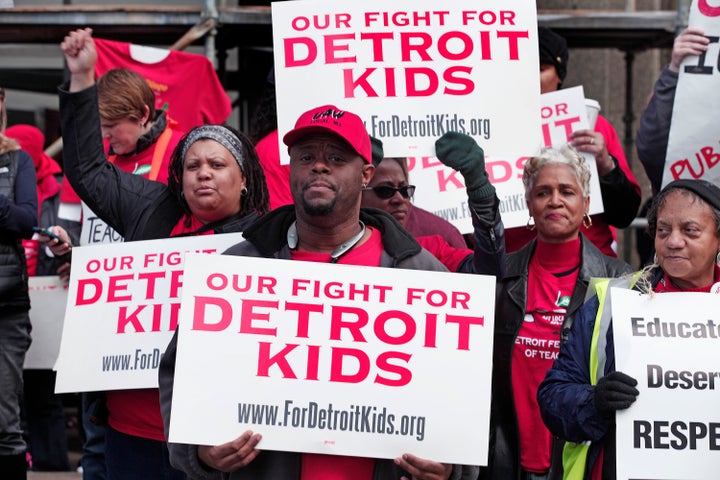 But just a few miles away in the small suburb of Grosse Pointe, the situation is vastly different, according to a recent report from the nonprofit EdBuild. In Grosse Pointe, only about 7 percent of kids are impoverished, the report says. The median household income is over $90,000, compared to about $26,000 in Detroit. Students have a graduation rate of about 95 percent, compared to Detroit's 77 percent.
The disparities, unfortunately, make sense. Detroit's border with Grosse Pointe is the most socioeconomically segregated in the country, according to the report.
The new report outlines the pairs of school districts with the most socioeconomically segregated borders around the country, using census data to compare rates of school-age poverty. This type of segregation has major implications for school funding disparities. In many places, funding for schools comes from local property taxes ― where the wealthiest areas have the largest tax base ― perpetuating a system where the poorest schools are left with the fewest resources.
In these pairs of districts, "the distance between the haves and the have-nots is greater than anywhere else," according to the report. It specifically highlights borders between Birmingham Public Schools and several of its neighbors in Alabama, Clairton and West Jefferson Hills school districts in Pennsylvania, Dayton City School District and two of its neighbors, and Balsz Elementary School District and Scottsdale Unified School District in Arizona.
The 50 most segregated school district borders are concentrated in just 14 states, mostly in the rust belt region, the report found. There are likely a few reasons for this. In southern and western states, school district lines are often drawn by county. This reduces the likelihood that district lines will be intentionally created to accommodate small enclaves of wealthy residents. The fact that borders were less segregated in the south surprised Rebecca Sibilia, founder and CEO of EdBuild.
In the South, "there is so much history in terms of Jim Crow and state sanctioned de jure segregation," Sibilia said.
However, there are no easy remedies to fix this type of socioeconomic segregation. In 1974, the supreme court ruled in Milliken v. Bradley that students could not be shuttled across school districts as a means to desegregate and create more racially balanced schools.
"It basically gave license for school district boundaries to become the new tool of segregation," Sibilia said.
Detroit and Grosse Point were two of the 53 school systems involved in the Milliken v. Bradley case, with Detroit as a majority-black district and Grosse Point as majority white.
However, superintendent of Grosse Point schools, Gary C. Niehaus, takes issue with the way his district is characterized. He says the report is incorrect in the level of poverty of his district's students ― arguing that its child-age poverty rate is nearly 10 percentage points higher. Also, he says, the district has been proactive in promoting diversity and an inclusive environment.
"I just feel like it's trying to label us in a way that we're not trying to be labeled at this time, as a white suburban wealthy school district versus the other side of the tracks in Detroit," Niehaus said. "I think we're a lot more diverse than they're giving us credit for, and the diverse population we have has made a conscious effort to move in and be part of our school district. They are making sacrifices to get their kids the best education available to them."
Rebecca Klein covers the challenges faced in school discipline, school segregation and the achievement gap in K-12 education. In particular, she is drilling down into the programs and innovations that are trying to solve these problems. Tips? Email Rebecca.Klein@huffingtonpost.com.
Support HuffPost
The Stakes Have Never Been Higher
Popular in the Community