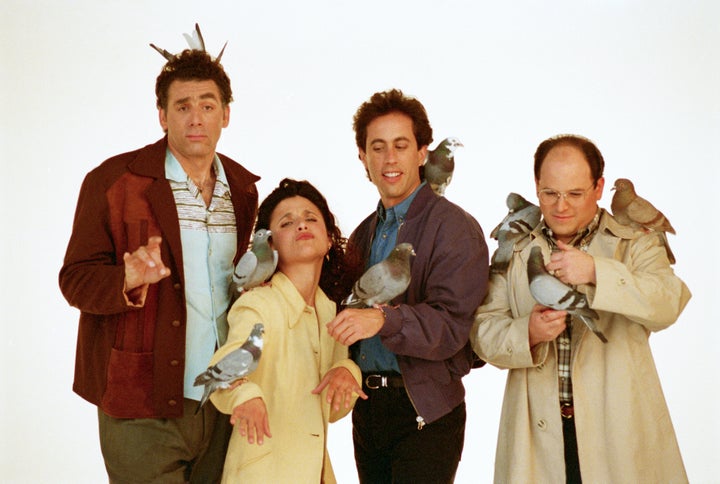 Last summer, our household took a viewing plunge that would last nearly a year. We added the first DVD of Seinfeld season 1 to our Netflix queue, and we made a commitment to watch the entire series. We revisited the hilarious scenarios which made Seinfeld one of the most unique and popular sitcoms to date.
This "show about nothing" produced so many humorous phrases. Terms like "double-dipping," "close-talking," and "re-gifting" all had their 15 minutes of fame on the show, and they stuck with us because they encapsulated common social quirks.
These phrases remain current in our language, but a great deal has changed as well. As we revisited the series, we marveled that vast, technological shifts have taken place in the span of one generation. The fact that Seinfeld could craft entire episodes around the use of answering machines and pay phones — and for that matter, feature the frequent use of Jerry's enormous, cordless landline phone — demonstrates how different life was just a short time ago.
Every bit of this was enjoyable, but most of all, we reflected upon the moments behind the scenes, particularly upon the creation of the sitcom itself and the relationships that made it possible. The DVDs contain interviews with the cast, directors, and writers throughout the series. As we viewed these episodes, we watched the creators find their stride in defining the identity and tone of the show.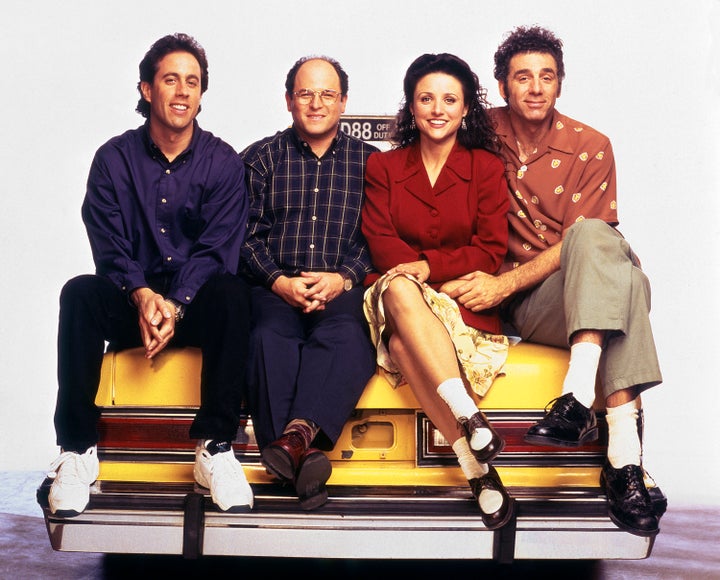 At the beginning, it was intriguing to watch Jerry Seinfeld and Larry David practically fall into this opportunity, not knowing where it would take them. During one of the first interviews, Larry David talks about the emotional meltdown he experienced after NBC chose to air their show and grant them an initial season. He didn't think he could write 13 full episodes. Little did he know he was sitting on a creative project which would become much larger than himself. Within that larger framework, he would find his own writing voice.
As we watched these early interviews, I pondered how we human beings desire to be a part of something larger than ourselves. I could feel that pull upon myself, too. We all want to belong to something bigger than anything we might create alone.
As we reached the end of our Seinfeld year, I had the opportunity to watch the season finale. I had not seen that final episode since the evening it actually aired. Along with the last episodes themselves, the final interviews were just as meaningful as the ones at the beginning.
One story in particular will resonate with me for a long time:
The four primary cast members all had a ritual of gathering together backstage before the taping of each episode. When they gathered in this way for the last time, Jerry Seinfeld said something quite beautiful. In one of the final interviews, Jason Alexander tells this story well. He shares that Jerry Seinfeld was rarely sentimental, but on the day of the last live taping, he had tears in his eyes. He created a wonderful moment as the cast stood backstage and held hands. Seinfeld said:
"I want to say something. For the rest of our lives, when anyone thinks of one of us, they will think of all four of us." He added, "And I can't think of three people I'd rather have that be true of."
I love those words, and he was certainly right. When we think of any of those cast members, we do think of all of them. 
This ending brought me back to my initial reflections at the beginning of the series. We all want to be a part of something bigger than ourselves. Sometimes we stumble upon such opportunities and add our identities, voices and dreams. Other times, we create such opportunities intentionally through the friendships that surround us. 
Seinfeld certainly made cultural changes to our world. If we follow the example of its creators and allow ourselves to dream alongside others, our personal worlds just might get bigger, too.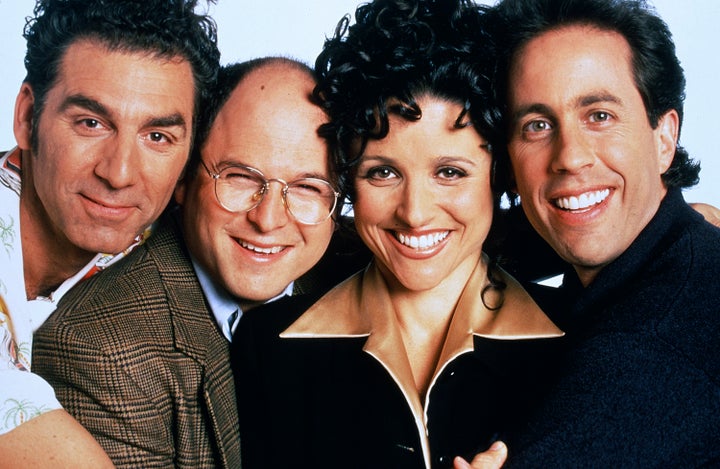 Renee Roederer is an ordained PC(USA) minister and the founding organizer of Michigan Nones and Dones, a community for people who are "spiritually curious but institutionally suspicious." This community in Southeast Michigan includes people who are religiously unaffiliated (the Nones), people who have left established forms of institutional churches (the Dones), and people who remain connected to particular faith traditions but seek new, emerging visions for their expression.
Calling all HuffPost superfans!
Sign up for membership to become a founding member and help shape HuffPost's next chapter
BEFORE YOU GO
PHOTO GALLERY
Behind the Scenes of the "Seinfeld" Finale