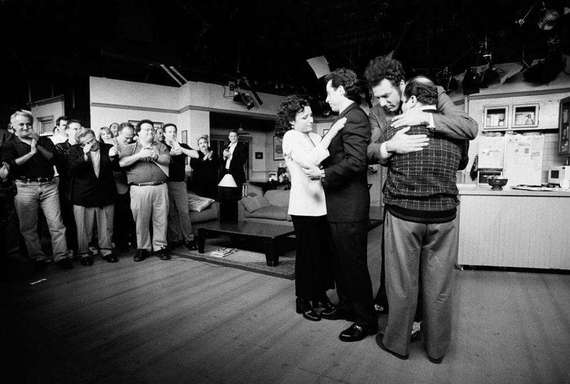 Some of the Seinfeld show's most memorable characters are reprising their roles, even if only for a brief moment. A handful of the talented cast members are helping me with a special birthday project for my dad who is currently fighting Stage IV cancer.
My father was diagnosed more than two years. In that time I have seen a once vibrant man go through absolute hell as he takes on every turn this horrid disease has on the mind, body and soul. As the cancer has spread to many organs in his body I am so proud of him for giving the fight everything he has. If there was anyone that ever needed a reason to smile and laugh, it is him and the time is now.
His birthday is just over a week from now and seeing how he isn't up for a birthday party this year, I decided to create a private Facebook Group, that is a virtual birthday party for friends and family to record video wishes for him. We plan on showing it to him on his birthday since he is not on Facebook.
When I feel powerless with things completely out of my control, I often put some focus into creative projects to distract myself. I told people on the page to make their messages happy and not sappy. In writing that I thought, what better way to bring a smile to his face, then to use some of my journalist detective skills to track down some of his favorite characters from the Seinfeld show to record a birthday message for him.
The plan is set
I reached out to a bunch of actors and didn't hear much back at first. All I asked is that they record a simple video selfie saying Happy birthday Jim (my dad's name) and maybe say something their Seinfeld character might say to make him laugh.
Naturally, when one thinks about the mega hit TV show from the 90s, they think of the big four, Jerry Seinfeld, Jason Alexander, Julia Louis-Dreyfus and Michael Richards. I Facebook messaged and Tweeted to them, but I know these four get slammed with fan mail all the time. I also know that they are extremely busy people and they don't have time for every request. However, if someone is reading this article that knows them I would please ask you to pass it along to them.
Luckily, the depth of characters on this show was insane. I was searching online and realized that some of my favorite characters were only on a few episodes. Yet for fans, we remember them and their work on the show so well. It really is a testament to their great acting.
I was saddened to learn that several had passed away including Barney Martin who played Morty Seinfeld, Len Lesser who played Uncle Leo, Daniel von Bargen who played Mr. Kruger, and Sandy Baron who played Jack Klompus. For a full list of deceased cast members check out this piece by Mandatory.
Enter the legend John O'Hurley
I reached out to one of dad's favorite characters J Peterman, played by John O'Hurley via his website. I was in complete shock a few days later when he personally emailed me this video message for my dad.
I am blown away by this video. The fact that he did it in character was outstanding and I know my dad will get a kick out of it.
The Soup Nazi and Mickey Abbott
Another iconic character the Soup Nazi played by Larry Thomas on the show, accepted my Facebook friend request and made a video for dad.
Another one of Dad's favorites Mickey Abbott played by Danny Woodburn just got back to me that he is going to shoot a video over.
Memories around the show
I was still a kid when Seinfeld first premiered back in 1989, still living with my parents. A few years later in 1991 or 1992 I wrote about how it was the new hit show in our middle school newspaper. I remember laughing so many times with my dad over the funny episodes that we watched together. Years later when I was in college in 1998 I was able to watch the series finale with him. Over the years we have gotten him Seinfeld related gifts including a puffy shirt and a Soup Nazi soup cup. Years later when my wife started coming around for family dinners, I had to explain to her that a quarter to half of our dinner conversations may revolve around Seinfeld show quotes, depending on the evening.
I need help from anyone reading this
I would like to try to get as many birthday wish videos from as many actors from his favorite show as possible before his birthday on November 10. It would be amazing if they could all be in character like O'Hurley's video.
Some of dad's other favorite characters include Newman by Wayne Knight, Frank Costanza by Jerry Stiller, David Puddy played by Patrick Warburton, Poppie played by Reni Santoni, Babu Bhatt played by Brian George, Jackie Chiles played by Phil Morris, Mr. Wilhelm played by Richard Herd, Susan Ross played by Heidi Swedberg, Lloyd Braun played by Matt McCoy, Lippman played by Richard Fancy, Tim Whatley played by Bryan Cranston, Kenny Bania played by Steve Hytner and of course George Steinbrenner played by Larry David. My dad even does a great impression of Ricky (the guy obsessed with television and TV Guide) played by Sam Loyd in The Cigar Store Indian episode (Season 5, episode 10).
If you were on the show and I left you off of the list blame Jerry Seinfeld, Larry David and the rest of the team for creating such an amazing character driven show.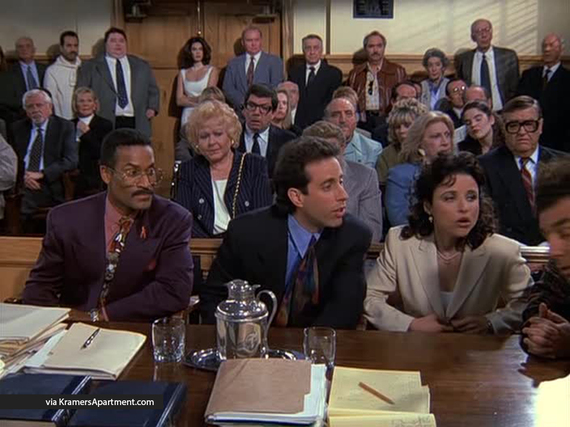 My father gave me everything growing up and everything in life. He showed me how to do things, how to treat people, how to respect people, how to communicate, how to think and how to write. I just want to give him this one little thing, this one little laugh as he is going through so much.
I hope to reach more cast members before my dad's birthday on Nov. 10. This isn't just a project for me, anyone can help join me in this project by Tweeting (use the hashtag #SeinfeldBDay) this article to cast members or posting it on their Facebook walls. If you are cast member that wants to join in the birthday and well wishes please email me at jimmyCcalder@gmail.com or tweet me @jimmycalder
I will write a follow up article to post any video messages that come in. Special thank you to John O'Hurley, Larry Thomas and Danny Woodburn. Thank you so much for helping give my dad a much needed laugh and smile.