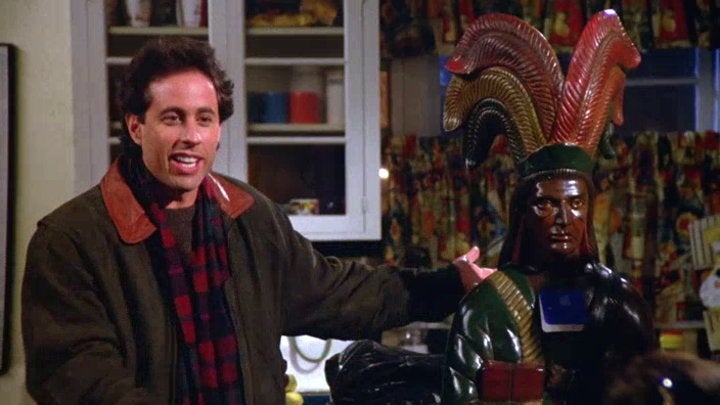 Jerry Seinfeld was the star of a late night event at The New Yorker Festival Friday, where New Yorker magazine editor David Remnick asked the comedian about politically incorrect jokes from the show, "Seinfeld."
Remnick played a clip from the 1993 episode, "The Cigar Store Indian" for Seinfeld and the audience. That episode involves Seinfeld's character repeatedly offending a Native American woman he's trying to date. Part of this involves the Seinfeld character gifting a cigar store Indian statue to his friend, Elaine. The Seinfeld character later insinuates the Native American is an "Indian giver," a derogatory term.
At one point in the episode, the character, Kramer, shouts to the woman and Seinfeld that he now has the offensive statue and makes a loud attempt at whooping sounds.
"You could never do that today."
"You could never do that today," Seinfeld said of the episode to Remnick. According to Deadline, which reported about the event, Remnick asked if not being able to do those kinds of jokes today was a loss to the culture. "One door closes, another opens," Seinfeld responded. "There's always a joke, you've just got to find it."
The conversation started around 10 p.m. and took place at the New York Society for Ethical Culture, a private school that Seinfeld and Remnick apparently both sent children. Deadline described the 90-minute conversation as a mixture of "stand-up, deconstruction of stand-up, and reflections on [Seinfeld's] singular path to the top of the comedy heap."
Perhaps the ungodly evening start time for the talk helped Seinfeld ― a notoriously meticulous performer ― open up a bit more by channelling the potential for sleep-deprived delirium to speak off the cuff.